DuckPoker Rake Race Update: "iamadoctor" Leads The Rankings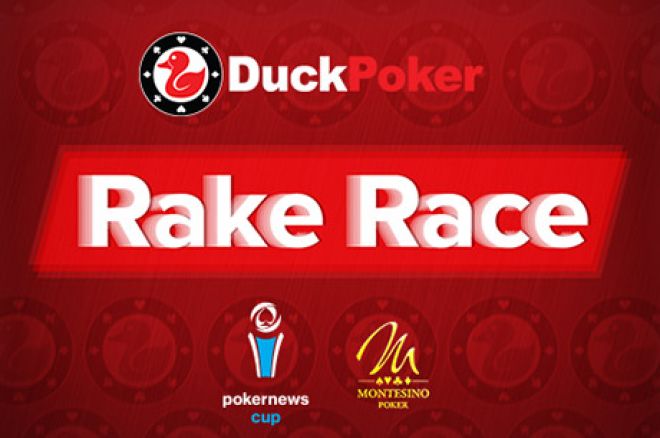 As you should already know by now, the PokerNews Cup, our very own live poker series, is coming back in 2014 for its sixth and long-awaited edition.
As the PokerNews community heats up for the event that will take place in Vienna, Austria, from October 9 to 14, some online poker rooms have decided to launch a large number of interesting promotions that could get you right in the middle of the action with some great all-inclusive packages.
If you play on DuckPoker, for example, you should know that the latest Rake Race organized by the room gives you a very good chance to put your hands on a package that will not only bring you to Vienna, but will also give you a seat to play the €75,000 guaranteed main event for free!
So, just to make things a little more clear (and interesting) here is that is included in the package up for grabs on DuckPoker right now:
A seat to the €75,000 guaranteed main event
Three nights at the 4-star Roomz Hotel in Vienna
$350 cash for travel and spending money
Access to all the activities organized during the PokerNews Cup
Since this is a PokerNews-exclusive promotion, in order to take part to this special rake race you must have a DuckPoker account through our links.
If this describes you, just go ahead and play as much as possible from August 1 to 31 to work your way to the top of the leaderboard.
If you don't already have an account, now is a great time to do so, as if you download DuckPoker through PokerNews Canada, you will enter the promotion and also receive $5 in tournament money for free and without a deposit.
Official Rankings Update: "iamadoctor" Takes the Lead
After a little less than two weeks of solid online action, player "iamadoctor" sits comfortably on top of the rankings with 1,180.1 points earned as of August 11.
Right behind him, player "bad_gurl" seems to be the most determined to challenge his leadership, as she managed to accumulate 673.31 points during the first eleven days of the month.
On the lowest step of the podium, player "brunette" follows the leading duo with 534.84, which are a little less than half of the ones earned by iamadoctor, but more than enough to get a very good chance at the package given to the leaderboard's winner.
Here is a complete look at the top ten as of August 11:
| Rank | Nickname | PPs Earned |
| --- | --- | --- |
| 1 | iamadoctor | 1180,01 |
| 2 | bad_gurl | 673,31 |
| 3 | brunette | 534,84 |
| 4 | R. Lilou | 467,76 |
| 5 | dummfold | 224,34 |
| 6 | pokershtina89 | 210,00 |
| 7 | juji | 206,75 |
| 8 | bul | 179,76 |
| 9 | Klemeen | 170,10 |
| 10 | realbucks | 169,65 |
Remember, you still have until August 31 to play your games on DuckPoker and win your way to the PokerNews Cup with the rake race, so make sure you do not miss this unique opportunity to join the PokerNews Cup.
Head to DuckPoker today, get yourself an account as soon as you can and play your way to Vienna — we want to see you there!
Click here to read the T&C of the rake race
Get all the latest PokerNews Canada updates on your social media outlets. Follow us on Twitter and like us on Facebook!