[UPDATED] Join the PokerNews-Exclusive 'Spin & Go Special' Freeroll on PokerStars!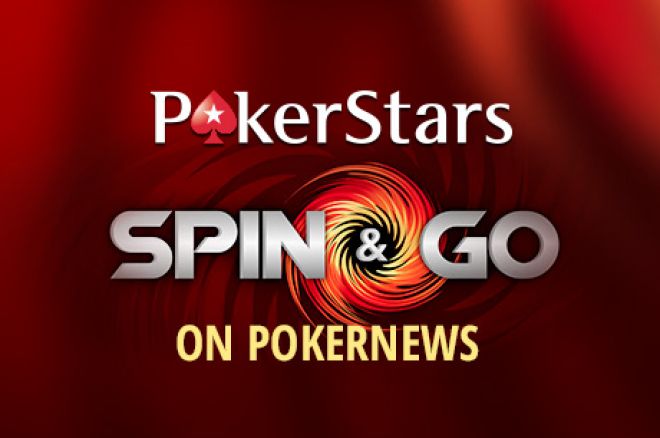 Note: due to some technical issues, PokerStars had to cancel the event previously advertised and create a brand new PokerNews-exclusive tournament. The new tournament ID is #1005673389 and the new password to participate is: tryagain1015.
Have you tried the new Spin & Go Tournaments at PokerStars yet?
Earlier this month, the world's most popular online poker room (finally) joined the jackpot sit-and-go craze with the launch of the new Spin & Go tables, a series of new action-packed, hyper-turbo, three-max tournaments with buy-ins that range from a minimum of $1 to a maximum of $30.
Spin & Go tournaments start off with a player being seated at the table with two other opponents to play for a jackpot that is determined by a random generator right before the action begins.
Given the way the random generator has been created, most of the time players will compete for a sum that doubles the buy-in paid to sit at the table. Yet, the luckiest ones will also get the chance to enjoy much more than that, as prize pools can actually skyrocket to as much as 1,200 times the buy-in fee.
Try the Spin & Go Tables – For Free!
To celebrate the launch of the new Spin & Go tables and to give everyone the opportunity to play for the biggest jackpots available, PokerNews and PokerStars joined forces and launched the PokerNews SpinGo Special, an exclusive freeroll tournament that will run on Wednesday, Oct. 15, at 15:00 ET.
The tournament will award the top 200 players with tickets to play at the room's Spin & Go tables and eventually transform the freeroll into a satisfying $30,000 sit-and-go.
Getting involved in this freeroll and becoming eligible for all future PokerNews-exclusive freerolls and promotions at PokerStars is quite easy.
If you already have a PokerStars account tagged to us, all you need to do is to find the event in the room's client and register by using "tryagain1015" when prompted for a password.
If you do not already have an account, you simply have to download PokerStars through our links, use the unique marketing code "CANADIANPNEWS" when signing up, and make your first deposit using the bonus code "FREE20".
This will not only give you the opportunity to register for the upcoming freeroll, but it will also reward you with $20 in cash for you to do whatever you want with. Additionally, you will be awarded anywhere from 10 to 50 $1 Spin & Go tickets to try out these fun and exciting new games.
How to play the PokerNews SpinGo Special
You can easily find this freeroll by launching the PokerStars client and entering the details below:
Tournament ID: 1005673389
Name: PokerNews SpinGo Special
Date: Oct.15, 2014
Time: 15:00 ET
Buy-in: Freeroll
Password: tryagain1015
As we said, the tournament will give away 200 Spin & Go tickets that will reward all the top 200 players as follows:
| Position | Prize |
| --- | --- |
| 1 - 10 | one $30 Spin & Go ticket |
| 11 - 30 | one $15 Spin & Go ticket |
| 31 - 60 | one $7 Spin & Go ticket |
| 61 - 100 | one $3 Spin & Go ticket |
| 101 - 200 | one $1 Spin & Go ticket |
Don't miss your chance at big bucks in the PokerNews SpinGo Special Freeroll on Wednesday, Oct. 15. Head to PokerStars today!