Win Big Money in Our PokerNews $5K Freeroll at Full Tilt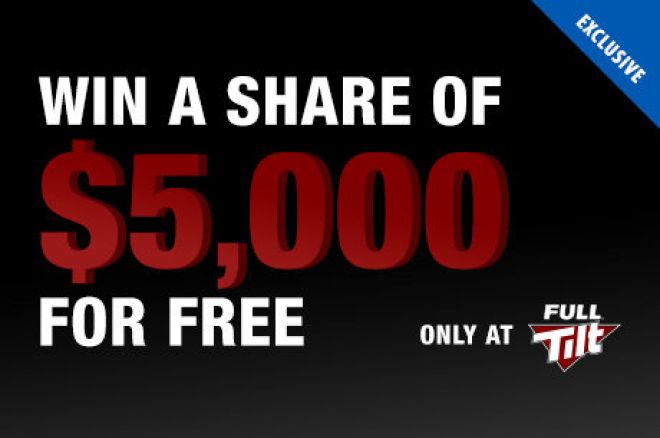 Is there anything in your life right now that $5,000 free of charge would help? Are you planning a vacation? Or maybe some home repairs? Maybe you just want to build your bankroll.
No matter what your reason (or even if you have no specific reason at all), you should play in our exclusive PokerNews $5K Freeroll on June 5 at Full Tilt.
Learn How to Grab a Share of $5,000!
As a result of the special friendship between Full Tilt and PokerNews, we can offer an easy way to get your hands on some of the $5,000 prize pool.
All you need to do is download Full Tilt using our links and make your first deposit. Once done, you will immediately get a free ticket to our amazing freeroll.
It would be a great deal if we stopped there, but of course, we didn't. You will also receive a free 100% deposit bonus on all funds up to $600 on that first deposit. The more you deposit, the more free money you'll get, but no matter how much you deposit, you'll still get that free ticket to a chance at the $5,000 prize pool on June 5th.
Even if you already have an account at Full Tilt through us, then you still have an easy path to the freeroll. Just collect 200 or more FTPs before the end of May, and the ticket is yours. Time is running out, but it's still possible to rack up the points and get a chance at the freeroll.
When and Where
All you have to do to get a chance at the big bucks on offer on Jun 5th is meet the qualifications above. Your chance to get a share of the $5,000 happens at 14:00 ET.
To find our exclusive freeroll, just look under the Private tab in the Full Tilt tournament lobby and search for the tournament with the details below:
Tournament Name:PokerNews $5k Freeroll
Tournament ID: 289988873
Date: June 5, 2015
Time: 14:00 ET
Don't miss this amazing chance at free cash. Whether you are looking for extra money for a family vacation, or just really like getting something for nothing, this is a can't-miss event. Download Full Tilt through PokerNews Canada now so you'll be set to pick up a share of $5,000 on June 5.
To get more details about this promotion or to see how to register to the PokerNews-exclusive freeroll scheduled for May 8, have a look at this page.
If you experience any problems with this or any of our promotions, please contact our Ticketed Promo Support System.
Get all the latest PokerNews Canada updates on your social media outlets. Follow us on Twitter and like us on Facebook!