Build Your Bankroll With Our Exclusive $5,000 Freeroll at Full Tilt!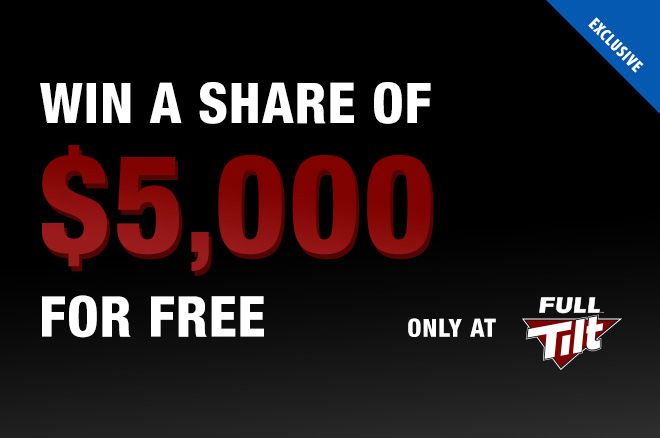 Freerolls can be an extremely important part of your poker game for a number of reasons. If you're an experienced player, you already know the reasons. If you're a new player, we'd like to give you the reasons so you understand how important a freeroll can be to your advancement in the game.
Before we give you the reasons, let us tell you about the freeroll. It's an incredible opportunity to win real money in a PokerNews-exclusive $5,000 freeroll hosted at Full Tilt. This freeroll is only open to PokerNews' players and that makes it an even better deal for you, the player.
The freeroll is already listed in the Full Tilt lobby — find it with the following information:
Tournament Name:PokerNews $5K Freeroll
Tournament ID: 293771817
Date: August 7, 2015
Time: 14:00 ET
Qualification: New depositors & PokerNews-linked players that earn 200FTPs in July
Now we'll tell you why a freeroll, especially this one with its massive $5,000 prizepool, is so important to your poker game.
Learn to play tournaments in freerolls: It takes a lot of skill to play poker tournaments and place in the money regularly. While you're learning how to play, you will see some players shove all in repeatedly and others that never get involved unless they have a hand. Others will always raise from late position or the button if there has been no action in front of them. Still others will check-call until they bust out or check-raise every time there's action behind them.
Watching, learning, adjusting your game as the blinds increase, you begin to understand it's not simply "all-in" every hand. Those are keys to your poker tournament future and you can experience them all in freerolls.
Build your bankroll in freerolls: Freerolls are an easy way to start your bankroll if you want to win real money without investing any of your own money. Most of the time when you sign up for a freeroll, you are going to win a seat or a token to play in another freeroll that may have cash prizes or advance you a step up to another tournament.
This particular freeroll is a PokerNews-exclusive $5,000 freeroll. It's not often you have an opportunity to play in a freeroll with such a massive prize pool. Add the fact that it is available only to PokerNews' players that qualify in July and you just found the perfect opportunity to freeroll your way to a bankroll. That means you won't be playing against the usual crowds that join in Full Tilt's regular freerolls, instead you'll be playing against a smaller field which increases your chances of winning cash.
Freerolls are an easy way to start your bankroll if you want to win real money without investing any of your own money.
How to Get Your Seat in the PokerNews-exclusive $5,000 freeroll
Getting a seat is easy. If you don't have an account at Full Tilt, simply download the software through our link and make a deposit before July 31. That's all there is to it and you're ready to play on August 7th.
While you're making your first deposit, keep in mind that you are going to receive a very generous 100% up to $600 match bonus! Take advantage of this offer by depositing as much as possible.
If you have already downloaded Full Tilt through our links, jump in your favorite cash games and generate 200 FTPs between July 1st - 31st. Earning 200 FTPs may sound like a lot of time and effort but it works out to about $20 in rake.
Qualify for this PokerNews-exclusive $5,000 freeroll today and get ready to play your way to a bankroll and build your game at the same time. It's a win-win, thanks to Full Tilt!
Give your bankroll a boost with the next PokerNews-exclusive $2,500-guaranteed freeroll running at PokerStars, the world's biggest online poker site.
Get all the latest PokerNews Canada updates on your social media outlets. Follow us on Twitter and like us on Facebook!