How Well Do You Know 888poker?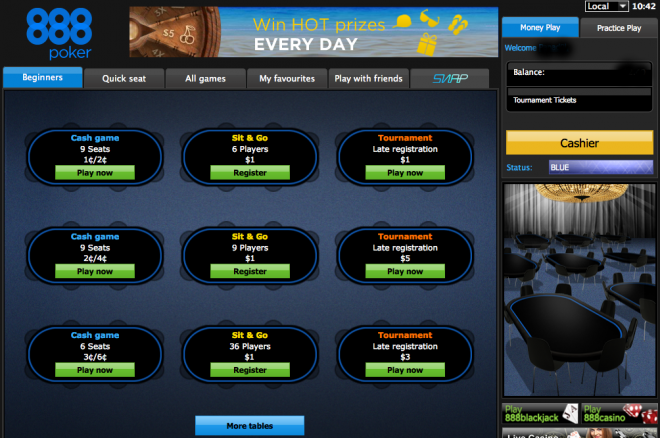 It's the world's fastest growing online poker room, but how well do you know 888poker?
If you've played there, you may have looked over all the promotions, checked your email for news and updates, searched for ways to make your poker buy-in stretch as far as possible, tried to find a table filled with new players that were easier to beat than one filled with grinders, and more ... or not.
Whether you haven't visited 888poker or you're a regular at their tables, we'd like to give you a proper introduction to the world's second-biggest online poker site.
Let's start with some interesting facts that may not have hit your radar but could be very useful in your trip across the virtual poker universe:
888poker Forums: Both old and new posts fill the pages of the forums with topics that cover every subject.
Welcome to my.888poker
Daily Community Tournaments
Poker Information and Chat
Social
888Live Local Events
General
Odds and Ends
Each of those topics is designed to get input from the players that frequent 888poker and give a beginner the basics for starting their online poker journey in the "How Do I...?" section under Welcome to my888poker.
Blue Carpet: The latest news and more are waiting for you here. The Blue Carpet events are presented by 888 Behind the Scenes crew and hosts and that's as good as having a front row seat (almost) at all the major poker tournaments in the world. The team behind Blue Carpet isn't restricted to merely reporting tournaments; they give you the inside scoop on cities around the globe and occasionally you get to experience your favourite celebs through them.
Exclusive Tournament Passwords: If you aren't a member of "my.888poker," you're going to miss out on exclusive tournaments that are password-protected. If you want to enjoy all the action of the 888poker community games and grab all the extra value that being a member of the 888 community offers, join today!
Blog of the Month Competition: There's money to be won if you can spin the best "What does my poker game say about me?" blog. If you can fill in all the details in at least 300 words that make for interesting reading wrapped around the following criteria, you can win up to $200 in the My.888poker Blog of the Month competition.
"What we want to know is what games have you tried? Which ones have you disliked and which style/pace is your favorite? Do you play certain games depending on your mood or circumstances? Why? Are you after a chill time or a buzz? Do you think certain personalities are drawn to or more suited to a particular type or form of the game?"
Are you ready? There's cash on the line, and what poker player doesn't have a tale to tell?
888poker Teams: Play for your team and win cash too! Even if you get knocked out, you could still earn money if your team wins. Twice a week you can represent your favourite football club in poker tournaments by heading for the 888poker lobby and clicking on 'Tournaments' -> 'Teams' and choosing one of the following Teams Tournament name:
$300 Poker world cup — buy-in $0.99;
$150 UK vs. GER vs. RUS — buy-in $1.49;
$100 Australia vs. UK vs. RUS — buy-in $0.99.
As soon as the action starts, win as many chips as possible and bust out everyone that gets in your way. You're playing for your team, and 888poker calculates 'Teams Scores' so even if you get knocked out early, your team may send you to a money finish.
888poker VIP: If you know that being a VIP has its advantages, you need to find out what the whole package has in store for you at 888poker.
You could find tickets to concerts and sporting events, trips that send you jetting off to new places, and luxury items and huge bonuses waiting for you at 888. Become an 888 VIP and enjoy your very own account manager, access to top tournaments, VIP Loyalty Status with a 20% cash back bonus, and more.
Build your VIP status each time you play your favourite cash games and tournaments and enjoy your own VIP Star Treatment at 888.
888poker Live Events: 888Live Tallinn is coming up in September, from the 2nd to the 6th, and 888 has a $2,000 poker holiday package that could send you to one of Eastern Europe's most enchanting capital cities. You can start that journey for the cost of 1₵.
If your quest for the Tallinn package is successful, you'll stay at a luxury five-star hotel and compete in 888's exclusive $50,000 888Live Main Event poker tournament.
World Series of Poker Europe - Berlin. Have you considered the possibility? 888poker has a series of steps qualifiers that start at $0.01. Can you imagine taking one penny and running it up through each step to win a $1,050 buy-in to The Qualifier?
The last WSOPE qualifier event runs on October 4th, 2015; win one of The Qualifiers and you just won a 2015 WSOPE Main Event ticket valued at $11,350.
Yes, you can buy into any of the steps without starting at step 1, but why not run it up and try the $0.01 starting point just to see if you can do it?
888poker Face2Face: Just when you thought it was safe to play poker in the nude, 888 has added a twist that may make you rethink. When you choose a specially selected 888poker table, you're going to be face2face on 888's pokercam tables with your opponents.
You'll be playing against real people for real cash so don't start the game without your poker face. And keep in mind there are rules that apply to pokercam tables.
888poker No-deposit poker bonus: Did you know that 888poker has the biggest no-deposit poker bonus of any online poker site? True story!
---
Now how well do you know 888poker?
The best way to get to know 888poker is to join the 10 million plus registered members at the fastest growing online poker brand in the industry. Download here and get started.
Get all the latest PokerNews Canada updates on your social media outlets. Follow us on Twitter and like us on Facebook!