888poker Helps You Become a Better Player; Here's How!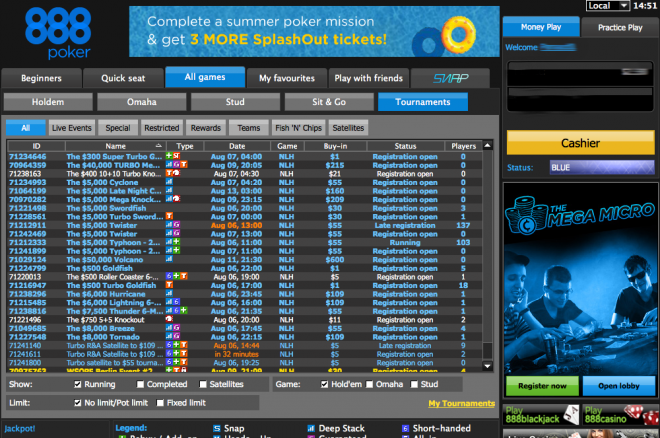 Whats the best approach to playing online poker with the lowest-possible risk? You get started with free money and never make a deposit! Did you know that 888poker has a free $88 waiting for new Canadian players just for downloading the software and registering through our link?
We're not kidding! You get $88 for FREE to try out the site with no risk to you, and when you do decide to make your first deposit, you're going receive a generous 100% match bonus of up to $888.
If you've already tried out online poker by joining the action at other poker sites and didn't fare too well, one of the problems that may have hindered you was playing with "scared money".
When you make a deposit and play with your own hard-earned cash and you're not really comfortable with how to bet your hand, why you should fold, or if you should have ever entered the hand in the first place, the fear of losing your bankroll to poor decisions can drastically affect your play — what is referred to as "scared money".
As soon as you download 888poker and take the free $88, you'll be able to try out the cash games and buy in to tournaments on 888poker's dime instead of yours. That should help remove the scared money element from your play, since you have absolutely nothing at risk. But before you do that, 888poker has a complete section on 'Poker Tips' and it's filled with very valuable information that will help you invest the free $88 wisely — and make you a better player.
The 'Poker Tips' section contains everything you need to know about every aspect of poker play, including bluffing, preflop calling and raising, no-limit and pot-limit, tournament play, playing or folding, and much, much more. You'll be making better decisions and winning more pots in no time!
Reading and studying is good, but inevitably the best way to become a better player is to take a seat and be realistic about the game as you put in the hours at the tables. Reading 'Poker Tips' will help you but you also have to be in action and experience the play of the game if you want to improve.
If you haven't already downloaded and registered to receive $88 free from 888poker, DO IT NOW!
As soon as you make your first deposit at 888poker, you'll find you have access to real-money freerolls too. The following are all part of your welcome package:
You're going to receive free entry to seven $500 First Depositor's free tournaments — that's $3,500 worth of free money waiting for you but you have to make sure your game is on and you're ready for the challenge.
And you'll also receive a free entry to the $1,000 Depositors' free tournament.
There's an even bigger opportunity waiting for you. The First Depositors' Challenge could be the biggest cash score you've ever made playing online poker. If you finish in the top 10, you'll have a seat in the Sunday Challenge. Winning the Sunday Challenge after getting your seat through a freeroll would be one incredible parlay. Think about it!
There's another way to improve your game and build a bankroll at the same time with the free $88. Head for the Daily Challenge Series at 888poker and invest in the satellites to get into the bigger tournaments. You'll pick up valuable tournament-playing experience for a very small buy-in with the chance to win a lot of cash. Check the following schedule and figure out which ones you want to play, or play them all.
| When (GMT) | Tournament Name | Buy-in | Satellites from |
| --- | --- | --- | --- |
| Sunday 19:35 | Sunday Challenge 1R | $82+$8 | $1.95 |
| Monday 19:35 | Monday Twins Challenge Royal | $20+$2 | $0.99 |
| Monday 19:35 | Monday Twins Challenge Flush | $20+$2 | $0.99 |
| Tuesday 19:35 | Tuesday Challenge | $100+$9 | $2 |
| Wednesday 19:35 | Wednesday Challenge | $32+$3 | $2.75 |
| Thursday 19:35 | Thursday Challenge - R&A | $12+$1.20 | $0.99 |
| Friday 19:35 | Friday Challenge | $32+$3 | $0.99 |
| Saturday 19:35 | Saturday Challenge | $50+$5 | $0.99 |
Take the free $88 and discover everything 888poker has to offer, improve your game, build your bankroll, and never look back!
Get all the latest PokerNews Canada updates on your social media outlets. Follow us on Twitter and like us on Facebook!