How Good Are Your Freeroll Skills? Find out in Our $5,000 PokerNews-Exclusive Freeroll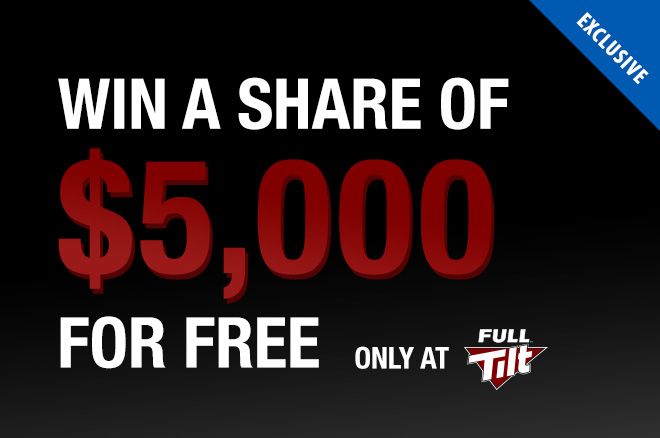 How good are your freeroll tournament poker skills? That question deserves a long, hard, truthful look at your game before you answer. We aren't asking because this is a quiz, or we expect an answer. We ask because we have a PokerNews-exclusive $5,000 freeroll coming up at Full Tilt and you're invited.
New players and experienced grinders alike cannot pass up on great offers no matter how many freerolls they may play. For casual and newer players, it offers a chance to get in the game and learn without putting any of your hard-earned cash at risk. For those grinders, freerolls are rarely played as their games have evolved and earning a living through poker has become their focus.
No matter what your skill level, or your goals in poker are, a $5,000 freeroll is a reason to celebrate and, if you're interested in building your bankroll, you need to make sure you're in a seat when the cards go in the air.
Look in the Full Tilt lobby to find the $5,000 freeroll:
Tournament Name:PokerNews $5K Freeroll
Tournament ID: 293771834
Date: September 4, 2015
Time: 14:00 ET (19:00 GMT / 20:00 CET)
Qualification: New depositors & PokerNews-linked players that earn 200 FTPs in August
Sick of having to navigate through those thousands of players only to win a ticket to another freeroll or a small cash prize? Well you're in luck as this is PokerNews-exclusive. That means only players who qualified through PokerNews can take a seat. With a smaller field to fight through, you have a much better chance to make your way to those top spots to take home a big pay.
How to get a seat
How you qualify depends on if you're new to Full Tilt or you are an established player that signed up through our links.
If you are new (do not have an account at Full Tilt), simply download the software here and make your first deposit before August 31.
TIP: Take advantage of Full Tilt's generous 100% up to $600 match bonus and deposit as much as possible to get the full benefit of the deposit bonus.
If you are already a PokerNews-referred player at Full Tilt, (previously downloaded the software through our links and made your first deposit), generate 200 FTPs by playing cash games, tournaments, and sit-and-gos between August 1-31. Earning 200 FTPs equates itself to about $20 in rake. You can do it in a session or two!
You have to admit, a piece of $5,000 heading for your bankroll would be a nice addition and show off all the hard work you've put in improving your game at the same time.
Are your freeroll tournament poker skills up to the task? The best way to find out is to get a seat and get ready to play on September 4, 2015. Head for Full Tilt today!
Get all the latest PokerNews Canada updates on your social media outlets. Follow us on Twitter and like us on Facebook!