Don't Forget To Register To The $10,000 GTD. Event Running on Dec. 27 at PokerStars!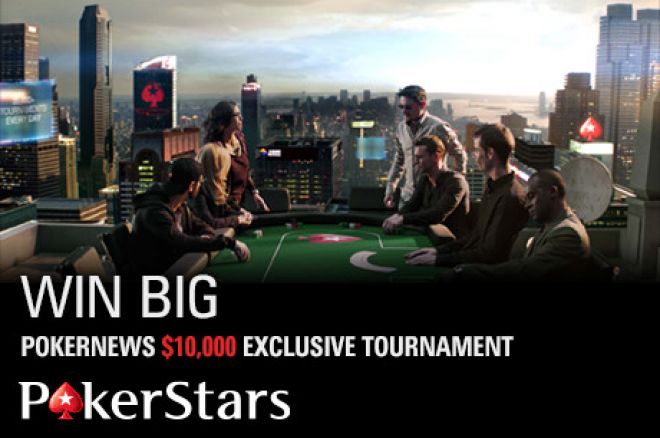 The last PokerNews-exclusive event of 2015 kicks off on Sunday, December 27. Don't miss it!
Attention, please. This is the final call for the $10,000 GTD. PokerNews-exclusive event running at PokerStars on December 27 at 14:00 EST.
If you want to close your 2015 with a bang and start the new year with a healthier bankroll, don't miss the opportunity to play for a share of $10,000 on December 27 at 14:00 EST. The tournament costs only $1 and we promise the field is going to be a lot easier than the one you usually find at the world's largest poker room.
Why is This an Easy Tournament?
If you play at Pokerstars, you already know what happens every time the room organizes an event that combines (a) a premium guarantee with (b) a super-low buy-in.
Poker players are egoistic, selfish animals. They always want what is best for them. Every-Single-Time.
Once they perceive value, the game is over. As soon as the players at a room like PokerStars hear that a $10,000 guarantee is to be given away in a $1 buy-in event, they don't hesitate a single second to open the client and register to the event. You can't blame them, it's in their nature.
What's bad, though, is how that this behaviour results in marathon-like events with thousands of players ready to battle for hours to add even only five bucks to their account.
As an egoistic and selfish poker player (no offense), you won't miss to see how precious this event is, especially as the $10K-guaranteed tournament is not open to all players at PokerStars.
Being this a PokerNews-exclusive event, we decided to play dirty and to allow only our own players to participate, meaning that, yes, if you didn't open your PokerStars account through us, you can't play. Does this sound unfair to you? Well, we are egoistic and selfish poker players too.
How to Play
1. Do You Have an Account at PokerStars? If you have an account at PokerStars and you opened it through PokerNews, you are good to go.
To play in the event, simply launch the PokerStars 7 client, and look for the following event:
Name: PokerNews $10K PokerStars
Tournament ID: 1390761189
Date: Dec. 27, 2015
Time: 14:00 EST
Buy-in: $1.10 + rebuys
Qualification: Restricted tourney for all players linked to PokerNews; no VPP requirement
2. Need an Account? If, for some obscure reasons, you don't have an account at the world's largest online poker site yet, you need to fix this as soon as you can.
As you already know, the only requirements to play are to open an account through PokerNews and to have at least $1 to pay for the buy-in. So, let's go for it.
Sign up for a free account
Enter the marketing code "PNEWS4"
Use the code "STARS600" for your first deposit
Register for the event
Follow the four steps listed above and you will be rewarded with a huge 100% match on your first deposit up to $600. This is on top of becoming automatically eligible for our special tournament on Sunday, Dec. 27 and all of our exclusive events taking place in 2016.
Remember: Dec. 27 is your chance to earn a huge pile of cash for just $1! Why let others win money that could be in your wallet? Sign-up to PokerStars today and get ready to play for a share of $10,000 on Sunday, Dec. 27!
Get all the latest PokerNews Canada updates on your social media outlets. Follow us on Twitter and like us on Facebook!