Five Reasons Why You Should Play the BLAST on 888poker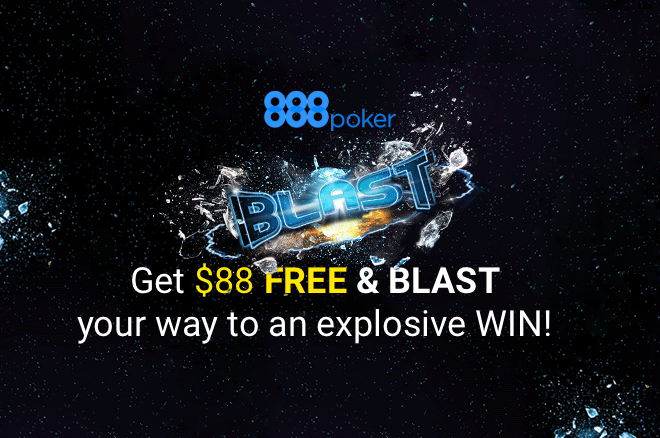 A little more than a week ago, the world's second-largest real-money online poker room, 888poker, launched a new and exciting lottery-style poker game dubbed BLAST where players can win huge sums of money for a small buy-in in just minutes!
BLAST is a four-max hyper-turbo sit-and-go offered at a variety of buy-ins ranging from $0.10 to $30 where the prize pool is randomly determined after registration is completed and prior to the first cards being dealt. Most of the time, the prize pool will be double the buy-in. However, if you get lucky, you can play for as much as 10,000 times the buy-in!
Here is a look at the top five reasons why you should play the BLAST!
Top Five Reasons You Should Play BLAST
1) Big Money: Perhaps the most compelling reason why you should play BLAST is that you can win a huge amount of money! You can wind up playing for $1,000 for just a $0.10 investment. Higher rollers can play for a whopping $300,000 guaranteed prize pool!
When playing for the biggest money, all four spots are paid with 60 percent being awarded to first place, so everyone will walk away a big winner. This is much more money than is awarded in multi-table tournaments, and you do not need to play for hours on end to add some zeros to your bankroll.
2) Fast and Exciting: BLAST is great to play when you don't have time for a long session and are looking for some exciting poker action. Blinds increase quickly at every two minutes, keeping the action fast and exciting throughout the match.
The game also features a very innovative countdown timer where, after a certain length of time, play ends and every remaining player is automatically all in until a winner is declared. Most of the time the countdown clock ticks down from six-minutes, however, when playing for a larger prize pool, the timer can be as high as 12 minutes.
3) Soft Fields: BLAST attracts many casino enthusiasts who are just looking to gamble. From watching and playing in these games, many players are in a rush to get all their chips in the middle early on with weak hands, even when blinds are at 25/50 and stack sizes are at the opening 1,500 chips.
As the blinds move up and relative stack sizes become smaller, many players are also not calling or folding optimally. This doesn't mean you need to be an expert on this part of the game, but as long as you have a general idea of when you should push, fold, or call, you should be better than the average player in these games.
4) Affordable for Everyone: With buy-ins ranging from $0.01 to $30, BLAST has something suitable for every bankroll. Even if you just have $1 in your account, you have enough money to play in 10 games at the $0.10 buy-in level. Players that have a bigger bankroll can enjoy games at $1, $5, and $30 buy-in levels giving every type of player a chance to win big money!
5) Play for Free: If you don't already have an account at 888poker, now is a great time to do so since you can play BLAST on the house without even making a deposit!
Simply create your free 888poker through PokerNews Canada and you will be awarded a free sign-up bonus of $88 which includes $8 in free cash and tournament tickets and an $80 bonus you can use to check out BLAST and many other amazing games on 888poker without even making a deposit!
What's more is that for a limited time you can get another $20 in free cash just by making a $10 deposit using the POKERNEWS10 bonus code. This offer is only available until August 10, so hurry up and take advantage!
If that is not enough, just make another deposit on top of this one to get your hands on a 100% bonus match up to $888!
Qualify into 888Live Local Tallinn for $2!
Many players have been striking it rich in the 888Live Local tour including England's Sam Acheampong who recently won 888Live Local London £220 Main Event for £21,950!
Coming soon, the poker festival is heading to Estonia where you can be one of the next players to win big in the $440 888Live Local Tallinn Main Event which features a generous $30,000 guarantee. The best part is that you can potentially head there for just $2.20 in our exclusive qualifier taking place on August 7 at 21:00 (CEST) in an amazing package valued at $1,250 which includes the $440 entry to the 888Live $30,000 Guaranteed Main Event, bed and breakfast at the four-star Nordic Hotel Forum, $250 towards your travel expenses, and much more!
Here's everything you need to know about the online satellite:
Date: Aug. 7
Time: 21:00 (CEST)
Name: 888 Tallinn sat - PokerNews
Buy-in: $2.20
Requirements: Open to all players
Password: TallinnPN2016
Guaranteed Prize-pool: $1400
Get all the latest PokerNews Canada updates on social media. Follow us on Twitter and like us on Facebook!