Are You Ready to Win a Share of $5,000 For Free?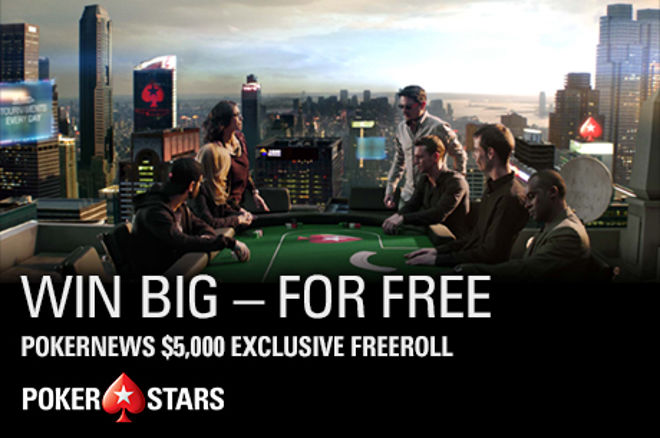 This may be a silly question, but we have to ask it: Do you want to play in a freeroll tournament that has a massive $5,000 prize pool?
Of course the answer is yes. Why wouldn't it be? Who doesn't like free money? Before you clamber for your mouse and keyboard, familiarize yourself with all of the details surrounding the PokerNews-exclusive $5,000 freeroll at PokerStars.
The excellent relationship that PokerStars and PokerNews enjoy allows us to put on a $5,000 freeroll for our readers every month. You will not find a bigger PokerStars freeroll offered anywhere online and getting involved in this exciting tournament couldn't be easier.
Having $5,000 up for grabs is a good enough reason to want to play in this freeroll, but when you consider that it is only open to a small number of PokerNews readers (meaning the chances of cashing is much higher than a typical freeroll) and there are no requirements (such as having to play thousands of hands in order to be eligible), this freeroll suddenly becomes a must-play tournament.
If you want to play in this $5,000 freeroll, which takes place at 3:05 p.m. ET on Sunday, Oct. 9, 2016, all you need to have done is downloaded PokerStars via PokerNews, entered our marketing code "PNEWS4" when creating your account and made your first deposit into your PokerStars account after Jan. 1, 2016, and you can register for the freeroll.
Those of you who have already met these simple requirements can search for tournament ID 1627042366 in the PokerStars lobby and register for the freeroll once it is showing in the lobby. If you don't yet have a PokerStars account, follow the five steps below and you can join your fellow PokerNews readers in a battle for a share of $5,000.
Sign up for a free account
Enter the marketing code "PNEWS4"
Use the code "STARS600" at your first deposit
Register for the event
The PokerNews $5K freeroll can be found in PokerStars' lobby with the information below:
Name: PokerNews $5K
Date: October 9 2016
Tournament ID: 1627042366
Time: 15:05 ET (registration ends after 2 levels)
Qualification: For PokerNews players that made their first deposit in 2016; no VPP requirement
Don't miss your chance for free money! Sign up to PokerStars today for your free ticket to our exclusive freeroll!