Five Reasons to Check Out TigerGaming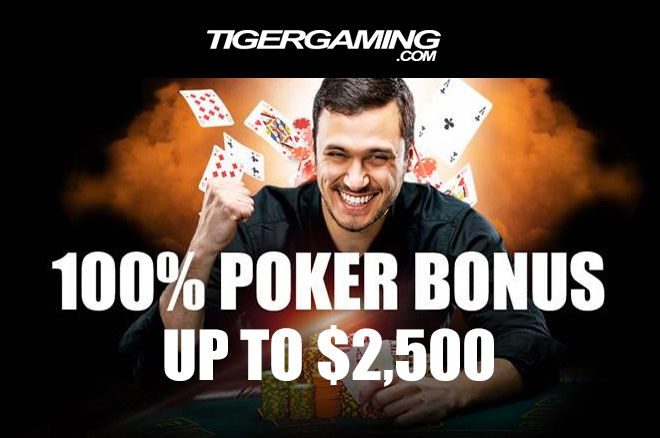 TigerGaming is one of the best-kept secrets in online poker. For almost two decades, players from around the world enjoy the great software and games.
If you aren't already playing at TigerGaming, it is certainly worth a look and could wind up being your go-to site for online poker and more. Here are our top five reasons why you should check out TigerGaming today.
1) Huge Welcome Package - Just about every online poker room offers some sort of welcome package. However, what differentiates TigerGaming from everyone else is both the amount of money you can grab for free and how easy it is to do so.
Simply follow the steps listed below and you will be awarded a humongous 100 percent first sign-up bonus up to $2,500.
- Download TigerGaming and create your account.
- Deposit at least $50
- Email [email protected] with the subject line "NEWTG."
- Sit back and wait for TigerGaming to credit your account with a bonus up to $2,500.
What's more is that the bonus is both easy to clear and done so in small installments of $5. Many other sites make you earn the entire bonus amount or nothing. With TigerGaming, even if you don't clear all the bonus, you will walk away with at least some of it. That being said, you should be able to earn all of your bonus since you have 60 days to clear it.
2) $5,000 New Depositors Freeroll - If you followed the steps listed above, in addition to the huge welcome package, you will also be awarded a free ticket to a $5,000 New Depositors Freeroll that takes place every Sunday at 8 p.m. ET. Since this freeroll is only open to those that just made their first deposit, the field size is small giving you a chance to win the lion's share of the $5,000-guaranteed prize pool.
3) $75 in Free Bets - Whether you like to partake in other forms of real-money gaming or not, when signing up to TigerGaming you should take advantage of $75 worth of free bets. Simply wager up to $25 on sports, casino games, and horse racing, and, if you lose, email [email protected] with the subject lines listed below, along with the ticket number and your account number within 24 hours to receive your money back. Of course, if you win, you keep what you earned.
| Bet Type | Subject Line |
| --- | --- |
| Casino | $25 free Casino bet |
| Sports | $25 free Sports bet |
| Horses | $25 free Racebook bet |
4) Awesome Promotions - While the first three on our list are definitely great reasons for you to sign up to TigerGaming, our next two reasons are what will keep you coming back for more. TigerGaming always features some of the best promotions available at any online poker room. Here's a look at what's on tap right now:
$10,000 Weekly Cash Leaderboard
$5,000 Sit 'n Go Weekly Leaderboard Challenge
$5,000 Multi-table Leaderboard Challenge
Unlimited Bad Beat Jackpot seeded with $100,000
$100,000 In Weekend Guarantees
5) Great Chance to Win - TigerGaming is full of recreational players and surprisingly absent of many sharks. This means if you haven't had good results elsewhere, you should have a great chance to win big at TigerGaming. Even if you have had success elsewhere, you likely can do even better at TigerGaming.
With so many great reasons to play at TigerGaming, can you really afford to be playing elsewhere? Sign up to TigerGaming today to see what you have been missing out on.
---
Stay connected. Follow us on Twitter and like us on Facebook!