Grab a Share of More Than €100,000 in Mission Month at bet365 Poker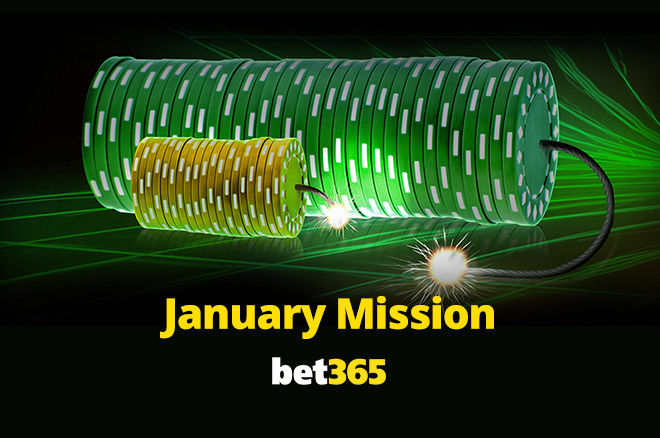 If you like free money, and we know you do, listen up. Mission Month is back at bet365 Poker with over €100,000 awarded from Jan. 2 to Jan. 29.
The missions are very easy to complete and award freeroll entries where you can win some free loot! The first step to get involved in Mission Month is to log into your bet365 Poker account and press the Start button in the Missions section.
You will see a pair of weekly missions that will award you tickets to weekly €20,000 freerolls that take place on Jan. 8, 15, 22 and 29 at 8 p.m. GMT. You may have already missed the first one, but the good news is that you still have time to play in the other three lucrative freerolls.
You can choose between either depositing or transferring €20 into your bet365 Poker account and winning three cash games hands on Premium Tables or instead not depositing at all and winning 15 cash game hands on two separate days. You must play at €0.05/€0.10 or £0.05/£0.10 tables or higher for winning hands to qualify toward completing the mission.
You can also complete both weekly missions to double your chances for a big score by receiving two tickets for each weekly freeroll.
The four €20,000 freerolls are not the only thing for you to play for during Mission Month. There are also two easy-to-complete daily missions which can win you Step 3 Premium Tickets valued at €2.50 for completing one of them or a ticket to a €1,000 freeroll taking place at 7 p.m. GMT for completing another.
Next week's daily challenges include winning five cash game hands on Premium Tables (awards €1,000 freeroll ticket) and winning 15 cash game hands on Premium Tables with stakes of at least €0.05/€0.10 or £0.05/£0.10 (awards a Step 3 Premium Ticket).
Need an Account?
If you don't already have an account at bet365 Poker, you will obviously need one to join in on the fun during Mission Month and your chance at free money. Simply sign up to bet365 Poker through our links, and not only can you take part in some truly amazing freerolls, but you can also be awarded a generous 100 percent first deposit bonus of up to €100!
https://ca.pokernews.com/news/2017/01/new-global-live-tour-launched-by-partypoker-16192.htm