Win Big When You Lose at TigerGaming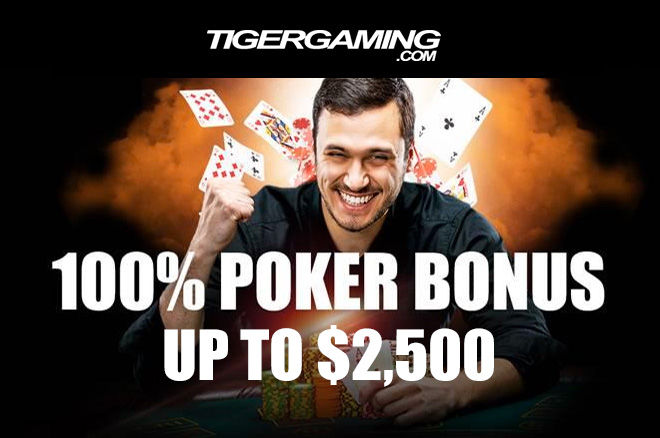 Head to any poker room in the world, including those online and there is no doubt you'll hear dozens of bad beat stories from those playing in them. While bad beats are part of the game, they are often costly to your bankroll and usually unwelcome, but TigerGaming players not only enjoy bad beats, they welcome them with open arms.
It is not because the players at TigerGaming are different to those you find at other online poker sites, the reason TigerGaming players enjoy being on the receiving end of bad beats is because the state-of-the-art online poker room has a potentially lucrative bad beat jackpot running.
TigerGaming's Bad Beat Jackpot tables are identified by a star displayed next to the table's name in the lobby. When you sit down at one of these special tables, you'll find that jackpot contributions are taken from the pot at a rate of $0.10 per $4 in the pot up to a maximum of $0.50 per hand. This money is only removed from Bad Beat Jackpot tables, not standard cash game tables, and is used to fund the jackpot.
The slight increase in rake aside, play at Bad Beat Jackpot tables is the same as any standard cash game table (you may find that play at the Bad Beat Jackpot tables is slightly looser than in a typical cash game because players may actively look to trigger the bonus), but if four or more players are dealt into a hand and one of those players loses with four-of-a-kind jacks (using both of their hole cards) or better at showdown then the Bad Beat Jackpot is triggered and everyone at that table wins even if they lost the hand!
You're likely to have your entire stack in the middle of the table if you hold quad jacks or better so it would be an expensive loss if you endured a bad beat at this moment, yet thanks to the bad beat jackpot, you'll be flush with cash even if you lose.
The Bad Beat Jackpot is paid as follows:
35 percent of the bonus goes to the player who suffered the bad beat
17.5 percent goes to the winner of the hand, i.e. the player who caused the bad beat
17.5 percent is split evenly among the rest of the table where the bad beat took place
30 percent is used to seed the bonus for the next Bad Beat Jackpot
Boost Your Bankroll with a $2,500 Bonus
Downloading TigerGaming via PokerNews Canada links makes you eligible for a massive first deposit bonus. To get your hands on up to $2,500 in bonuses, make your first deposit into your TigerGaming account of at least $50 and send an email to [email protected] with the bonus code "NEWTG" in the subject line of your email. The TigerGaming support team will then add a bonus to your account matching your deposit amount up to a maximum of $2,500.
This massive bonus releases into your available account balance in blocks of $5 for every 1,500 comp points earned and you have 60 days to release the full bonus amount; otherwise the uncleared bonus is forfeited.
---
Stay connected. Follow us on Twitter and like us on Facebook!