Big Money, No Whammies in Jackpotland at 888poker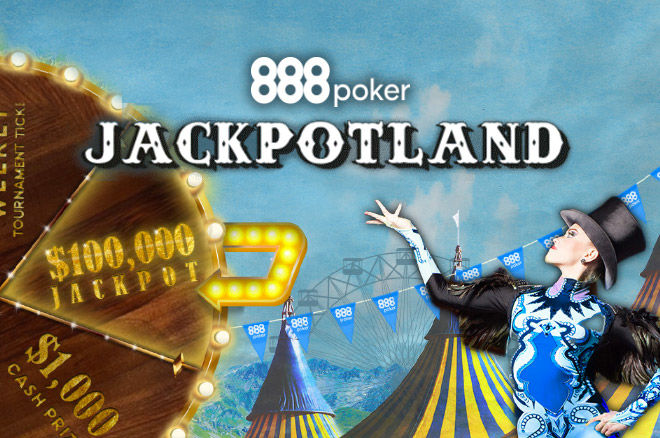 Players at 888poker are constantly rewarded with lavish promotions all year long. The latest promotion may be its best yet. Players have a chance to walk away with a cool $100,000 every day in the exciting Jackpotland promotion.
Getting involved in this promotion is very easy and there are paths for both new and existing players to win big. From now until April 22, any new player who makes their first deposit of at least $10 using the bonus code "JACKPOT100" will receive three tournament tickets for a $3,000 Jackpotland tournament. This includes players that already have an account but have yet to make a deposit and players that are creating accounts for the first time.
If you have already made a deposit at 888poker in the past, you should have already received three free tickets.
The three free tickets are good for any $3,000 Jackpotland Lucky or $3,000 Jackpotland Skills tournaments. The first tournament is completely based on luck with all players in the field all in every hand until the tournament is completed. As the name suggests, the second tournament puts your skills to the test and plays out like a standard poker tournament.
The $3,000 Jackpotland Lucky tournaments are at 2:05 a.m and 5:04 p.m. GMT daily. The $3,000 Jackpotland Skills tournaments run at 11:04 a.m. and 9:38 p.m. GMT daily.
Both tournaments have two major things in common. First, they both pay out a $3,000 prize pool. Second, the top 500 players will be awarded a spin in the Jackpot Wheel, where many great prizes are on the line including entries to the weekly $5,000 Jumbo Tournament, $1 and $10 cash bonuses and cash prizes of $1,000 and $100,000.
Odds are that most of the time you will earn a ticket to the $5,000 Jumbo Tournament; however, there is always a chance that you could walk away with a six-digit haul that could make life much more comfortable for you.
Jackpot Wheel Spin Odds
| Prize | Chance of winning |
| --- | --- |
| $5,000 Jumbo Tournament Ticket | 63% |
| $1 cash bonus | 29.99% |
| $10 cash bonus | 7% |
| $1,000 cash prize | 0.01% |
| $100,000 Jackpot | 0.001% |
Once you run out of tickets to the $3,000 Jackpotland tournaments, you will have plenty of chances to earn more. Complete one or more of the daily challenges below to earn up to three more tickets per day. The more challenges you complete, the better chances you have at earning spins.
Play in five or more BLAST tournaments, each with a buy-in of at least $1.
Play in tournaments or Sit & Go tournaments with a total buy-in of $4 (BLAST tournaments excluded).
Win 15 hands or more in real money cash games, including SNAP, with minimum stakes of $0.02/$0.05.
It is that easy to win big in Jackpotland at 888poker. Download 888poker today to see if you can spin your way to a $100,000 prize.