TigerGaming Welcomes Bad Beats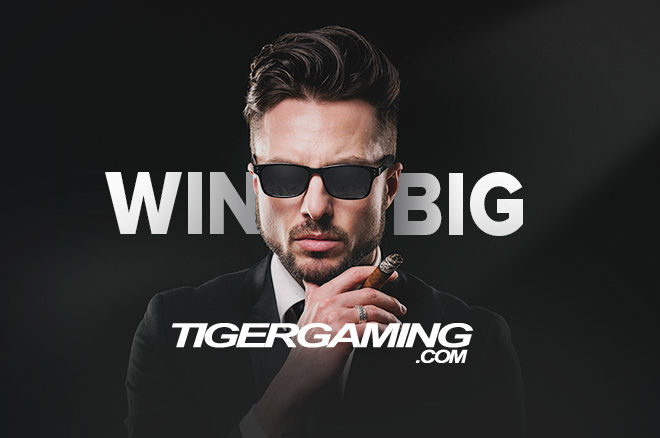 Whether you like it or not, bad beats are sewn into the fabric of poker. There is little you can do to avoid them. You simply have to grit your teeth and accept them, regardless of how costly they are.
If you play online poker at TigerGaming, enduring bad beats may not be as painful as on other poker sites. At TigerGaming there is an unlimited bad beat jackpot to help numb the pain of being the victim of a suck out.
TigerGaming's Bad Beat Jackpot tables play just like any other of the site's cash games except you'll find that jackpot contributions are taken from the pot at a rate of $0.10 per $4 in the pot, up to a maximum of $0.50 per hand. These contributions are used to keep the bad beat jackpot growing.
The bad beat jackpot tables are easily identified by a star next to them in the TigerGaming lobby. There's also the fact that play is generally looser on them because some players are actively looking to trigger the jackpot. Any time that four or more players are dealt into a hand and one of those players loses with four-of-a-kind jacks (using both of their hole cards) or better at showdown, the bad beat jackpot is triggered and everyone at that table wins even if they lost the hand!
The Bad Beat Jackpot is paid as follows:
35 percent of the bonus goes to the player who suffered the bad beat
17.5 percent goes to the winner of the hand, i.e. the player who caused the bad beat
17.5 percent is split evenly among the rest of the table where the bad beat took place
30 percent is used to seed the bonus for the next Bad Beat Jackpot
TigerGaming seeded the jackpot with $100,000, and if that is the sum in the pot when the jackpot it triggered, the player on the end of the bad beat would bank a cool $35,000. If this happened to you, would you still consider it to be a bad beat?
Boost Your Bankroll with a $2,500 Bonus
Downloading TigerGaming via PokerNews links makes you eligible for a massive first deposit bonus. To get your hands on up to $2,500 in bonuses, make your first deposit into your TigerGaming account of at least $50 and send an email to [email protected] with the bonus code "NEWTG" in the subject line of your email. The TigerGaming support team will then add a bonus to your account matching your deposit amount up to a maximum of $2,500.
This massive bonus releases into your available account balance in blocks of $5 for every 1,500 comp points earned. These points are earned at a rate of 100 points per $1 paid in cash game rake or tournament fees and every cent you pay earns you a point. TigerGaming gives you 60 days to release the full bonus amount otherwise the uncleared bonus is forfeited.
---
Stay connected. Follow us on Twitter and like us on Facebook!