TigerGaming's Bad Beat Jackpot Approaching $600,000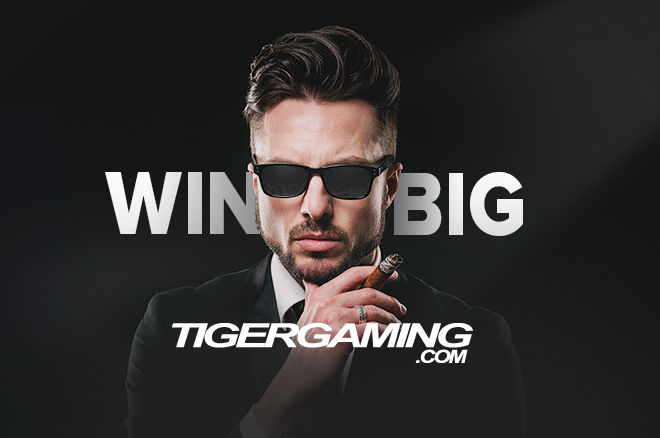 It's just a matter of time before someone becomes stinking rich at TigerGaming thanks to its Bad Beat Jackpot growing to unprecedented levels.
Last week, PokerNews reported that the jackpot reached $539,000. It's hard to remember a bad beat jackpot growing that big at any online poker room.
The jackpot is now current another $50,000 bigger at $589,000 and growing. Grabbing a share or even a huge chunk of this jackpot is easier than you might think.
To play for the jackpot, simply head to the TigerGaming lobby and sit down at the bad beat tables with the letter "J" designating them. While playing at the designated tables, you will win the jackpot if you lose a hand with quad jacks or better when both you and your opponent use both of your hole cards and there are at least four players in the hand.
If you wind up winning the hand that triggered the jackpot, TigerGaming will award you half as much as the person that lost the hand. Additionally, even if you just played in the hand that set off the jackpot, you will walk away with a nice chunk of change.
The Bad Beat Jackpot is paid as follows:
35 percent of the bonus goes to the player who suffered the bad beat
17.5 percent goes to the winner of the hand, i.e. the player who caused the bad beat
17.5 percent is split evenly among the rest of the table where the bad beat took place
30 percent is used to seed the bonus for the next Bad Beat Jackpot
Need an Account?
The only place you can currently play for a huge bad beat jackpot currently worth over $589,000 and climbing is TigerGaming. If you don't already have an account we have even better news for you. Simply follow the instructions below to be awarded one of the biggest welcome packages available at any online poker room including a huge deposit bonus up to $2,500 and two $5,000 First Depositor Freeroll tickets.
- Download TigerGaming and create your account.
- Deposit at least $50.
- Email [email protected] with the subject line "NEWTG."
- Sit back and wait for TigerGaming to credit your account with a bonus up to $2,500.
The bonus is easy to clear and releases into your available account balance in blocks of $5 for every 1,500 comp points earned. Every penny in rake or tournament fees earns you one point. TigerGaming gives you 60 days to release the full bonus amount otherwise the uncleared bonus is forfeited.