Top Five Reasons You Should Play Cash Games at Vbet Poker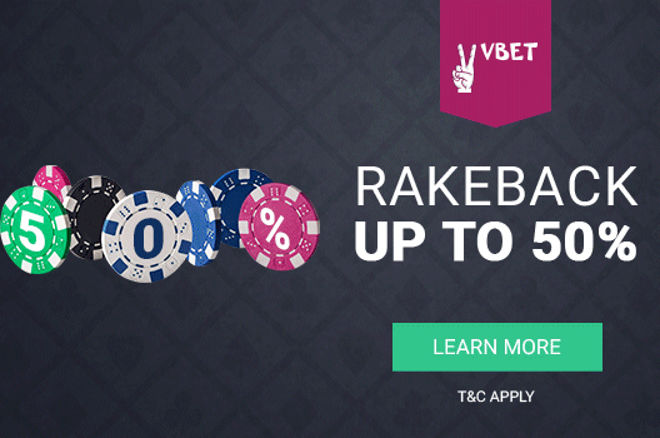 If you are looking for a new site to play cash games at, look no further than Vbet Poker. There are dozens of reasons you should check out this online poker room, especially if you play cash games. To narrow it down a bit, here is a look at our top five reasons you should play at Vbet Poker.
1) Generous Rakeback
Over the past few years, many online poker rooms have tightened their wallets and reduced rewards. Many others that offered rakeback revamped their programs to no long include this in their offerings.
This is one major reason cash games at Vbet Poker are more rewarded than at other online gaming rooms. Depending on your volume of play each week, you will be awarded anywhere from 10 to 50 percent rakeback on fees paid at cash game tables. The more you play, the higher your rate of return, but as long as you rake as little as €10 during a week you will receive something the following Monday.
| Rake Generated | Rakeback Awarded |
| --- | --- |
| €10 to €99.99 | 10% |
| €100 to €199.99 | 15% |
| €200 to €399.99 | 20% |
| €400 to €599.99 | 25% |
| €600 to €999.99 | 35% |
| €1,000 or more | 50% |
2) Rake Races
On top of earning money through rakeback, you can earn even more with weekly rake races that begin every Thursday. You can earn points on the leaderboard simply by playing any of the great real-money tournaments and cash games available at Vbet Poker. If vying for one of the top spots, we recommend playing more cash games than tournaments since you should be able to earn points at a faster rate
The top 25 players on the weekly leaderboard will share €1,100. The higher you finish the more of the prize pool you will earn.
3) Wide Variety of Games
Another reason to play cash games at Vbet Poker is that you have many games to choose from. Of course if you only want to play the most popular poker variant, no-limit hold'em, there are plenty of these games to go around with stakes ranging from €0.01/€0.02 to €2/€4.
Other poker variants you can enjoy at Vbet Poker include fixed-limit hold'em, pot-limit hold'em and pot-limit Omaha. Also you can enjoy open-face Chinese poker at Vbet Poker and participate in an exclusive €1,000 monthly OFC rake race.
Games are also available in full-ring, six-max, four-max and heads-up.
4) Games are Soft
Most professional poker players choose to play on big name sites. Very few look for value in emerging sites such as Vbet Poker. What this means is that most of the sharks are elsewhere making the games at Vbet Poker a bit easier to win at.
This doesn't mean you are guaranteed to win, however, in general, the fields are softer. There are some good players as well at Vbet, but if you find a tough table you can always choose another game on the site as most tables will be filled with recreational players.
5) No HUDs
HUDs that many professional players use do not work at Vbet Poker. This means you do not have to worry about opponents data-mining your stats and you can be on an even basis where the player with the best skill and luck at any predetermined moment will win and not the one with the best software.
We bet by now you are hooked on joining the great action at Vbet Poker. Sign up to Vbet Poker through PokerNews Canada today to get started.