Keep July 23 Free Because You Should be Playing in a $2,500 Freebuy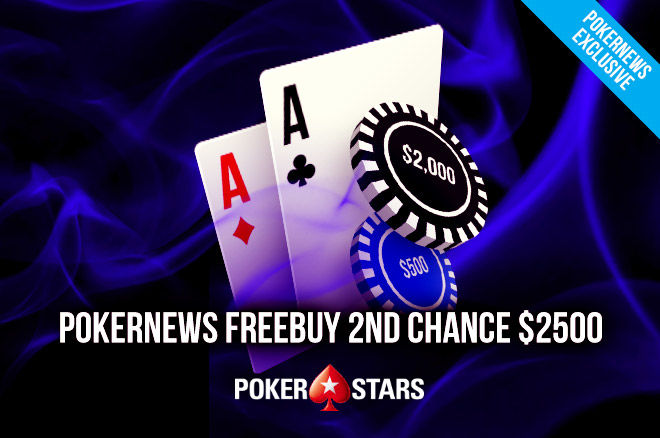 The latest PokerNews Freebuy 2nd Chance tournament takes place a PokerStars on Jul. 23, giving PokerNews readers the opportunity to play for a share of a guaranteed $2,500 prize pool for a tiny investment.
Set your alarm clocks for 9:05 p.m. CET on Jul. 23 because that is when the PokerNews Freebuy 2nd Chance tournament shuffles up and deals. This exciting tournament is played n nine-handed tables and no-limit hold'em is the game of choice. Each player, hopefully you too, sits down with a stack of 2,500 tournament chips and plays to blinds that increase every 10-minutes, which gives you plenty of chance to play your way to a cash prize instead of the tournament being an all-in fest within minutes of the event starting.
Only PokerStars players who created their accounts via PokerNews links and who used our marketing codes when doing so, are eligible to play in these special tournaments. This not only means that you are playing against like-minded poker players, but the number of entrants is vastly less than what you would expect from such a cheap tournament with a large prize pool. So long as you made your first deposit at PokerStars during 2016 or 2017, you will be able to play in this PokerNews-exclusive event.
Those of you who do not have a PokerStars account will want to follow the steps below:
Sign up for a free account
Enter the marketing code "PNEWS4"
Use the code "STARS600" at your first deposit
Register for the event once your ticket is credited
Entry to the PokerNews Freebuy 2nd Chance tournament only costs a single StarsCoin and if you dust off your 2,500 chips while late registration is open you can reenter with a new stack for another StarsCoin and take a second bite at that juicy prize pool.
You may not be available to play in the Jul. 23 edition of this tournament but you will have five more chances to play in the coming months. Take a look at the short list below and try to plan your non-poker activities around the dates.
Aug. 20, 2017
Sep. 24, 2017
Oct. 22, 2017
Nov. 19, 2017
Dec. 17, 2017