A Bad Beat at TigerGaming Could Trigger a $340,000 Jackpot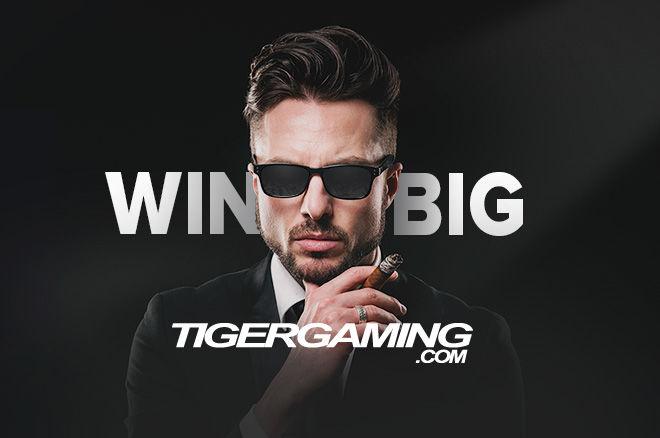 In the past, bad beat jackpots were featured on just about every online poker room. Today, bad beat jackpots are rare in the online poker world with TigerGaming being one of few notable exceptions.
Bad Beat Jackpot Beneficiaries
A handful of players are extremely thankful that TigerGaming offers a bad beat jackpot as it has been triggered three separate times this year with players collecting huge six-figure cash prizes.
"ONEnDONE" was the first player to strike gold this year on Feb. 9 after experiencing a huge bad beat that resulted in a payout of $137,178. A few months later, "Catfancy" triggered the jackpot on May 24 to collect $229,350 before "5 Fives" did the same on July 21 for $151,711.
The bad beat jackpot is currently at $340,000. While the jackpot won't be easy to trigger, there is no reason why you can't be the next player to walk away with a huge payday.
How to Qualify
The first step to qualifying for the jackpot is to log into TigerGaming and find the tables that are clearly designated as bad beat jackpot tables with a star next to them.
After that, grind away and hope for the bad beat of your lifetime. If you lose a hand with quad jacks or better while both you and your opponent are using both of your hole cards with at least four players dealt into the hand, you will win 35 percent of the jackpot amount.
The winner of the hand not only collects what was won in the pot but more importantly is handsomely awarded 17.5 percent of the jackpot. Even if you folded in a hand, you can root for other players on the table to bad beat each other because by simply being dealt cards in a hand in which a jackpot is triggered, you will share 17.5 percent of the jackpot.
The remaining 30 percent is used to seed the next jackpot, which is one of the reasons the jackpots at TigerGaming are always so big.
Need an Account?
In order to have a chance at becoming the next big bad beat jackpot winner, you will obviously need an account at TigerGaming. If you don't already play at TigerGaming we have great news for you as the online poker room offers one of the most robust welcome packages available anywhere.
Create your free TigerGaming account via PokerNews Canada and when you deposit at least $50, your deposit will be matched up to $2,500 simply by sending an email to [email protected] with the bonus code "NEWTG" in the subject line of your email. Then just sit back and wait for TigerGaming to get back to you and fund your bonus account.
The bonus is not only potentially big but easy to clear as well. It releases into your available account balance in small $5 chunks for every 1,500 comp points earned. This means even if you don't clear the entire bonus, you will walk away with at least some of it based on how much you play. You have 60 days to release the entire bonus amount after which any remaining bonus will be forfeited.