TigerGaming Bad Beat Jackpot Approaching $400,000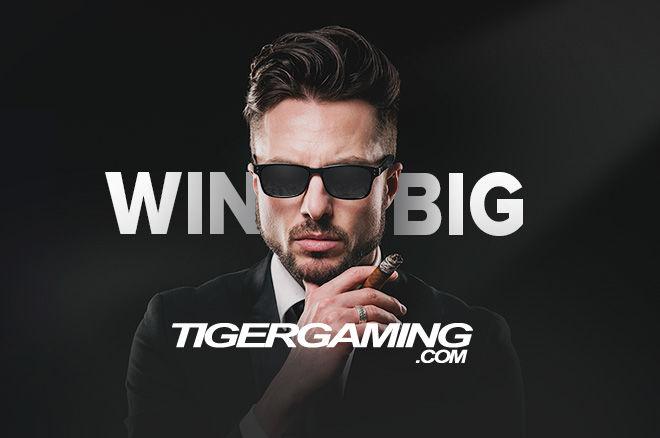 There are few people, if any, who enjoy being on the receiving end of a bad beat when they are playing poker, but those who do like these soul crushing blows probably play online poker at TigerGaming.
The reason for this is TigerGaming has a bad beat jackpot that can grow huge and pay out potentially life-changing prizes.
On Feb. 9, "ONEnDONE" suffered a bad beat while seated at a Bad Beat Jackpot eligible table at TigerGaming and was consoled with a $137,177 prize. A couple of months later, on May. 24, the biggest-ever jackpot at TigerGaming went to "Catfancy" who walked away with $229,350. More recently, on Jul. 21, $151,711 was given to "5 Fives" after the jackpot was triggered.
Despite being hit in late July, the TigerGaming Bad Beat Jackpot is already approaching $400,000. At time of writing, the jackpot stood at $382,881. Whoever is lucky, or maybe we should say unlucky enough to trigger the jackpot will win a cool $134,008 or possibly more as the jackpot continues to grow.
How to Qualify
In order for TigerGaming to pay out the jackpot, players must be seated at the special real money bad beat tables. These are easy to find as they have a star next to the table name. Games on these tables play like any other cash game, but an additional $0.10 per $4 in the pot is removed, up to a maximum of $0.50 per hand, to fund the jackpot.
Then what needs to happen is a player loses with four of a kind jacks or better while using both hole cards (the person giving the bad beat must use both hole cards too) when there are at least four players seated at the table and the bonus is paid out immediately as shown below:
35 percent of the bonus is given to the player who had the bad beat (the loser of the hand)
17.5 percent is given to the winner of the hand
17.5 percent is split evenly among the other players at the table
30 percent is used to seed the next jackpot
Get Your Account Today
In order to have a chance at winning a share of this massive bad beat jackpot, you need an account at TigerGaming. Don't worry if you don't already have one because PokerNews can help.
Create your free TigerGaming via PokerNews and deposit at least $50 and your deposit will be matched up to $2,500 simply by sending an email to [email protected] with the bonus code "NEWTG" in the subject line of your email. The TigerGaming support team will quickly get back to you and fund your bonus account.
Not only is the bonus potentially big, but it is easy to clear as well as it releases into your available account balance in $5 chunks every time you earn 1,500 comp points. You have 60 days to release the full bonus amount after which your remaining bonus will be forfeited.
So hurry on over to TigerGaming to play for your chance at a big payout.