Win Up to $100,000 for Free in the Action Squad at 888poker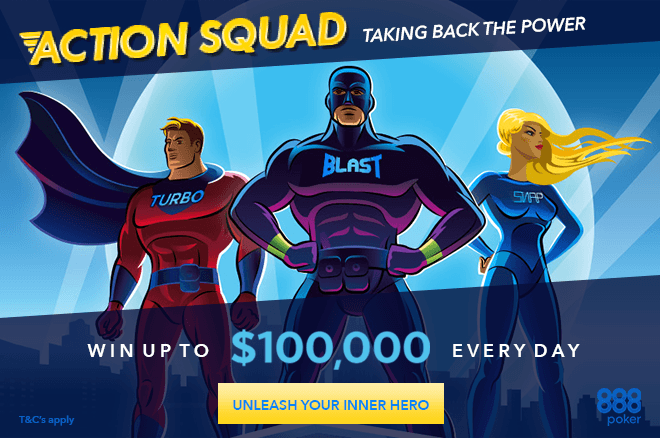 If you like superheroes, missions, and a chance to win up to $100,000 every day, you will absolutely love the Action Squad promotion at 888poker.
Freerolls Galore
If you have already deposited at 888poker, you should have already received three tickets to $3,000 Action Squad tournaments. You can also receive three tickets just by signing up to 888poker through our links and making a deposit of at least $10 using the "SQUAD10" promo code.
There are three different types of $3,000 freerolls to choose from depending on whether you prefer a skill based or luck based game and what time you prefer to play at as listed below:
$3,000 Blast Man Tournament - 11:10 a.m. GMT
$3,000 Captain Snap Tournament - 2:10 p.m. GMT
$3,000 Turbo Warrior Tournament - 6:10 p.m. GMT
Don't worry about running out as there will be plenty of ways you can earn more tickets.
In addition to these freerolls there are also $1,000 Power UP Tournaments every day at 9:10 p.m. GMT and $10,000 Ultimate Hero Tournament on Sundays at 7:30 p.m. GMT.
Win Big in Missions
You can earn freeroll tickets and other prizes up to $1,000 in cash by completing daily missions that are both fun and easy to complete. You can complete one of the missions listed below to win a Power Scratchcard which will determine the prize. You can also choose to go for it all and complete all four missions and receive four scratch card tickets.
Have a BLAST, man! - Win two BLAST Tournaments with a minimum buy-in of $1
SNAP into Action - Win 15 hands in no-limit hold'em SNAP cash games, with minimum stakes of $0.02/$0.05
Go Go Turbo Warrior! - Play in multi-table or sit-and-go tournaments with a total buy-in of at least $8 -
Flop till you drop! - Play 50 hands in the new Flopomania cash game with antes of at least $0.05
You can also win a Super Power Scratchcard by finishing in one of the top 888 spots in any of the $3,000 freerolls. The Super Power Scratchcards allow you to strike it really big with tournaments tickets and cash prizes up to $100,000 instantly!
Win More in the Superhero Spinner
One more way to win some free goodies is by spinning away at the Superhero Spinner. Once a day you can spin the Superhero Spinner and win bonuses and tournament tickets. You can also spin a second time by logging into the mobile app once a day between 5 p.m. and 12 a.m.
The Action Squad promotion will only be around until Nov. 5, so don't let another moment pass you by. Download 888poker today and get started on your path to free money and more. Who knows, you may be the next $100,000 winner!