TigerGaming Bad Beat Jackpot Hits $850,000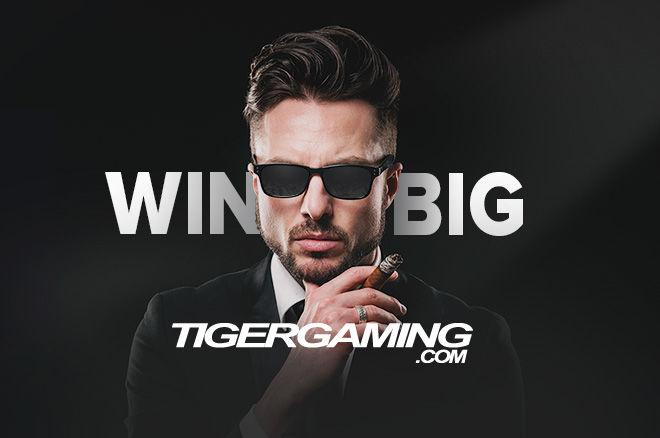 There has been no better time to endure a bad beat at the cash game tables of TigerGaming because the site's bad beat jackpot has broken through the $850,000 barrier meaning someone is going to win big soon.
TigerGaming's Bad Beat Jackpot is paid out if someone is beaten while holding quad jacks. If the jackpot is triggered as you are reading this article, the person who has the bad beat put on them will have more than $233,000 put into their TigerGaming account, which would be the biggest-ever jackpot awarded on the site.
The Bad Beat Jackpot tables are easy to spot in the TigerGaming lobby because they have a star next to the table name. Play on these tables is the same as any other except an additional $0.10 rake per $4 in the pot – up to a maximum of $0.50 — is removed to contribute to the jackpot.
In order for the jackpot to be triggered, four or more players must be dealt into the hand and one player must lose while holding at least four of a kind jacks, using both hole cards. The winner of the hand must also use both of their hole cards for the hand to be considered valid. If these conditions are met, the massive jackpot is distributed as follows:
27.5 percent of the bonus is given to the player who had the bad beat (the loser of the hand)
15 percent is given to the winner of the hand
15 percent is split evenly among the other players at the table where the bad beat happened
5 percent is given to all other players on Bad Beat tables
27.5 percent is used to reseed the jackpot
10 percent is for administrative costs
Using the figures above, you can see that if you were sat at a Bad Beat Jackpot table when the $850,000 jackpot is hit, you'd receive a chunky $42,500 in tour account just for playing, while the winner will scoop more than $233,000.
Previous winners of the TigerGaming Bad Beat Jackpot are "ONEnDONE" who won $137,177 on Feb. 9, 2017, "Catfancy" who banked $229,350 on May. 24, 2017 and "5 Fives" who won $151,711 on Jul. 21, 2017. Will your name be added to this list of big winners?
Sign up to TigerGaming Today
If you have not already, head over to TigerGaming to sign up for a free account. It's the only way to qualify online for a Bad Beat Jackpot worth almost $580,000 for simply playing some poker.
As an added incentive for signing up, TigerGaming is offering a deposit bonus up to $2,500 and two $5,000 First Depositor Freeroll tickets. All you have to do is download TigerGaming and create your free account. After you deposit at least $50, email [email protected] with the subject line "NEWTG" and begin collecting your free money.
The deposit bonus is released into your account in $5 chunks for every 1,500 comp points earned by playing your favorite games on the site. TigerGaming gives 100 points per $1 paid in cash game rake or tournament fees, and players have 60 days to earn the full bonus.
All you need to do then is play on Bad Beat Jackpot tables and hope your luck is in, or out, because you'll win big regardless!