Win up to $250,000 in the 888poker Fortune Trail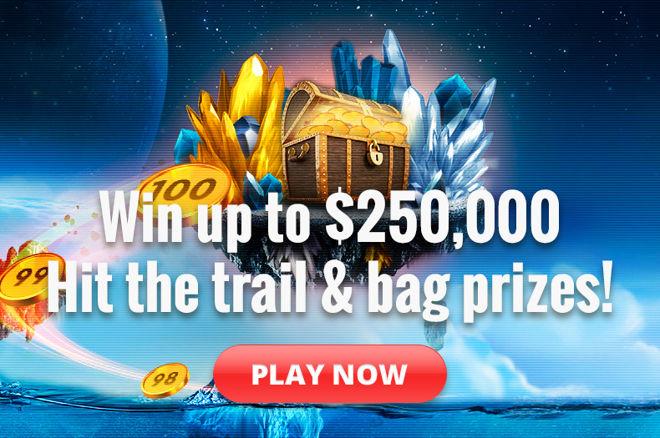 888poker is giving its customers the chance to win $250,000 cash in its latest promotion Fortune Trail.
The Fortune Trail runs at 888poker until Feb. 11, 2018. Players must complete Golden Step Challenges on the Fortune Trail, with each completed challenge rewarding tournament tickets or bonus prizes of up to $10.
Like some of the other challenge-based 888poker promotions, the challenges on the Fortune Trail are simple and easy to complete. The challenges reset every day, but will always be one of the following:
Play in a tournament or tournaments
Win at BLAST poker
Finish in the money in a tournament
Win a specific number of hands in cash games
Play a set amount of hands in Flopomania
Get to showdown in a specific number of hands
Place a specific number of bets in the casino
Place bets totalling a specified amount in the Live Casino
Place bets totalling a specified amount in Live Sports
Win in Live Sport bets
There are 100 Golden Step Challenges to complete in total and the final step, called the Ultimate Destination, awards a Grand Fortune prize that can be up to $250,000 in cold, hard cash. Every few steps towards the Ultimate Destination will see you land on a Treasure Chest Milestone which contains a Treasure Chest Reward. These rewards can be awarded as cash or bonuses.
Players can also win tickets to $4,000 Fortune Trail Tournaments. These tournaments shuffle up and deal every day at 7:00 p.m. and 11:00 p.m. GMT until Feb. 12, giving you plenty of chances to boost your poker bankroll.
If you want to get involved in the Fortune Trail and potentially win big, you're going to need an 888poker account. If you already play at 888poker, log into your account and start completing Fortune Trail's steps. Those of you without an account can download 888poker via PokerNews, and you receive a free $88 worth of cash and tournament tickets (a free £20 in the United Kingdom) just for creating your account. Once you make your first deposit, 888poker will match it 100 percent up to an industry-leading $888, giving your 888poker career a significant boost.