CoinPoker Giving Away 5 Million CHP at its Rake-Free Cash Games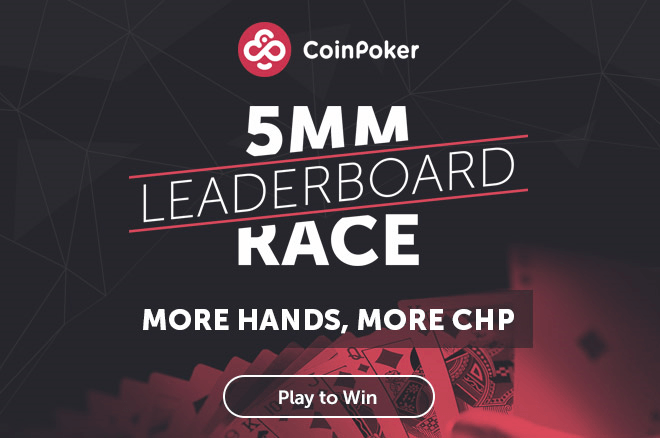 Since launching late last year, CoinPoker has grown into the biggest cryptocurrency online poker room thanks to amazing software, a wide selection of games and awesome promotions.
One other huge attraction is that all of the cash games are rake-free, saving players huge money every month in what typically lines the pockets of an online gaming operator.
Win Big in the 5 Million CHP Leaderboard Race
As if rake-free cash games aren't enough to get your mouth watering, the CoinPoker has another amazing reason to grind away. On March 12, CoinPoker launched the cash game leaderboards where the highest-volume players will be awarded a share of 5 million CHP, the cryptocurrency used in the online poker room.
Each week, the leaderboards are broken out into Low (big blind = 0.02-0.50 CHP), Medium (big blind = 1-5 CHP), and High (big blind = 10-50 CHP) for players to compete against others at similar stakes. In other words, there is something for everyone! Players can choose to climb multiple leaderboards at the same time.
Weekly Leaderboards
Week 1: March 12 12:00 a.m. GMT to March 18 11:59 p.m. GMT
Week 2: March 19 12:00 a.m. GMT to March 25 11:59 p.m. GMT
Week 3: March 26 12:00 a.m. GMT to April 1 11:59 p.m. GMT
Week 4: April 2 12:00 a.m. GMT to April 8 11:59 p.m. GMT
At the end of each week, the top 50 players on the Low and Medium leaderboards and the top 30 players on the High leaderboard will walk away with prizes based on the number of hands they have played. The only major caveat is that players must have at least a 10 percent VPIP to qualify for the leaderboards.
At the end of the month, CoinPoker will also be awarding the top 100 grinders and each monthly leaderboard. In total 1 million CHP will be awarded to winners on the Low leaderboards, 1.5 million CHP to players on the Medium leaderboards and 2.5 million to players on the High leaderboards.
Head to CoinPoker to learn more about how you can win big grinding rake-free cash games on the 5 Million CHP leaderboards.
Increased Security
CoinPoker is out to ensure player's safety while promoting a positive game room environment. It is introducing a second-factor authentication application called Civic as its next step to ensuring these goals.
"CoinPoker is working hard to provide online poker that is fair, safe and secure," said Michael Josem, head of security at the project, "We want to protect player privacy and Civic will help us do that in a safe and secure manner."
Thousands of players and crypto-investors acquired CHP token during the ICO process. Since then it is available at great value at popular exchanges including ww.HitBtc.com, www.AllCoin.com, and others.
In addition, the site now allows player-to-player transfers to make life easier for its players.