Grab up to $10,000 Each Week in Soft Cash Games at TigerGaming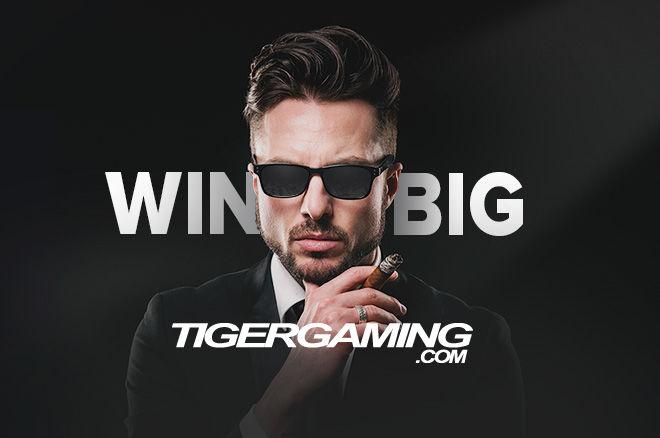 Cash games used to be beatable on every site with every online poker room constantly shuffling in more than enough players to drown out the fact that there are sharks around.
Today, there are more sharks than recreational players at just about every online poker room. This doesn't mean the games aren't still beatable if you are good enough but it does mean that there is likely better value than just playing at the biggest site around.
We are about to let you in on a little-known secret that most poker sharks aren't even aware of. Our friends at TigerGaming boast some of the softest cash games around thanks to the site attracting tons of casino and sports betters to its online poker room.
This doesn't mean you won't encounter the occasional shark or two but it does mean that most tables will feature recreational players giving you a better chance to win than almost anywhere else.
Don't let this fool you into thinking it is an automatic win every time you are at the tables. It just means the chances of you doing so are better than they would be on other sites you might already be playing at.
Win a Share of $10,000 in the $10,000 Weekly Cash Leaderboard
As if playing against soft competition isn't enough, TigerGaming is making it more worth your while to grind as much as you can with its $10,000 Weekly Cash Leaderboard.
The leaderboard is broken down into three different levels, meaning regardless of the stakes you play you have a good chance to win a prize every week if you grind hard.
$10,000 Cash Game Leaderboard Levels
Bronze: $0.10/$0.25 to $0.50/$1
Silver: $1/$2 to $2/$4
Gold: $3/$6 to $5/$10
Leaderboard points are easy to learn and are simply determined based on how much rake you contribute at cash game tables at a rate of three leaderboard points for every 100 comp points. With each dollar in rake contributed earning 100 comp points, it essentially comes down to three points for every dollar contributed in rake.
The good news about this system rather than one that awards points on hands won or lost is that you can potentially win a big leaderboard prize even if you had a losing week.
The weekly leaderboards run from 8:01 a.m. ET on Sunday until 8:00 p.m. the following Sunday, with the top spot earning anywhere from $500 to $2,000 depending on the which leaderboard level you are competing on. A total of 60 spots will be paid out with the top 20 grinders walking away with cold hard cash the following Tuesday.
$10,000 Cash Game Leaderboard Payouts
| Place | Gold | Silver | Bronze |
| --- | --- | --- | --- |
| 1 | $2,000 | $1,000 | $500 |
| 2 | $1,400 | $700 | $340 |
| 3 | $800 | $400 | $200 |
| 4 | $400 | $200 | $100 |
| 5 | $200 | $100 | $50 |
| 6 | $160 | $80 | $40 |
| 7 | $120 | $60 | $30 |
| 8-10 | $80 | $40 | $20 |
| 11-20 | $40 | $20 | $10 |
Another thing to note is that it's possible to earn prizes from all three leaderboards if you enjoy grinding at multiple stakes. Our recommendation, however, is to focus on just one stake level each week to maximize your chances at snagging a prize.
Need an Account?
If you aren't already playing in the soft cash games at TigerGaming and wish to participate in the $10,000 Weekly Cash Leaderboard, you will obviously need an account at TigerGaming. The good news is that TigerGaming offers one of the most generous welcome packages available at any online poker room.
Download TigerGaming via PokerNews to get your hands on a massive first deposit bonus of up to $2,500. To grab your bonus, deposit at least $50 on your first deposit and send an email to [email protected] with the bonus code "NEWTG" in the subject line of your email.
Another great part of this bonus is that you do not need to clear it all to receive a good portion of it thanks to it releasing into your available account balance in small $5 chunks for every 1,500 comp points earned. Any uncleared bonus will be forfeited after 60 days.