20 Ethereum Guaranteed in the CoinPoker ETH Reloaded Final on May 6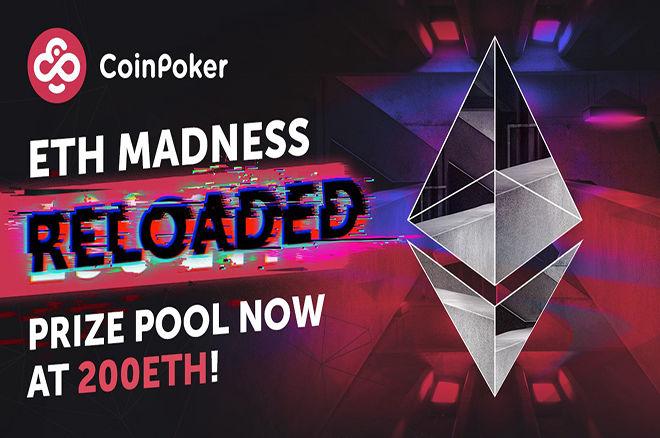 Those of you who have been looking to invest in cryptocurrencies have the opportunity to get your hands on a share of 20 Ethereum (ETH) in the May 6 final of the ETH Madness Reloaded series at CoinPoker.
ETH Madness Reloaded is an online poker tournament series at CoinPoker that has seen 200 ETH guaranteed. The previous incarnation of this series saw two tournaments take place each day, one with a 2 ETH prize pool and the other sporting a 5ETH guarantee.
Thanks to the tremendous support shown by players, CoinPoker doubled the guarantee of the ETH Madness Reloaded series to 200 ETH, with daily tournaments featuring a 4 ETH and 10 ETH prize pool.
ETH was trading for $797.57 per ETH at the time of writing this article
| Time | Buy-in | Guarantee |
| --- | --- | --- |
| 3:00 p.m. EEST | 250 CHP | 4 ETH |
| 8:00 p.m. EEST | 500 CHP | 10 ETH |
The final event of the ETH Madness Reloaded series takes place at 8:00 p.m. EEST on May 6, costs 1,000 CHP to enter and guarantees 20 ETH will be awarded to those finishing in the money places. The prize pools are fixed, meaning if buy-ins exceed the guarantee, no additional payouts will be made, but if the buy-ins are less than the guarantee, no deductions from the prize pool will be made.
The top 12 finishers in each tournament, including the final event, win a share of the prize pool, as shown in the payout table below.
| Place | Percentage of prize pool |
| --- | --- |
| 1 | 30% |
| 2 | 20% |
| 3 | 12.9% |
| 4 | 8.9% |
| 5 | 7% |
| 6 | 5.8% |
| 7 | 4.6% |
| 8 | 3.6% |
| 9 | 2.6% |
| 10-12 | 1.4% |
Deposit at CoinPoker
CoinPoker uses the cryptocurrency CHP, instead of traditional currency, for all activity on the site. Thankfully, obtaining CHP is easy once you have followed a few basic steps.
Firstly, you need to join an exchange and then transfer your funds to an ERC-20 wallet. Once you have done this, you can make the transfer from your ERC-20 wallet to CoinPoker. Some of the ERC-20 compliant wallets that CoinPoker suggest include:
MyEtherWallet
MetaMask
Mist
Parity
imToken for iPhone
imToken for Android
Secondly, ensure that you verify your wallet on CoinPoker before you join any of the ETH tournaments otherwise you will not be able to transfer your winnings until it is verified, which will result in delays in receiving any prizes you may win.
For full, detailed instructions on how to purchase CHP follow this link to CoinPoker's instructions.
Download CoinPoker today and see if you can play your way to some ETH cryptocurrency.