Win Big in Just Minutes in the BLAST at 888poker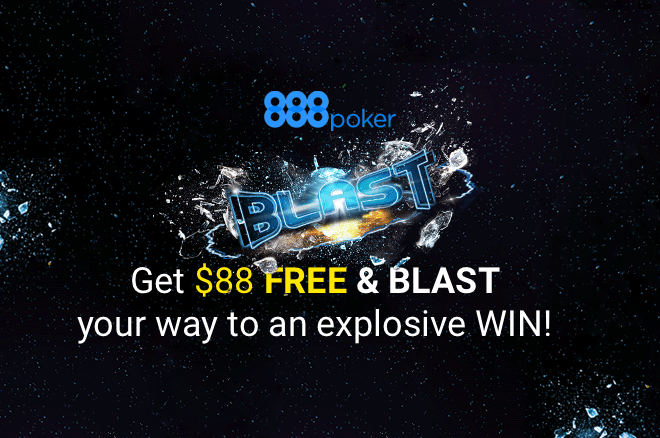 Just about every online poker room currently has a lottery-style sit-and-go game.
Many of them are the same. However, 888poker has a unique take on this popular poker game called the BLAST.
There are two types of this game. At lower buy-ins of $0.10 and $1, the game is called the FAST BLAST and features a faster structure. While at higher limits of $5, $15, $30, and $100 the game features a slightly longer structure.
There are similarities in both structures. The game begins when four players are registered and then a random prize pool is determined between two to 1,000-times the buy-in. This means at a $0.10 buy-in, players could be playing for a huge $1,000 prize pool while at the highest $100 buy-in level, it is possible to play in a game featuring whopping $1 million prize pool.
When it is just double the buy-in, the game is winner takes all. In all other circumstances, prizes are awarded to other finishers as well.
There are anywhere between three and six two-minute blind levels in the normal BLAST, while in FAST BLAST the game features one to three blind levels. This is determined based on the prize pool and in both circumstances, players start off with 1,500 in chips.
After the final level, the remaining players are all-in until there is one player with all of the chips. This allows players to enjoy the game even if they only have a few minutes to play poker.
These games aren't for everyone but plenty of players have won big.
Need an Account?
If you would like to try to win big at the BLAST or FAST BLAST at 888poker, you will need an account. If you don't already have one, we have great news for you.
Simply download 888poker through our links and you will be awarded an $88 bonus (£20 in the UK) without making a deposit. Once you are ready to make your first deposit, it will be matched in the form of a bonus up to $888 or more than twice as much advertised on the site.