TigerGaming Bad Beat Jackpot Swells to More Than $563K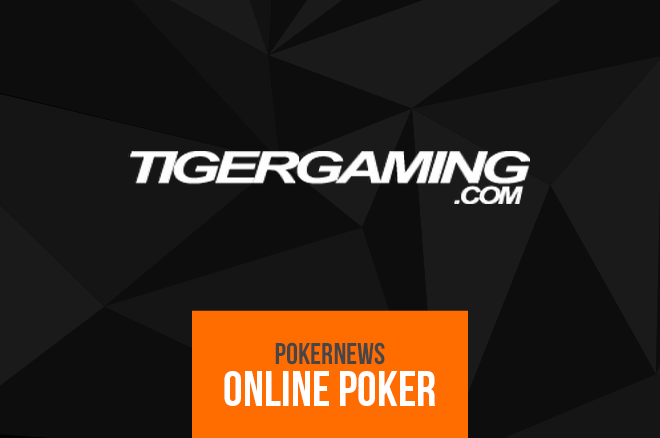 Have you ever been on the receiving end of a horrific bad beat at the poker tables? You know, the type that makes you want to hurl your mouse at the wall in a fit of rage as your four of a king tens gets crushed by a stronger hand? If so, and if this happened at TigerGaming, you would be celebrating. Why? Let's find out.
TigerGaming has Bad Beat Jackpot tables where you and everyone else seated at this type of cash game table are rewarded for when unlikely bad beats occur. Play on these tables, which are easy to locate in the lobby as they have a yellow star next to their name, is exactly the same as a standard cash game table except an extra $0.10 per $4 in the pot (up to a maximum of $0.50) is removed; this is used to fund the Bad Beat Jackpot.
The jackpot is triggered when someone on a Bad Beat Jackpot table has four of a kind tens beaten by a stronger hand. If this happens, the jackpot, which currently stands at $563,131, is distributed as follows:
20 percent goes to the player who endured the bad beat (the player with the losing hand)
12.5 percent goes to the player who gave the bad beat (the player with the winning hand)
12.5 percent goes to all other players at the table where the bad beat occurred
12.5 percent goes to all other players who were playing in bad beat jackpot tables when the jackpot was triggered
20 percent is used to seed the next Bad Beat Jackpot
12.5 percent goes towards administrative fees
This means if the Bad Beat Jackpot was triggered right now, and you were the player who suffered he bad beat, TigerGaming would give you an astonishing $112,626.20! The person who put the bad beat on you would receive $70,391.30 and everyone who were playing at Bad Beat Jackpot tables would share an additional $70,391.30.
Previous TigerGaming Bad Beat Jackpot Winners
| Winner | Date | Amount |
| --- | --- | --- |
| Timmarymad | Mar. 22, 2018 | $40,700 |
| BB_8 | Mar. 18, 2018 | $124,932 |
| Tyrant | Jan.7, 2018 | $273,382 |
| 5 Fives | Jul. 21, 2017 | $151,711 |
| Catfancy | May 24, 2017 | $229,350 |
| ONEnDONE | Feb. 9, 2017 | $137,177 |
You've got to be playing at a Bad Beat Jackpot table when it is triggered to win a prize, so if you already have a TigerGaming account log in and start playing. Those of you who need an account can download TigerGaming via PokerNews and when you make a deposit of at least $50, you will receive a 100 percent welcome bonus matched up to $1,000.
You need to email [email protected] with "NEWTG" as the subject header to claim your bonus. The TigerGaming customer support team will credit your account with the bonus within 48 hours of receiving your email.