Everest Poker Has €20,000 Worth of Freerolls Every Month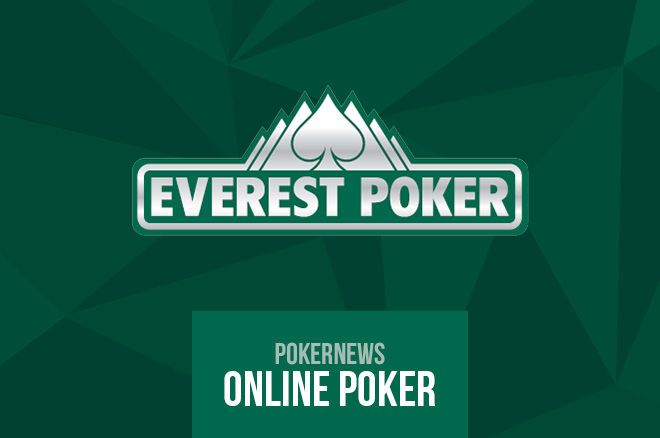 Those of you sat there reading this article who like to play in freeroll tournaments need to create yourself an Everest Poker account because this popular online poker site offers €20,000 worth of freerolls each and every month.
At least 13 freerolls are scheduled at Everest Poker each month and they all have a minimum of €1,000 to be won; some even have a massive €5,000 prize pool! Each of the freerolls can only be entered if you have a corresponding token for it. Thankfully, getting your hands on tokens is easy. Keep reading to find out how you could be playing in €20,000 worth of freerolls every month at Everest Poker.
The €1K Series take place every Monday, Wednesday and Friday at 6:00 p.m. GMT and the €5K Series shuffle up and deal on the second Sunday of every month, also at 6:00 p.m. GMT. Both the €1K Series and €5K Series are re-entry as long as you have enough tokens to re-enter.
It is possible to earn up to seven tokens to the €1K Series each week and up to six tokens for the €5K Series each month. You do this by either making a deposit into your Everest Poker account or earning a predetermined number of Summit Points. The latter are earned when you play real money cash games or tournaments and at a rate of 10 Summit Points for every €1 contributed in rake or tournament fees.
€1K Series Qualification
Make a deposit of €10 and Everest Poker will reward you with one token to the €1K Series. Up your deposit to €50 and two tokens are all yours. Deposit €100 and you'll be the recipient of three €1K Series tokens.
You can also earn Summit Points between Monday at 12:00 a.m. GMT to Sunday 11:59 p.m. GMT to earn €1K Series tokens.
| Summit Points | Tokens awarded |
| --- | --- |
| 10-49.99 | 1 |
| 50-99.99 | 2 |
| 100-249.99 | 3 |
| 250+ | 4 |
€5K Series Qualification
The qualification period for the €5K Series runs from the first calendar day of the month at 12:00 a.m. GMT until 11:59 p.m. GMT on the last calendar day.
If your total deposits equal €25, you receive 1 €5K Series token. Deposits of €100 reward you with two tokens, while deposits of €250 give you three tokens.
Like the €1K Series entries, you can earn €5K Series tokens by earning Summit Points during the qualification period.
| Summit Points | Tokens awarded |
| --- | --- |
| 100-249.99 | 1 |
| 250-499.99 | 2 |
| 500+ | 3 |
Bag Yourself a deposit bonus of up to €1,500
Everest Poker matches your first deposit amount by 200% up to a maximum of €1,500, giving you the opportunity to give your bankroll a significant boost.
The bonus is released into your account balance €0.50 chunks, giving you a continuous stream of money into your account as you play. If you deposit €20 and receive a €40 bonus, your bonus releases as follows:
€5 back on the first €5 you spend on tournament fees and cash game rake
€15 of the next €30 you spend on tournament fees and cash game rake
€20 of the next €80 you spend on tournament fees and cash game rake