$10 Million Guaranteed KO Series Heads to partypoker From Nov. 18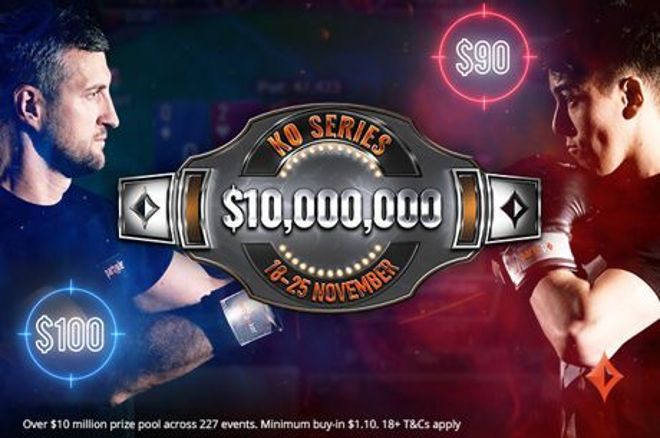 The $3.4 million Monster Series may have only recently ended but the next partypoker series is just around the corner, the KO Series.
KO Series takes place online at partypoker from Nov. 18-25 and, as the name suggests, revolves around progressive knockout tournaments (PKO), all 244 of them. That's right, 244 tournaments are scheduled during the week-long KO Series and when you add all of the guaranteed prize polls together, you find more than $10 million worth.
Buy-ins for the KO Series start at only $1.10 and increase to $1,050. Perhaps the best feature of PKO tournaments at partypoker is the site does not charge rake on the bounty element of these games, which can mean a rake reduction of up to 60 percent compared to other sites offer similar tournaments. This makes the bounties bigger and more attractive for the players.
In what is a first for partypoker, this KO Series features PKO tournaments played to the popular variant pot-limit Omaha. As you may be aware, Omaha games are usually packed with action without bounties being in place, so these daily PLO KO Series tournaments are sure to be among the most exciting games played during the festival.
$10 Million KO Series Promotions
There are four exclusive KO Series promotions for you and fellow partypoker players to get involved in. The first is the KO a Pro promotion where members of Team partypoker will play a KO Series each day with a special bounty on their heads. Bust this pro from the tournament and partypoker will reward you with a special cash prize that is worth five-times the tournament's buy-in.
It also pays to go hunting for bounties thanks to the KO Series Missions. Once opted into, the KO Series Missions award KO Series tickets worth between $1.10 and $55 after you have eliminated a specific number of opponents from Sit & Go Jackpot games. This promotion runs from Nov. 11-17 so that the tickets won can be used during the KO Series.
KO 10 players = $1.10 ticket
KO 25 players = $5.50 ticket
KO 50 players = $11 ticket
KO 100 players = $55 tickets
Another promotion running before KO Series starts is called the KO Card Rush. Each time you earn two cashback points at fastforward or cash game tables, you receive a prize card; you can earn up to five prize cards per day.
These cards award KO Series tickets worth up to $1,050 or points for the KO Card Rush Leaderboard where the top 500 points earners win a ticket worth between $1.10 and $1,050.
Finally, there's the KO Series special edition of partypoker's Sit & Go Jackpot games. These cost $2.50 to buy into, award ether $5 or $10 cash or KO Series tickets worth between $33 and $1,050 for the higher multipliers.
| Mulitplier | 1st Prize | Frequency (In 1M games) |
| --- | --- | --- |
| 2.00 | $5 cash | 773,568 |
| 4.00 | $10 cash | 204,401 |
| 13.20 | $33 KO Series ticket | 16,000 |
| 22.00 | $55 KO Series ticket | 4,000 |
| 43.60 | $109 KO Series ticket | 2,000 |
| 212.00 | $530 KO Series ticket | 20 |
| 420.00 | $1,050 KO Series ticket | 11 |
Help Yourself to Four MILLIONS Online Satellite Tickets
There won't be long to wait after the KO Series finishes until online poker's biggest-ever single tournament takes place at partypoker. The MILLIONS Online is a $5,300 buy-in tournament with a $20 million guaranteed prize pool.
You can help yourself to four $5.50 MILLIONS Online satellite tickets when you download partypoker via PokerNews and make a deposit of at least £10 using the bonus code "PNCOM".