The Glory Series is Back at TonyBet Poker May 20 to June 2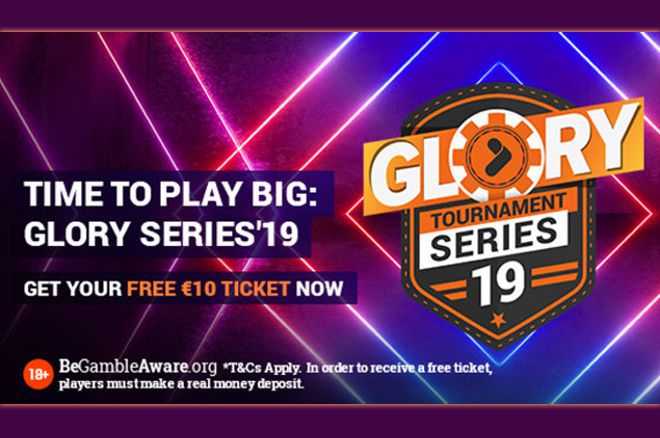 To the delight of TonyBet Poker players, the Glory Series (GS) will return to Tonybet Poker with 42 action-packed events on May 20 to June 2.
The festival boasts €63,000 in guarantees or more than double than that of last year's version.
The schedule has something for everyone with tournament buy-ins ranging from just €5 all the way up to €250. Players can also get in cheaper with satellites.
The highlight of the festival is the €250 GS Main Event with a €10,000 guarantee on June 2 at 7:30 p.m. EEST. Taking place 90 minutes later at 9 p.m. EEST is the €10 GPS Mini Main Event with a €2,500 guarantee.
Reload Bonus and Free Tickets!
To help celebrate the Glory Series, TonyBet Poker is offering its players a 100 percent deposit bonus up to €1,000 when using the "ChaseGlory2019" bonus code.
In addition, players that take advantage of this amazing offer before May 20 will receive a free €10 ticket to the first event on the schedule on May 20. Those that take advantage after this date will instead be awarded a €10 to the GS Mini Main Event on June 2.
€5,000 Glory Series Leaderboard
TonyBet Poker will also be hosting a Glory Series Leaderboard where the top 20 performing players will each share €5,000 in prizes.
Need an Account?
€30,000 guaranteed Glory Series has kicked off over at TonyBet Poker and while four events have already crowned their champions, you can still play in up to 12 more action-packed tournaments and earn enough points to get yourself on the series' leaderboard.
TonyBet Glory Series Schedule
| Date | Time (EEST) | Tournament | Buy-in | Format | Guarantee |
| --- | --- | --- | --- | --- | --- |
| May 20 | 6 p.m. | GS #1 | €10 | UNL. R. HYPER | €2,000 |
| | 7:30 p.m. | GS #2 | €20 | 2R1A TURBO | €1,000 |
| | 9 p.m. | GS #3 | €30 | 2R1A | €1,000 |
| May 21 | 6 p.m. | GS #4 | €5 | UNL. R. HYPER | €750 |
| | 7:30 p.m. | GS #5 | €20 | 2R1A | €1,000 |
| | 9 p.m. | GS #6 | €30 | KO | €1,000 |
| May 22 | 6 p.m. | GS #7 | €10 | 2R1A TURBO | €1,250 |
| | 7:30 p.m. | GS #8 | €30 | 1R | €1,000 |
| | 9 p.m. | GS #9 | €50 | SUPER KO | €1,250 |
| May 23 | 6 p.m. | GS #10 | €10 | UNL. R. HYPER | €1,000 |
| | 7:30 p.m. | GS #11 | €30 | KO TURBO | €1,000 |
| | 9 p.m. | GS #12 | €40 | 1R | €1,500 |
| May 24 | 6 p.m. | GS #13 | €20 | 2R1A TURBO | €1,000 |
| | 7:30 p.m. | GS #14 | €40 | 2R1A | €1,500 |
| | 9 p.m. | GS #15 | €50 | SUPER KO | €1,250 |
| May 25 | 6 p.m. | GS #16 | €20 | 2R1A | €1,250 |
| | 7:30 p.m. | GS #17 | €50 | KO | €1,250 |
| | 9 p.m. | GS #18 | €75 | DEEPSTACK | €2,500 |
| May 26 | 6 p.m. | GS #19 | €30 | 1R1A TURBO | €1,500 |
| | 7:30 p.m. | GS #20 | €50 | 1R | €2,000 |
| | 9 p.m. | GS #21 | €100 | FREEZEOUT | €3,000 |
| May 27 | 6 p.m. | GS #22 | €5 | UNL. R. HYPER | €750 |
| | 7:30 p.m. | GS #23 | €20 | 2R1A | €1,000 |
| | 9 p.m. | GS #24 | €30 | SUPER KO | €750 |
| May 28 | 6 p.m. | GS #25 | €5 | UNL. R. HYPER | €500 |
| | 7:30 p.m. | GS #26 | €20 | 2R1A TURBO | €1,250 |
| | 9 p.m. | GS #27 | €30 | 2R1A | €1,500 |
| May 29 | 6 p.m. | GS #28 | €10 | 2R1A | €750 |
| | 7:30 p.m. | GS #29 | €30 | 1R | €1,000 |
| | 9 p.m. | GS #30 | €50 | DEEPSTACK | €1,500 |
| May 30 | 6 p.m. | GS #31 | €10 | 2R1A TURBO | €500 |
| | 7:30 p.m. | GS #32 | €30 | SUPER KO | €1,250 |
| | 9 p.m. | GS #33 | €50 | 1R | €1,500 |
| May 31 | 6 p.m. | GS #34 | €20 | 2R1A | €1,000 |
| | 7:30 p.m. | GS #35 | €40 | KO TURBO | €1,250 |
| | 9 p.m. | GS #36 | €50 | FREEZEOUT | €1,500 |
| June 1 | 6 p.m. | GS #37 | €20 | 2R1A TURBO | €1,000 |
| | 7:30 p.m. | GS #38 | €50 | 1R | €1,500 |
| | 9 p.m. | GS #39 | €75 | DEEPSTACK | €1,750 |
| June 2 | 6 p.m. | GS #40 | €10 | GLORY SERIES MINI MAIN EVENT UNL. R. TURBO | €2,500 |
| | 7:30 p.m. | GS #41 | €50 | KO | €1,750 |
| | 9 p.m. | GS #42 | €150 | GLORY SERIES MAIN EVENT 1R | €10,000 |