Win up to $1,000 Every Day in the Grand Hand at 888poker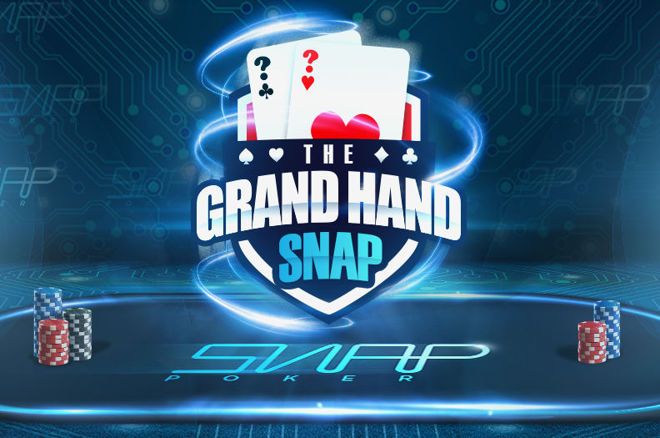 Do you enjoy fast-fold poker? Many cash game players do! In this format you can play many more hands than a regular ring game, as each time you fold or otherwise complete a hand, you are swept away to a new table of players for another hand.
The problem that many players encounter is that they are playing fast-fold poker at the wrong site. This is for many reasons, either the competition is too tough or there are no rewards to participating players.
This is why we recommend you check out SNAP Poker at 888poker where not only can you play against softer competition than many other sites but also for a limited time be rewarded handsomely in the Grand Hand Snap Edition promotion.
How to Participate in the Grand Hand Promotion
The Grand Hand promotion is available to 888poker players that have made at least one deposit.
If you don't already have an account at 888poker, we have great news for you as not only can you get an account in just a minute or two but also be awarded a fantastic welcome package that is hard to match.
Simply download 888poker through PokerNews and you will automatically receive $88 (£20 in the U.K.) in the form of a bonus. This is without even making a deposit allowing you to test the waters before committing any of your hard-earned money.
As we already mentioned, you will also need to make a deposit to participate in the Grand Hand promotion. This is where we have even better news as your first deposit will be matched up to $888 in the form of a bonus. This is more than double the $400 that most new 888poker players receive when signing up for an account directly through 888poker's website.
Once your account is in order, the rest is easy. Simply grind away at SNAP Poker at stakes $0.02/$0.05 and higher. Then try to win hands with the hand of the day to get a scratchcard. Hands must go at least to a flop to qualify and the number of times you need to win vary from player to player based on an email sent by 888poker.
888poker will send an email and/or a pop-up will come up in the client itself once the number of required hands of the day has been achieved. Once this happens, you will receive a scratch card where you can win bonuses, cash prizes up to $1,000, and exclusive tickets to the daily $2,000 Grand Hand Freeroll.
The hand of the day changes each day during the promotional period from Nov. 27 to Dec. 23 as follows:
| Date | Hand |
| --- | --- |
| Nov. 27 | Ace-King |
| Nov. 28 | King-Jack |
| Nov. 29 | Ace-Queen |
| Nov. 30 | Jack-Ten |
| Dec. 1 | Ace-Ten |
| Dec. 2 | King-Queen |
| Dec. 3 | Ace-Jack |
| Dec. 4 | Ace-King |
| Dec. 5 | King-Jack |
| Dec. 6 | Ace-Queen |
| Dec. 7 | Jack-Ten |
| Dec. 8 | Ace-Ten |
| Dec. 9 | King-Queen |
| Dec. 10 | Ace-Jack |
| Dec. 11 | Ace-King |
| Dec. 12 | King-Jack |
| Dec. 13 | Ace-Queen |
| Dec. 14 | Jack-Ten |
| Dec. 15 | Ace-Ten |
| Dec. 16 | King-Queen |
| Dec. 17 | Ace-Jack |
| Dec. 18 | Ace-King |
| Dec. 19 | King-Jack |
| Dec. 20 | Ace-Queen |
| Dec. 21 | Jack-Ten |
| Dec. 22 | Ace-Ten |
| Dec. 23 | King-Queen |