Daniel Negreanu's Deuce-to-Seven Triple Draw Primer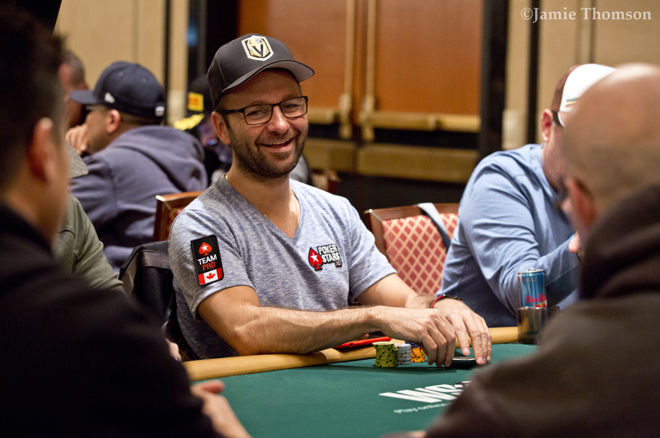 The 2017 World Series of Poker is in full swing and after just two weeks they're already reaching Event #28 this afternoon (out of 74 bracelet events on this year's schedule).
Event #28 — starting at 3 p.m. PDT today — will be the $1,500 Limit 2-7 Lowball Triple Draw event. As always at the WSOP, the schedule is full of non-hold'em events to satisfy those who enjoy a wide range of poker variants.
Deuce-to-seven triple draw challenges players to try to make the lowest possible five-card hand, with aces always being high. Straights and flushes count against you, meaning the best possible hand is





(with no flush).
There are blinds and a button, just like in no-limit hold'em, with four rounds of fixed-limit betting — one before the first draw, and one after each of the three draws.
The bets are sized the same as limit hold'em, with the first two rounds being the smaller limit and the last two rounds the bigger one (twice as much). Thus in today's tournament the first level begins with 50/100 blinds and 100/200 limits, meaning on the first two rounds bets are 100 and the last two 200.
Daniel Negreanu wrote a chapter on 2-7 triple draw for Super System 2, and just before the WSOP began he made a helpful video summarizing some fundamental strategy for the game.
Beginning with the 2-7 mantra "don't leave home without a deuce," Negreanu goes over starting hand selection, sorting out what are the best "pat hands" (with which you keep all five cards), the best one-card draw hands and the best two-card draw hands. He talks as well about scenarios when drawing three might be recommended.
From there he discusses betting strategies and the special importance of position in this game. With position you not only get to bet after your opponent, but you draw last as well, giving you even more information with which to act.
Also covered are strategies related to hand reading (including recognizing how cards in your hand serve as blockers to what others can have) and "snowing" or staying pat and bluffing with a poor hand, plus other strategic concerns that arise as a hand progresses through the three draws. Take a look:
Follow all of the action from Event #28: $1,500 Limit 2-7 Lowball Triple Draw and every other WSOP bracelet event right here at PokerNews.