Five Reasons Why I Like Buying Action During the WSOP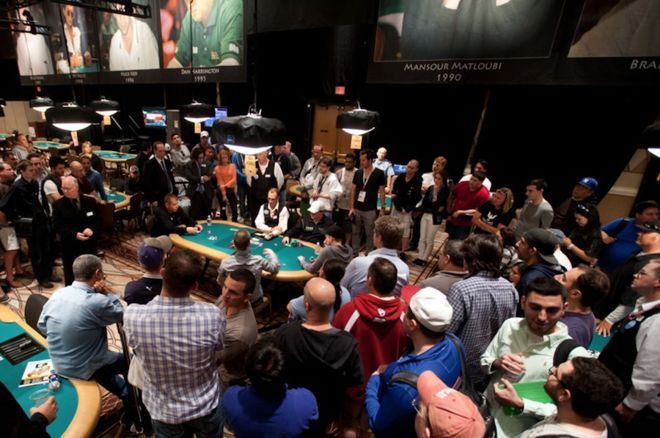 Ed. note: In a two-part series, Carlos Welch discusses both buying and selling action at the World Series of Poker, starting with a list of reasons why he likes buying other players' action at the WSOP.
* * * * *
Every year as June rolls around, the excitement starts to build in the poker community as the World Series of Poker arrives. Everyone looks forward to getting in that first tournament and hopefully making a deep run right away.
I'm no different, but there is an additional reason I love this time of year. I am still a fan of the game and sometimes I'd much rather be railing friends and other players I look up to than playing myself. This experience is enhanced when I get to share in their winnings.
Here are five reasons why I like buying action during the WSOP.
1. I Can Generate Passive Income
We've all heard the saying that instead of working for your money, you should make your money work for you. This is possible when you invest in other players. If you can find a player who has a clear edge in a poker tournament and is willing to sell some of his or her action, you can basically pay that player to make money for you while you are free to spend your day doing whatever you want.
In fact, this is perfect for us live players who can only play one tournament at a time. Buying action is one way for us to make passive income from soft tournaments that we cannot play ourselves.
2. I Can Buy Poker Skill
Have you ever been in a poker tournament and wished you could play as well as your favorite poker pro? Or better yet, have them play the tournament for you? Well, this is absolutely possible when you buy pieces of better players.
Maybe your favorite pro isn't willing to give up any of his or her action, but other great players do so all the time. I've bought a piece of a player and watched him make a play that I never would have been able to make on my own. Not only was it exhilarating to watch, I was also able to learn from it by asking him about the play after the tournament due to the financial relationship we had built.
3. I Can Buy A More Meaningful Sweat
When I first discovered poker, I loved to watch my favorite pros play on TV. Later, I made the trip out to Las Vegas and watched them play live during the WSOP. As an unashamed poker fan, I can say that I enjoy railing just as much as I enjoy playing.
To this day, one of the best experiences I have had in poker was sweating my buddy Chris Kusha as he made it all of the way to 27th place in the 2016 WSOP Main Event. I would have had fun following his run either way, but having a small piece of his action just made it an experience I will never forget.
4. I Can Lower My Variance
Regardless of how prepared or hopeful I am, I will always be an underdog to cash any tournament I enter due to variance. The same is true for the best players in the world. One way I can lower my variance and improve my chances of making money is by buying pieces of other competent players.
5. It's A Great Way To Build Your Poker Network
When I first came to the WSOP, I was not friends with anyone else who played poker. Since that time, I would say 90 percent of my friends are poker buddies.
Having a network of like-minded players is essential to developing your skills in the game. Many of my closest friends are people I met by buying, selling, or swapping action with them at tournaments. These relationships have proved to be beneficial far beyond the financial aspects. Some of these people are now like family to me.
Conclusion
Once of the best things about the WSOP me to is the "summer camp" feel of it where I get to see my friends from all around the world every year. I know that they have worked hard on their games, so I will be looking for a chance to buy a piece of their action in hopes that they will make me some money.
Hopefully, this year I will buy pieces of some new players and maybe build long-term relationships with them as well.