Five Tips for Hosting Your Holiday Home Game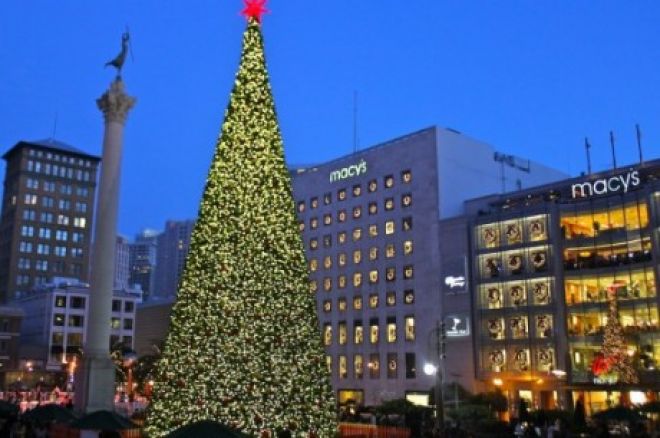 The holidays are upon us. On top of doing battle over door-buster deals and blasting Christmas tunes on the radio, this is also a time of year to reconnect with both friends and family. Several of your buddies may be home for the holidays, and that may give the opportunity for a group to socialize, catch up, and enjoy each other's company. What better way to spend your time catching up with old friends than hosting a poker game?
Here are five tips to help you kick-start that holiday home game and ensure that everybody has a good time.
1. Follow the Rules
Before starting your game, you should establish a core set of rules and make sure that every player is aware of these rules. A home game, especially around the holidays, should be a fun experience for all, and fighting over an accidental raise can really put a damper on the mood.
2. Keep it Clear and Simple
On top of that, each player should know exactly what he or she is getting into. If you're hosting a sit-n-go, make the buy-in known in advance. You should also work out chip values and blind structures ahead of time. You can use the timer on your cell phone to make sure that your small tournament adheres to fair timing for raising of the blinds. If you're hosting a cash game, make sure all of your participants know the limits and minimum/maximum buy-in ahead of time.
You will also need to establish values for each of the chips that you are using and make sure that everybody knows them. Try to keep the number of different denominations used as minimal as possible in order to decrease confusion. For example, at your typical $1/$2 cash game, the most common values you'll find on the table are white $1 chips and red $5 chips. Change can be easily made from these values and players generally only need to be aware of those two values. This approach translates well into a low-stakes home game such as $0.10/$0.20 hold'em in which you could use the same white and red chips and make them worth $0.10 and $0.50.
As the host, it is general courtesy that you will also moderate the game and help to make it a fair experience for all. This means that you should also be in charge of collecting the money and cashing people out if you're playing a cash game. Make sure that the money is stored in a safe place in order to alleviate any worries about anybody grabbing an undeserved holiday gift.
3. Create a Comfortable Place to Play
Poker gives an excellent opportunity to enjoy an activity while socializing with friends and having potential to make some money as well. In order to create a comfortable atmosphere for the game, make sure the environment that everybody will spend a few hours in is tidy and presentable.
Make sure as well to have an ample supply of food and drinks on hand for your players. Chips, pretzels, water, soda, and beer are often the norm at home games and having these readily available for your friends will keep them feeling happy and at home.
Also, if your crew is looking for something more substantial to chow down on, order a pizza or some other form of delivery and have everybody pitch in a few bucks. Money is being thrown around the table anyway, so generally folks are quite happy to toss a few of those dollars toward enjoying a nice hot meal.
4. Trust Everyone, But Always Cut the Cards
This has become a clichéd phrase at this point, but it still rings true. While you never want to suspect your friends of cheating, money is involved and you should opt to protect yourself and your guests whenever you can. A simple cut of the cards can wash away any attempts at stacking the deck and will, for the most part, serve as a panacea for any tensions people may feel about others cheating.
Remember, this should be a friendly atmosphere for anyone involved. All players, whether this is their first rodeo or they are seasoned veterans of the game, should feel safe and secure putting their money on the line to participate in the game.
5. Have Fun
Above all else, this should be a fun experience for everybody involved. Home games take the pressure off of going to a casino to play poker and allow you to engage in an environment that is both low stakes and highly social. Use this time to catch up with friends and loved ones, have an exciting holiday night, and most of all, use strategies picked up here on PokerNews to maximize your potential profits.
Get all the latest PokerNews Canada updates on your social media outlets. Follow us on Twitter and like us on Facebook!