Five Tips for Playing Your First World Series of Poker Event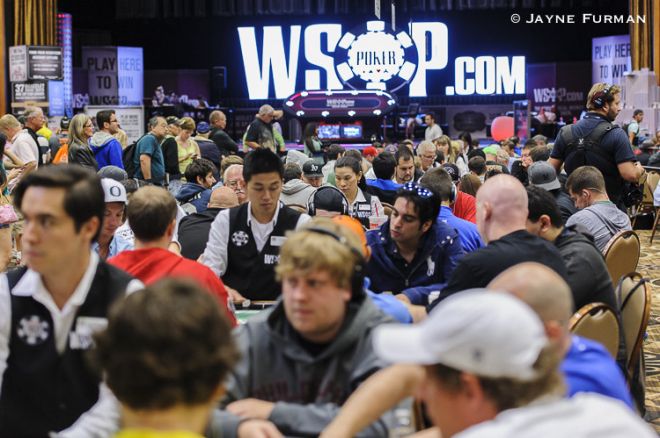 The 2015 World Series of Poker kicks off in two weeks at the Rio All-Suite Hotel and Casino in Las Vegas, Nevada. For the better part of two months, thousands of grinders will make the trek to poker's Mecca for a shot at a coveted gold bracelet. Many of these players will set sail on their maiden voyage at the WSOP, and they will undoubtedly feel intimidated or even scared.
I understand the many feelings that come with playing in a bracelet event. In 2010 I played in a $1,500 buy-in no-limit hold'em event, my first at the WSOP, finishing in 111th place for $3,845.
During the 15 or 16 hours I was alive in the tournament, I was stressed, scared, worried, excited, elated, and jovial. These emotions are both normal and expected, but often times in poker it is better to "flat line" emotionally rather than oscillate like a Slinky on speed. We make our best decisions at the poker table with our mind, not our heart.
The following is a list of tips that you can apply if you're playing in your first event at the WSOP, or if you're simply looking for ways to calm your nerves before your next big tournament. I've applied them since my first adventure in the Amazon room, and I'd like to think I've progressed my game considerably.
1. Register the day before
There are two advantages to registering the day before your tournament. First, it saves you some time on the day of the tournament. You don't want to feel rushed or go on tilt because you have to wait in a long line at the cage. Tournament registration lines at the Rio are much shorter during the evening, and your morning will be much smoother if all you have to do is stick your ticket in your pocket, travel to the Rio, and sit at your table.
Second, by registering early you get to experience the Rio for the first time as a fan, not a player. Again, positive emotions can have adverse affects at the poker table. We don't want to be sitting there admiring our surroundings when the player in the Seat 1 is giving off tells every hand. If you register the night before your tournament, you can peruse the Pavilion and Amazon room and soak it all in. Maybe you might also head over to the "Mothership" and rail whatever final table is playing out under the bright lights — that way you can envision yourself battling for the gold.
2. Don't be intimidated
If Phil Ivey sits down at your table, don't panic. One player isn't automatically going to impact your results, even if he or she is on your direct left. It's the WSOP. You're supposed to be competing with the best players in the world. You should revel in the fact that you get to butt heads with the brightest stars — it's one of the most exciting aspects of poker.
3. You're not short-stacked
Some playing lower buy-in events at the WSOP for the first time might be convinced that the starting stacks are shallow because they are used to the "deep stack" events at their local casino, but I'll take a deep structure over a deep stack any day. And in fact this year a change has been made to give players even more chips with which to start, meaning you can be even more patient during those first few hour-long levels.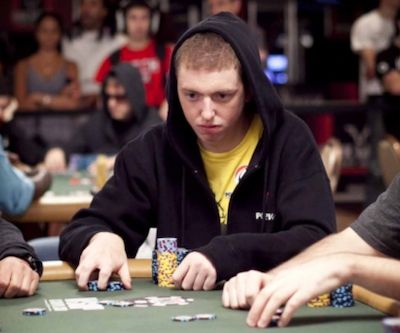 In $1,500 events (for example), players will be starting with 7,500 chips rather than 4,500 like a year ago. Say after a few hands you have lost 1,000 chips early in Level 1 (25/50) — you'll still have 130 big blinds. That's plenty of room to maneuver and build a big stack. Likewise, the deeper you go in WSOP events the better the structure gets, and that's when the poker really matters.
4. Bring a snack
The options at the Rio are somewhat limited, and if you're not willing to shell out $20-$30 for All-American Dave, eating healthy is basically impossible. It's always nice to have a granola bar or some nuts handy for munching to keep your energy level high without bloating your stomach. Bringing water or a water bottle — there are water coolers in all of the rooms — is also a sound strategy.
5. Prepare for a long day
Just playing in a WSOP event is a milestone for many poker players, but don't sell yourself short. You shouldn't enter a tournament without expecting to do well, and a bracelet event isn't any different. Expect to play back-to-back-to-back 12-hour days (or longer). Make sure you are well rested and are mentally prepared to play poker for extended periods of time. We all know that in no-limit hold'em, one small mistake can erase hours upon hours of precision and accuracy.
We'll be sharing more WSOP tips over the coming weeks here at PokerNews Canada. Have any tips of your own that have helped you at the WSOP? Let us know in the comments below. And good luck in Vegas!
Get all the latest PokerNews Canada updates on your social media outlets. Follow us on Twitter and like us on Facebook!