Having Fun and Playing to Win in Charity Poker Tournaments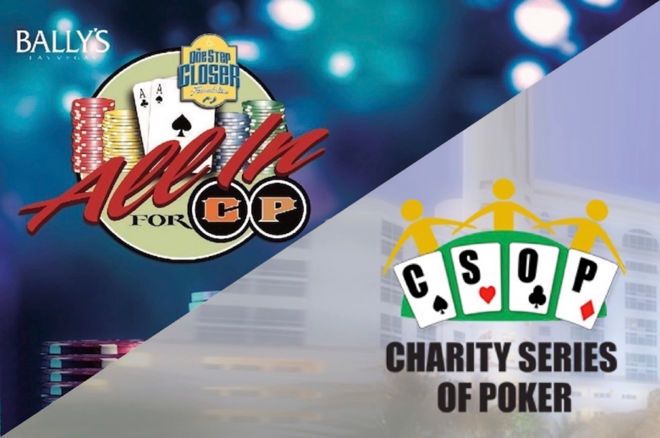 If you enjoy playing poker and giving to worthwhile charities, this coming weekend in Las Vegas will present the perfect scenario for you.
On Saturday, December 8, the Charity Series of Poker, working in conjunction with the Golden Knights Foundation, will hold its 18th event called "Knights of the Poker Table" at Planet Hollywood on the Mezzanine level. The CSOP will hold a reception at 3 p.m. and then begin its $300 buy-in event (with $100 rebuys and $100 add-ons) at 4:30 p.m. Daniel Negreanu, 2018 World Series of Poker Main Event Champion John Cynn, and World Poker Tour Executive Tournament Director Matt Savage will be among those in attendance.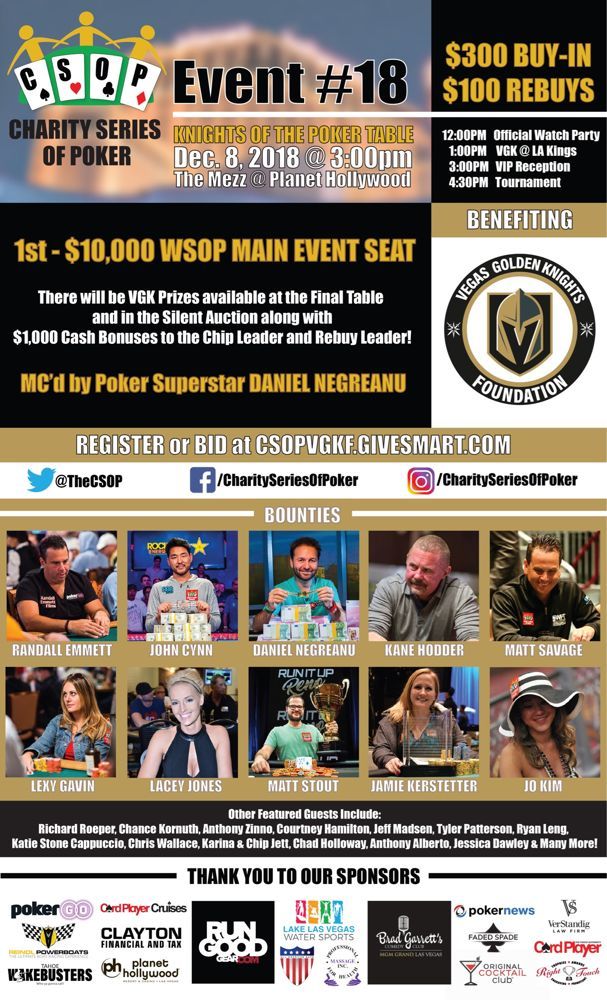 Then on Sunday, December 9, the One Step Closer Foundation will wrap up this fun-filled weekend with its bi-annual charity tournament at Bally's Casino.
Held in Bally's poker room, the 1SCF tournament called "All-In For CP" (for cerebral palsy) will have its red carpet at 12 noon and then "shuffle up and deal" its $350 buy-in event (with $100 rebuys and $100 add-ons) starting at 1 p.m. Celebrities such as Cheryl Hines, RJ Mitte (from TV's "Breaking Bad"), Jennifer Tilly, and Randy Couture will be playing in the event, while John Cynn will be doing double-duty by playing in this event as well.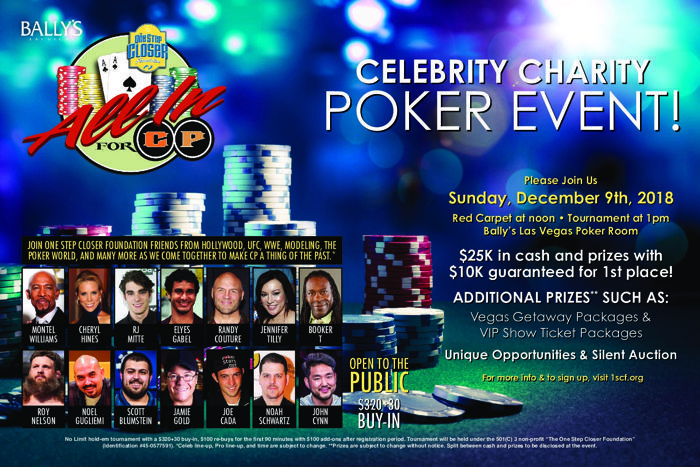 Prior to these tournaments this weekend, I interviewed the founder-president of each charity, Matt Stout of CSOP and Jacob Zalewski of 1SCF. You can hear my conversations with both right here on this week's episode of The Bernard Lee Poker Show.
I additionally asked Matt and Jacob to share some strategic insights on how to play in their charity poker tournaments.
More... or Less?
Charity poker tournaments are generally less serious than the ones to which poker players are accustomed. The atmosphere is often extremely jovial and not as intense — until, perhaps, it gets three-handed at the final table and the remaining prizes are significant, as is the case with both of these events where the first prize is $10,000.
As a result, some players will be very willing to gamble, even going all-in blind, to help contribute to the charity during the rebuy period. Often these events also attract people playing poker for the first time as they are attending primarily to support the charity.
With these points in mind, Matt and Jacob suggest the following strategy during the rebuy period of a charity poker tournament.
"The players in our charity events are not taking it too seriously early on as it's more about having fun and contributing to the charity," says Stout. "Therefore, you will probably have to take a different strategy than normal poker tournaments."
"The chances you take will highly depend on the amount of funds you are willing to contribute to the charity. If you don't have many rebuys available, you may actually have to tighten your range to preserve your bankroll. But if you have a lot of rebuys available, you can go with a much wider range of hands."
Zalewski concurs, noting how your "budget" for the charity event should dictate your approach.
"The more you can afford to rebuy multiple times, the more you can gamble with more hands with a wider range," explains Zalewski. "If you are on a conservative budget with less funds, the less you can gamble and you will have to hold on and pick your spots very carefully with less hands with a tighter range and hope your cards hold up."
"If you find yourself at a table with players who are gambling with wide range of hands or even going all-in blind, you can be patient and pick your spot, hoping to win a huge pot early. If you are able to do so, you now have some chips to take additional chances to try and build a monster stack during the rebuy period."
The Tournament Really Begins When The Rebuy Period Ends
Once the rebuy period ends and players have purchased add-on chips, the atmosphere, while still festive, usually becomes a little more serious as players can no longer buy back into the tournament.
"The latter stages, especially after the rebuy period, become more of a typical poker tournament," says Stout. "Players should play a little tighter and more conservatively, as it is now time to reel it in. Players should pick their spots and try to get it all-in with the best hand."
"Since some of the players are not as experienced, you may need to change your betting amounts that you commonly use in normal poker tournaments," says Zalewski of the post-rebuy period.
"Players are less willing to fold, so you should take that into account when betting. If you have a big hand, you may want to bet more than usual to extract as much value as possible. Additionally, if you are bluffing, you may need to consider that you may not be able to push someone off their hand."
Meeting Celebrities
During most poker tournaments (especially during the WSOP), poker pros are primarily focused on their game as they attempt to capture the top prize. However, during charity events these well-known pros and other celebrities who participate are much more relaxed and very open to meeting all the players, even during the event.
"Don't be shy or intimidated by the poker pros or celebrities," advises Stout. "They come to the event to have fun and are very willing to take a picture and sign an autograph. Just approach them and introduce yourself. I can guarantee these celebrities are not bothered during these events and they often enjoy meeting fans."
Have Fun!
Of course, the number one objective for these charity events is to raise money for their worthy causes. Thus, come to the event, contribute, but, above all... HAVE FUN!
"Although everyone would love to win the top prize (which is $10,000 guaranteed), remember that the tournament is for a great cause," says Zalewski. "So, please come out and have a great time and have lots of fun. Charity poker tournaments combine a festive atmosphere with well-known celebrities, all together to play poker and raise money for a worthy cause. It doesn't get much better than that."