How Do You Play Pocket Kings or Queens When a Higher Card Appears?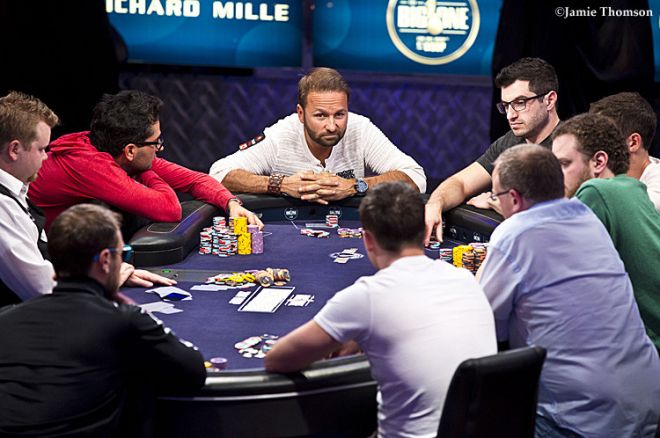 Last night ESPN began airing its coverage of Event #57: The $1,000,000 Big One for One Drop, picking up action on Day 2 and showing hands from the first part of the day lasting until the field was carved down to 16 players.
The hand showing Connor Drinan eliminated with


versus Cary Katz's


when four hearts ended up appearing among the community cards to give Katz a flush — a.k.a. "a bad beat to end all bad beats" — earned most of the attention, even getting notice in a lot of mainstream publications this morning such as USA Today.
Aces versus aces is obviously a very rare circumstance. It goes without saying that the strategy involved when such a hand does occur usually isn't that interesting to discuss. Drinan and Katz were all but destined to get their chips in before the flop, and from there both players were at the mercy of whatever community cards were to come.
However, other hands shown during the two hours involved more commonly faced situations as well as more interesting strategic decisions, such as one during the first hour that involved Daniel Negreanu, Doug Polk, and David "Doc" Sands.
The hand began with Sands raising 2.5x to 150,000 with


, Polk calling from late position with


, then Negreanu reraising to 550,000 from the small blind with


. Sands got out of the way, but Polk called and the remaining two players saw a flop come



. Negreanu led for 400,000 into the 1.38 million pot, and Polk called with his overpair.
The turn then brought the

and announcer Lon McEachern commented "That ace may slow them down a little bit." Indeed, Negreanu checked, then watched as Polk bet 200,000 (about 10% of the pot). Negreanu called the bet, both players then checked down the

river, and Negreanu won the pot.
Sitting out of position with pocket queens and looking at that ace on the board, Negreanu was content to check and call Polk's small turn bet and then check again on the river. In fact, if Polk had bet more on the turn or tried again on the river, Negreanu may well have folded his hand, but he, too, was likely dissuaded to do either by that ace.
Playing a big pocket pair when a higher card appears among the community cards can be a tricky proposition, a common circumstance Neil Gibson addresses in a recent strategy article for Learn.PokerNews.
He focuses in particular on how to proceed when holding


or


and a higher card appears on the flop, such as when you are dealt two kings and an ace flops. He begins his advice as follows:
More often than not you will be making a continuation bet with your big pair if given the opportunity to do so, despite that higher card.

Some players immediately grow timid at the sight of the higher card and if checked to will check behind. Don't become passive and/or give up on your if an ace appears on the flop. Often your opponent isn't going to like the sight of that ace, either, and will see your c-bet as indicating you've hit the flop by pairing a big ace and fold to your bet.

However, if you bet and are called — or raised — that's when you will need to take other factors into consideration when deciding how to proceed.
From there Neil provides further advice for how to handle such demonstrations of strength from an opponent, alluding along the way to a famous hand from the 2007 World Series of Poker Main Event in which eventual winner Jerry Yang eliminated third-place finisher Raymond Rahme.
Head over and check out what Neil advises when it comes to "Playing Pocket Kings or Queens When a Higher Card Flops."
Get all the latest PokerNews Canada updates on your social media outlets. Follow us on Twitter and like us on Facebook!