How to Attack the WSOP, Part 2: Taking Advantage of Satellites, Live and Online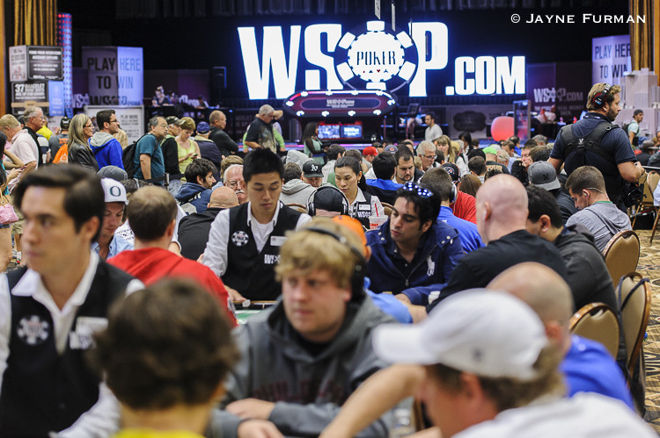 Continuing our 10-part series, How To Attack the WSOP, last week in this space we looked at some of the best stretches of value offered by the 2016 World Series of Poker schedule. There I noted some of the best tournament options at buy-ins affordable to a wide range of players — options like the Crazy Eights and the Monster Stack.
However, even a buy-in of $1,500 can be rather steep for some. People used to playing $60 nightlies at their local casino may have the same WSOP dream as everyone else, but for them the dream can seem a bit far-fetched. Or how about players who fantasize about only one thing — playing in the Main Event. For this group of players, a buy-in of $10,000 likely seems like an unrealistic pipe dream.
Players who have a passion for a less popular poker variant are also in a bind in terms of buy-in options. Lovers of seven-card stud, for example, have exactly two options, one of them the $10,000 Stud Championship. If they happen to have a commitment the weekend of the $1,500 stud event, it's $10K or nothing.
One possible solution for all of these players — and one that can make the WSOP experience of newcomers both more profitable and possibly much more exciting — is to win their way into these events via satellites, tournaments that offer a seat into a larger buy-in event.
Finding and Selecting Satellites
Price points for satellites vary. At the WSOP, they can start around $100 and go up into the thousands of dollars to get into tournaments like the Big One for One Drop.
The Pavilion Room is the epicenter of satellite action. The room is color-coded into four sections, and the Yellow section typically has satellites running around the clock for a wide variety of buy-ins. The satellites there are usually sit-n-go format, with waiting lists building up and then games starting when there are enough sign-ups for a table.
Online, satellites can be far cheaper than that. Satellites on WSOP.com in both Nevada and New Jersey run as low as $10 for $1,000 in WSOP tournament chips. If it's the Main Event you're looking to play, weekly $200 reentry satellites to the big one are running now, with a mega-satellite called the 25 Seat Main Event Scramble scheduled for July 9 in Nevada.
For players outside the United States, 888poker hosts satellites to the WSOP, some at incredibly low buy-ins. Last year, Tommy Yates made headlines when he qualified for the Main Event for just $0.01 and then made a run to 486th place for $19,500.
As far as playing the live satellites go, they can be quite a profitable endeavor as well.
"The greatest in the world aren't showing up to play satellites to get into a $10K," bracelet winner Justin Liberto said to me after winning his Main Event seat least year. "There's a lot of value in these."
Strategy for Satellites
Strategy for approaching satellites varies quite a bit from normal poker, because of the way the prizes are structured. In regular poker tournaments, being the chip leader is a big deal because you are giving yourself the best chance for first place, where the biggest chunk of the money resides. Meanwhile when the bubble of a satellite bursts, everyone gets the same prize.
In practice, this means preservation of your tournament life is paramount. The later stages of satellites often feature average stacks far shallower than anything you'll find in all but the fastest-structured tournaments. The early stages, on the other hand, will usually involve quite a bit of splashing by players who aren't properly adjusting.
Do some research on satellite strategy, and when you feel you're ready, see if you can win some seats. And don't be afraid to play as many satellites as you can manage even for events you don't plan on playing. The tournament chips can be sold for real money without too much trouble in most cases. I've known players who spent hours in the summer grinding as many satellites as they could and racking up thousands in profit selling off the spoils.
Grinding out satellites isn't the most glamorous life, but it can be a great way to experience the rush of an event outside your bankroll with the possibility of a huge score without risking piles of your money.
Get all the latest PokerNews Canada updates on your social media outlets. Follow us on Twitter and like us on Facebook!