WSOP 2017: Vegas Fun for the Non-Gambler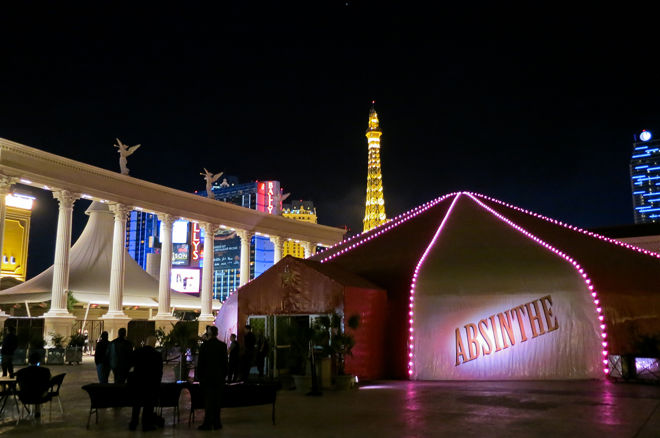 So you're traveling to the World Series of Poker with people who don't play poker or gamble. What can you send them off to do without you while you're playing poker? Plenty.
Here's a sampling of the many activities available in Las Vegas for the non-gamblers.
Shows
There is more live entertainment in Las Vegas than in any other city in America except perhaps New York City. Some of it is "permanently" housed in a specific casino, with a consistent weekly schedule. Other shows are occasional, coming into Las Vegas for a limited run and in some cases for one appearance only.
There are many varieties of shows. There are the elaborate stage productions, popularized in the 1950s and usually featuring beautiful women in different stages of undress. There is Cirque de Soliel, a creative blend of gymnastics, dance, music, theater and the traditional circus. They now have many different "Cirque" shows in Las Vegas, the newest of which is a highly-rated tribute to Michael Jackson. And don't forget Absinthe, an outrageous Spiegelworld show that features a cast of wild and outlandish acts on stage.
Comedy shows abound as well, as do magic shows — with a lot of crossover between the two (think Penn & Teller). There are musicals and straight theater productions. There are also concerts, operas and dance troupes. A complete listing of all of the shows can be found in the Las Vegas Advisor (available online and distributed through hotels and casinos throughout Las Vegas).
Sports
Las Vegas is known as the frequent site for major boxing, UFC and MMA matches. But aside from that, Las Vegas is not much of a major league sports town, perhaps because of the enormous industry of sports betting. That will change soon, though, with the coming of the Vegas Golden Knights NHL franchise (for the 2017-18 season) and the recent announcement that the NFL's Oakland Raiders will be relocating to Las Vegas in 2019 or 2020.
Even so, there are currently some professional and amateur sports teams in Las Vegas, as well as the University of Nevada-Las Vegas athletics teams. But seeing as the WSOP starts after the last day of class and before October, the only serious sporting event in town during the summer will be the home games of AAA baseball's Las Vegas 51s.
For those of you more interested in participating in sports rather than viewing them, there are great pools for swimming and some of the best golf courses in the United States. If you're planning to golf, though, do remember that in June and July in Las Vegas temperatures during the day can exceed 120 degrees. Plan on an extremely early tee time.
Lounge Acts
You've seen them parodied — the sleazy singer, the Elvis impersonator, the aging and unfunny comic. But lounge acts, even though they usually don't feature the name recognition and pizzazz of the main shows, are often just as entertaining for a much lower cost (or sometimes no cost at all).
Set in more intimate space than the stage shows, these acts change regularly, so it's best to check any of the many listings. My personal favorite is the great jazz, three nights a week, at The Dispensary Lounge on East Tropicana Avenue. There are dozens of other such places sprinkled through the city. Check the Las Vegas Advisor for a complete listing.
Bowling and Movies
For the more conventional who want to do in Las Vegas what they like to do at home, there many casinos have first-rate bowling alleys and first-run movie theaters. The Orleans and the Gold Coast (both near the Rio) spring to mind, as do most of the Station Casinos.
Museums
Las Vegas is home to dozens of museums that appeal to many different interests. Some are free, but most have at least a modest admission charge. Here's a quick list to whet your appetite and arouse your curiosity:
Nevada State Museum
Mob Museum
Erotic Heritage Museum
Southern Nevada Museum of Fine Art
The Pinball Hall of Fame
Las Vegas Natural History Museum
Neon Museum
McCarran Aviation Museum
Madame Tussauds
Burlesque Museum
Evel Knievel Museum
National Atomic Testing Museum
Marjorie Barrick Museum
Discovery Children's Museum
Once again, for addresses, phone numbers and hours of operation check the Las Vegas Advisor.
Restaurants
Historically, Las Vegas used to be known for elaborate and inexpensive buffets, called "chuck wagons," used to attract customers to the gambling. Over the years, buffets have become worthy of being destinations in their own right — and profit-makers for casinos as well.
If price is no object, the best of the best, in my opinion, is the Bacchanal Buffet at Caesars Palace, followed closely by the buffets at the Wynn and the Bellagio. For the more budget-conscious, there are lots of great buffets as well. I recommend the one at the Gold Coast for lunch or dinner, right across the street from the Rio (which is also home to a very nice buffet).
There are numerous conventional fine dining restaurants as well in Las Vegas. Some feature the best-known chefs, and they rival or exceed the quality of the top restaurants in any city. Excellent — and sometimes very pricey — French, Italian, Middle Eastern, English, Indian, Southern, Brazilian, Asian, seafood, vegetarian and even Ethiopian restaurants abound.
And did you know that Las Vegas is home to one of America's premier Chinatowns, on Spring Mountain Drive? This three-mile strip has many dozens of fantastic Asian restaurants of every description. Las Vegas also has an large number of very good Latin American restaurants.
The pricey restaurants tend to be housed in casinos. I prefer to find some lesser known places in just about any strip mall in Las Vegas. You're all but assured of getting freshly prepared, authentic, tasty and delicious food for a very reasonable price.
Massage
Many of the more expensive casinos have spas with massages on site. But if you've gone to Las Vegas's Chinatown, then you're already at ground zero for great inexpensive massages. These come in two varieties — "reflexology" and "full body."
Reflexology is just a fancy name for a foot massage. At $25 or so for 50 minutes, it's a welcome bargain, especially if you've been hoofing up and down the strip or all around the Rio. A full body massage may also be what the doctor ordered if you're sore from sitting at a poker table. These are also inexpensive, especially when compared with the ones that are $2 a minute or so at the Rio.
Summary
There's a lot to do in Las Vegas besides gambling — in fact, this list only scratches the surface. Some of the activities may strike you as so much fun that you might actually drag yourself away from the poker table in order to enjoy them yourself.
Lead image courtesy of Alex Butterfield/Flickr
Ashley Adams has been playing poker for 50 years and writing about it since 2000. He is the author of hundreds of articles and two books, Winning 7-Card Stud (Kensington 2003) and Winning No-Limit Hold'em (Lighthouse 2012). He is also the host of poker radio show House of Cards. See www.houseofcardsradio.com for broadcast times, stations, and podcasts.