Poker Learning and Laughter With Parker "tonkaaaap" Talbot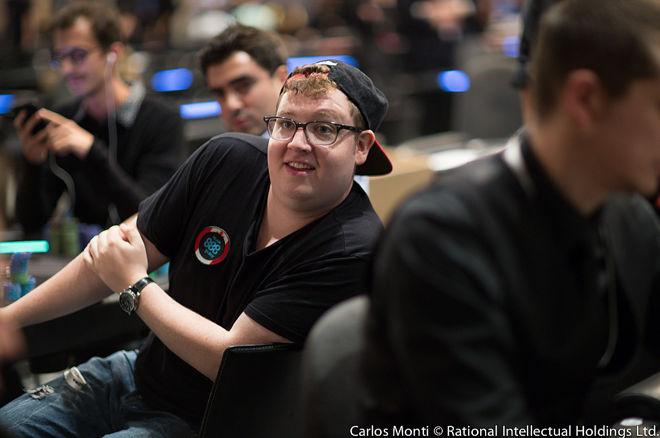 Parker "tonkaaaap" Talbot is the guest on the latest episode of the PokerNews Podcast (Episode No. 464). It's no surprise the conversation is both entertaining and edifying for those interested in learning more both about Talbot and approaches to winning poker.
Talbot has collected over $3 million online tournament cashes over the last seven years, including a Super Tuesday victory on PokerStars as well as numerous other wins and final tables. Earlier this year Talbot became an 888Poker Ambassador, and a couple of months ago joined the Upswing Poker team as a coach.
The interview starts around the 19-minute mark of the podcast, and after some preliminaries Talbot shares the story of getting started with poker as a teenager with his family, initially playing 5p/10p limit hold'em before eventually discovering the joys of no-limit hold'em.
A few years later Talbot began playing low-limit live games, then became a winning online player. He addresses the choice he made to leave school and pursue poker, but comments thoughtfully on such a decision and how it isn't necessarily for everyone.
Talbot is also a popular Twitch streamer, and another topic discussed concerns the challenges presented by multi-tabling and streaming at once. It's a highly entertaining stream, driven by Talbot's humorous personality, although as he notes "the general vibe of my stream is probably educational."
Speaking of learning more about poker and how to play it, the interview includes a few strategy-related topics interspersed along the way.
Discussing the challenges of live poker, Talbot comments on the relative levels of fun to be had in live cash games and how in certain circumstances players will encounter negativity at the tables.
"I never understood that about people," notes Talbot, "getting mad at people who play a hand in a certain way. It's like 'why would he ever do that?' [When in truth] it's like no, it's generally good for you if people do things like that."
Also discussed is the relative value of goal-setting in poker, something very important to some players, but not so much to Talbot.
"People love goals, man," cracks Talbot. "I'm not saying it's not good... to have goals. I'm just saying if you don't have goals, you can't fail!"
He follows the joke with a worthwhile point that while New Year's resolutions and other ways of creating benchmarks at which to aim with one's poker progress might help some, the usefulness of such goals depends a lot on one's personality. ("That's just not me," he says.)
The topic of live tells also comes up, always interesting to discuss with those who've enjoyed success online while also playing a lot live.
"When I was a young, inexperienced, uneducated clown — three days ago [laughter] — I thought there's no such thing as live tells," says Talbot. "And to this day, I still [think] you can pick up way more from people's betting patterns than you can... [from] the way that their mouth twitches or something like that."
Talbot agrees, however, both that some players (typically less experienced ones) do give off live tells, and that there are certain live pros who have done especially well thanks largely to their ability to pick up on such tells. Mainly, though, he follows the advice to focus more on minimizing his own tells than on picking up others' tells.
There's additional talk of King of the Hill 2 — still to come at the time of the interview — in which Talbot would take runner-up to Olivier Busquet after defeating Phil Hellmuth in the first round. Also discussed are the currently ongoing 888Live in London and upcoming World Series of Poker Europe events, as well as a little about 888's new Flopomania game.
Click here and give the show a listen.