Preparing for a Poker Tournament? Follow These Five Steps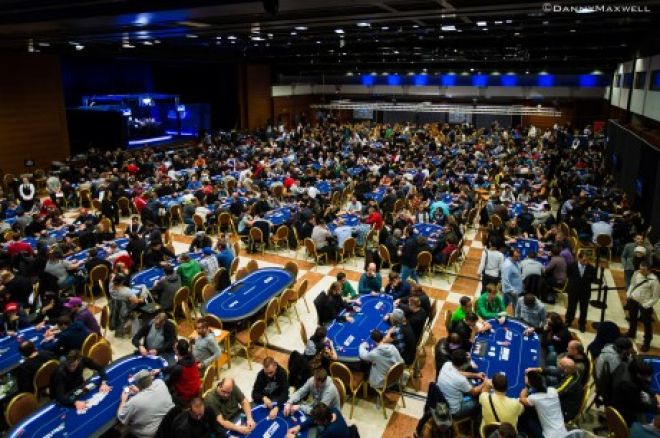 As a recreational player, my poker tournaments start well before the tournament director yells out "shuffle up and deal." I put thought into my morning routine, what I'm going to wear, what food I am going to bring, and when I am going to arrive at the tournament venue. Part of my motivation for preparing is purely based on anticipation — I only get a few shots a year to participate in a live tournament, so I better make the most of them. But I also believe that preparing helps me reach a strong mental state for playing.
The following list includes five steps I always try to take when preparing to play a tournament, all of which are designed to help me ready myself to give it my best when opportunities to play arise.
1. Play Some Hands
This one can be tough for some of my fellow Americans unless you live in New Jersey or Nevada and can hop online, or if there are nightly tournaments available to you at local poker rooms. But if you can find a way to get in some hands before playing a tournament, it's worth doing so.
When in New Jersey, I'll sometimes play a few small tournaments on WSOP.com before heading over to the Parx Casino in Bensalem, Pennsylvania for a live event. Even though online poker isn't quite the same as live, playing it allows me to get into tournament mode. Patience is very important in tournaments, and the pace slows down even more in a live setting, making it very important to stay in the moment and remain focused.
Even playing in a quick nightly tournament can help, because while the structure is likely to be terrible, you can work on your "push-fold" strategy with a shallow stack. Knowing when to reraise-shove or call off when you have less than 20 big blinds is crucial in tournaments, and sometimes the best way to learn is to put yourself into awkward spots. Nightly tournaments, where everybody often has a very small stack relative to the blinds, are a terrific for getting into tough spots.
2. Listen to Podcasts / Watch Videos
Earlier this year I discovered the Thinking Poker Podcast hosted by occasional PokerNews Strategy contributors Nate Meyvis and Andrew Brokos, and I've been hooked ever since. Each episode has a strategy segment where the duo breaks down a specific hand or a concept, but even in their feature interviews there's often talk of more general strategies that can be employed at the poker table. Listening to this podcast really makes you think about different ways to approach hands. In fact, I've never heard Meyvis or Brokos use the word "standard" when talking about a hand.
If you're not a podcast fan, then search the web for video content on multi-table tournaments. There are several sites that offer quality strategy videos, and even if it's the most basic content, going out of your way to think about poker will help you prepare for the many decisions you're going to have to make at the tables.
3. Get Rest
During the 2009 World Series of Poker Main Event, Phil Ivey barely slept. Each day, after grinding the Main Event for several hours, he left the Rio and headed to the Bellagio to play in a giant mixed game with an unknown businessman rumored to be from France. Even when Ivey reached the November Nine that year, he was quick to get back to Bobby's Room afterwards in order to gamble it up.
This isn't an optimal strategy, and unless you find yourself in the craziest cash game in the world where a player is shipping blind every hand, go to bed. Being well-rested will help you focus the next day and give you the energy you need to build castles at the table. It will also save you from pumping your body full of artificial sugars and crap by drinking a dozen cups of coffee or Red Bulls.
I make it a high priority to get a good night's rest before playing an event. I also often try to arrive and register early if I can to make sure I don't get stuck at a late registration table with a bunch of wizards.
4. Bring Food
Bringing food to a poker tournament benefits me in two ways. First, I always have something to eat if I am hungry, and I try to make it something healthy. Granola bars and nuts are quick pick-me-ups that oftentimes have good amounts of protein as well. I'll make up a bowl of chicken salad or something else that I can store in a small Tupperware box and take along. This will provide me with a nice meal during the tournament and keep me away from the greasy snack bar.
Second, when I take food, it makes me feel like I am going to be in that poker room all day. Sure, I could run middle set into top set during my first orbit and hit the rail — that happens sometimes. But I know going into the day that I am prepared for a long, successful grind… and I know that when I do, I won't go hungry!
5. Dress to Impress
Finally, I think that players should focus on the way they dress. Comfort is very important, so it's smart to bring a sweatshirt or a sweater in case it is cold. But I also think style can have an effect on your opponents as well. In my experience, I believe players react to me differently based upon the way I dress. If I am in a hoodie and headphones — that is, if I appear to be in "grind mode" — then people will assume that I am there purely to profit and will peg me as an aggressive player. On the contrary, when I wear a button-up shirt or something more casual, players are more likely to engage with me and perhaps give away some of their secrets.
I believe that talking with neighbors in between hands can unearth crucial information for the future. You tend to play the most hands with the people sitting next to you because of the relation to the button and blinds, which can make being open and social with your nearest neighbors a useful strategy. For that reason I'll often go with a more casual style of dress, advertising that I am not just there to profit but to have a good time as well.
Consider these tips when preparing to play your next poker tournament in order to give yourself a better chance to succeed.
Get all the latest PokerNews Canada updates on your social media outlets. Follow us on Twitter and like us on Facebook!