Strategy on the Stream: Learning by Watching the Global Poker League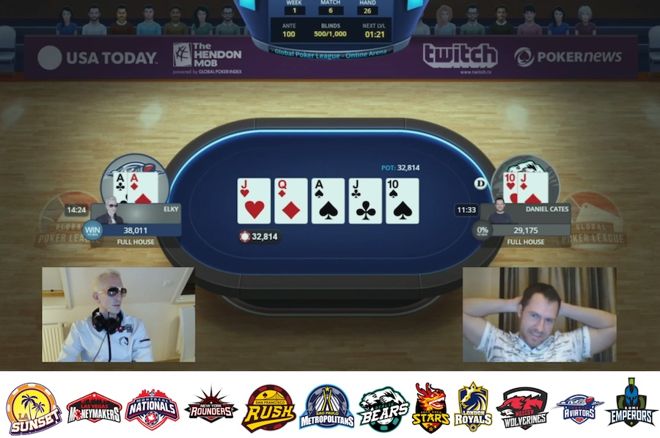 The first week of the inaugural season of the Global Poker League completed yesterday. Despite months of build-up, it was still something of a revelation.
It was bound to surprise at least on one level, given that the format for the matches — with each one shown start-to-finish over the GPL's Twitch channel — weren't known by many until recently. But it turned out to be a revelation in another way, too, for many who watched.
Watching the Global Poker League is a lot more fun that you might expect. And it also can be a great way to learn poker strategy.
Play this week followed a schedule that will be repeated over the next seven weeks, then after a six-heat "Summer Series" will be repeated again for another six weeks in August and September before the playoffs take place in November. On Tuesday four six-max sit-n-gos took place with each of the 12 teams represented by players a couple of times, then on Wednesday and Thursday three heads-up matches were contested, also involving all of the teams.
For the six-max tournaments viewers relied on commentators Griffin Benger and Sam Grafton to speculate about the strategy being employed by the players in the fast-structured tournaments. Then for the heads-up matches webcams showing each of the participants allowed viewers to hear the players themselves talk through their thought processes as they made decisions.
This is where the viewing experience became revelatory, and arguably innovative as far as poker viewing goes. Unlike most Twitch streams that feature a single player sharing strategy as hands go by, here viewers could hear two heads-up opponents discussing hands in real time. And given the fact that the GPL happens to feature some of the best poker thinkers around, the discussions were routinely filled with genuine strategic insight.
Rome Emporers manager Max Pescatori recognized that early on, and offered a suggestion to his followers regarding the instructive value of the GPL stream:
Stop buying poker books, just watch @gpl games and learn at hyper fast pace.

— Max Pescatori (@maxpescatori)
So Sick! ElkY vs. Jungleman
Many viewers became fully aware of the possibilities offered by the introduction of the webcams during the second match on Wednesday that pitted the Bertrand "ElkY" Grospellier (playing for the Paris Aviators) against Dan "Jungleman" Cates (playing for the Berlin Bears).
The match saw Grospellier manage to win two out of three games to pick up six points for the Aviators while Cates' one win earned three points for the Bears. Constant commentary throughout by Cates regarding hands and Grospellier's occasional interjections of "so sick!" provided some genuinely laugh-out-loud moments. The cards produced some good drama, too, such as in the last hand of the relatively short second game that began with Cates raising his button with


, Grospellier three-betting with


, and Cates calling.
The flop came



, and with top set ElkY led and Cates called. The turn then brought the

and a big chuckle from Cates.
"Oh ho ho hooo...! There's 20K in the pot and I've got three of a kind" Cates grinned as ElkY — now with a full house — made a small bet of one-third the pot. Cates called again, then cried out as the

completed the board to give him a full house, too.
This time ElkY checked, prompting Cates to ask "What the f--- does he have? Seriously... ace-queen...? I have no idea what he has... so weird." Cates then shoved, ElkY snap-called to win the match, and Grospellier exhaled loudly with relief as Cates shook his head at the turn of events.
The fun continued into the third game between the pair, and ElkY — a veteran Twitch streamer who'd been quieter than Cates — agreed with me afterwards after I tweeted that the format provides a lot of possibility both to entertain and instruct those watching at home.
@hardboiledpoker @trickyscarfy @junglemandan need to watch replay but agree ! It wasn't natural at first especially while focusing hard

— ElkY (@elkypoker)
Bonomo and Adams Fill a Four-Minute Tank
The final match on Wednesday then truly realized that possibility with both Justin Bonomo (of the London Royals) and Timothy Adams (of the Rome Emperors) providing constant analysis throughout their three games. Bonomo took the first, Adams the second, then early in the third came one of the most intriguing hands to follow from a strategic standpoint.
Bonomo had built a slight lead, and with the blinds 300/600 with a 60 ante Adams raised to 1,525 from the button with


and Bonomo called with


.
The flop came



, giving Bonomo an open-ended straight draw and Adams a flush. Bonomo checked, and Adams — who had just been narrating his thinking the last few hands — began to talk again.
"Nice hand... nice flop... I will choose the bigger sizing, because we need a lot of protection," said Adams who bet 2,428 into the 3,170 in the middle (more than three-quarters the pot). Bonomo called, bringing the pot just over 8,000.
As Adams comment suggests, having flopped the flush was good, but with a vulnerable hand he bet an amount that forced Bonomo to pay should he be chasing a better flush — or, as it happened, a straight.
The turn brought the

— "good turn," commented Adams — and Bonomo checked again.
"I think betting big here is the play with this combo... an overbet," said Adams, who proceeded to fire 7,129. We could see Bonono wince at the sight of the nearly pot-sized bet.
"There are so many bad rivers that could deny us of getting three streets [of value]," explained Adams while Bonomo was thinking. "This could get ugly very easily," said Bonomo as he called.
With more than 22,000 in the pot, the river brought the

to complete Bonomo's straight. Bonomo checked, and Adams said "This is interesting," before shoving all in with his last 33,125. "Ahhh, Tim," Bonomo responded.
That's when Bonomo's tank — and what amounted to an extended lesson covering range reading, bet-sizing, blockers, and more — began.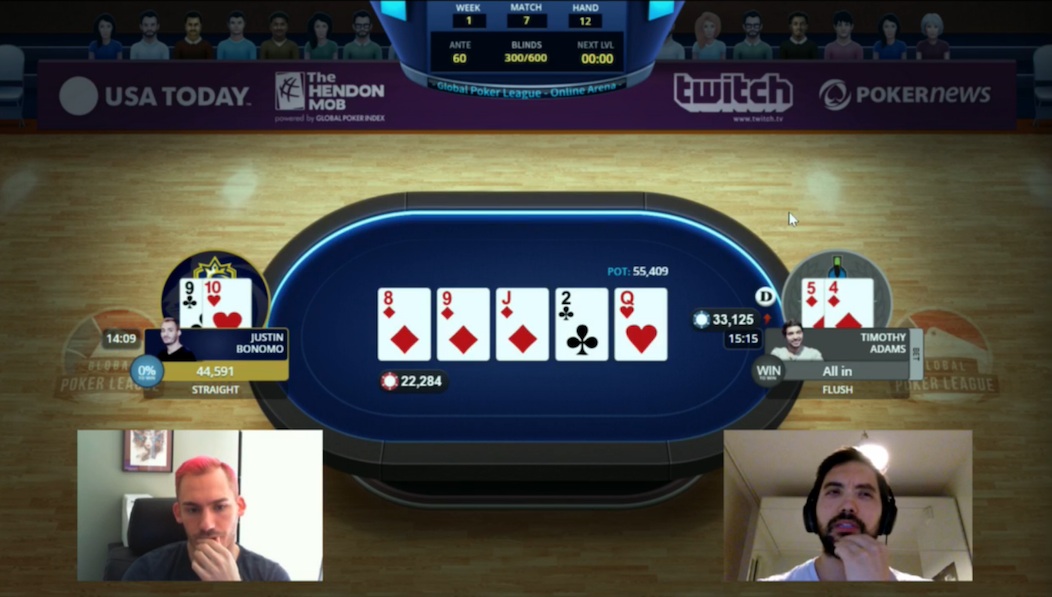 "I'm pretty happy with my range," Bonomo said. "So my first instinct is that I should call here."
"This is interesting," said Adams. (Note: the players could not hear one another.) "I mean he could be in a very difficult spot. I don't know if I love this play by me, actually, but I like the flop and turn sizes. This is a little dicey."
"He's definitely good enough that he could make this bet this with just the bare

or

," Bonomo continued, considering the possibility of Adams having been semi-bluffing the flop and turn. "The question is, how often would he bet the turn with those hands that don't have flushes?"
He continued to think out loud, focusing for a while on Adams' bet-sizing. Meanwhile as the time passed Adams grinned as it had become clear his shove had forced Bonomo to a tough decision.
"Yeah, well, at least the bet has him extremely kind of confused," said Adams.
Talking back through the hand, Bonomo noted how Adams could have played the hand similarly with two diamonds in the hole. "If he has the flush he probably uses the same sizing, so that doesn't really give me much," said Bonomo. "It's really hard to make a flush. This would be an easier call if I had a diamond blocker."
Bonomo then focused on his own range and how he was on the upper end of it with his straight. He additionally considered how savvy an opponent he was up against. "I think he's good enough to bluff here and I'm pretty high up in my range here, so I'm gonna call," Bonomo finally concluded. "Nice job if you have a flush, Tim."
Bonomo called and saw the bad news. "Good hand, sir," he said. Indeed it was, and I think most who watched agreed with Benger who noted afterwards "I don't think anyone minded having to wait" through Bonomo's long tank. Poker pro Steve Warburton felt the same way.
Really entertaining HU match with @Tim0theeAdams & @JustinBonomo. Beautiful how @gpl format has made watching a player in the tank gripping

— Steve Warburton (@S_Warbs)
Bonomo managed to recover, however, mounting a comeback to win that third game and take two of three for the match.
A Big Bluff from Big Cheese; or, Zinno's Paradox
Thursday's heads-up matches provided still more fun and insight, concluding with an intriguing duel between Anthony Zinno (of the Las Vegas Moneymakers) and Tom Marchese (of the New York Rounders).
"This is my first webcam experience in my life... in anything," confessed Zinno early on. "So forgive me if I'm a newbie."
Unlike in the other matches, in this one the pair started out being able to hear each other's comments during the first game, which had the understandable effect of preventing them from sharing strategy during hands. By the second game they went back to not being able to hear one another, and despite his lack of familiarity with webcams Zinno readily began sharing his thoughts with the viewers, again providing a lot of strategic insight.
For example, an interesting hand in the second match saw Zinno flop a full house then talk us through his decisions afterwards. A small leading flop bet (less than a quarter of the pot), he explained, was "either to induce or be able to feign weakness on the turn." He then check-called the turn and fired the river, and while Marchese folded a weak hand on the end Zinno continued to tell us how his actions were designed to gain value from his monster holding.
The highlight of their match, though, came in the third game when Marchese — winner of the first two games — three-bet with


, flopped bottom pair and continued, turned a flush draw and barreled again, then bluff-shoved the river after failing to improve.
That bluff-shove, though, didn't come right away. Rather Marchese (a.k.a. " Big Cheese") took about four minutes as well, walking away from the computer and leaving Zinno (who held second pair of queens) to wonder what the heck was going on.
It was both hilarious and very interesting from a strategic point of view, with Benger and Grafton adding to the fun as well with their reactions. Zinno eventually folded his hand, and could only laugh when Marchese showed his bluff.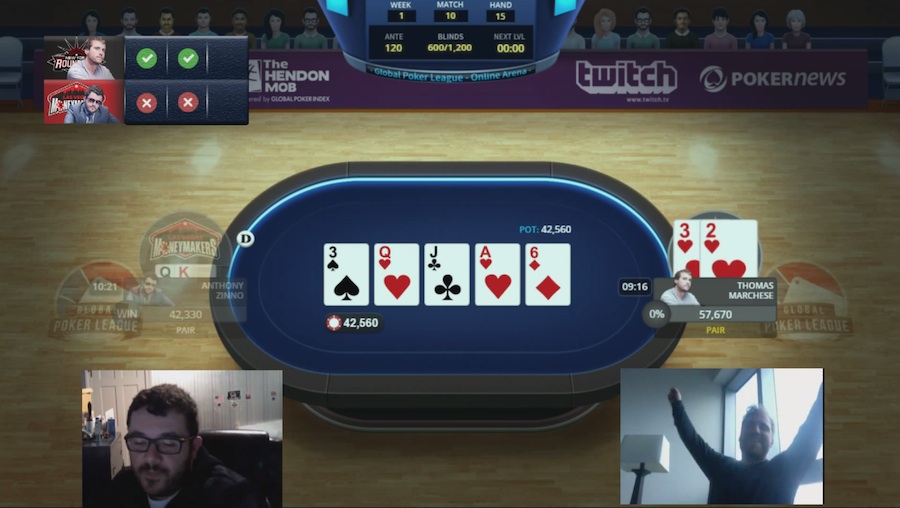 If you have a few minutes, you can click here to watch the hand.
Zinno recovered to win the third game, then afterwards the pair had a conversation about the match and in particular this hand. "The long tank was pretty brilliant," conceded a smiling Zinno. "Was for the fans!" Marchese answered, adding that after having won the first two games he felt like he was freerolling a bit in the third.
As noted, every minute of every GPL match is being streamed live, and they're all archived as well to watch later. Visit the Global Poker League site to see the streams and check out the schedule of what's to come.
Get all the latest PokerNews Canada updates on your social media outlets. Follow us on Twitter and like us on Facebook!