WSOP 2017: Things To Do in Las Vegas for Free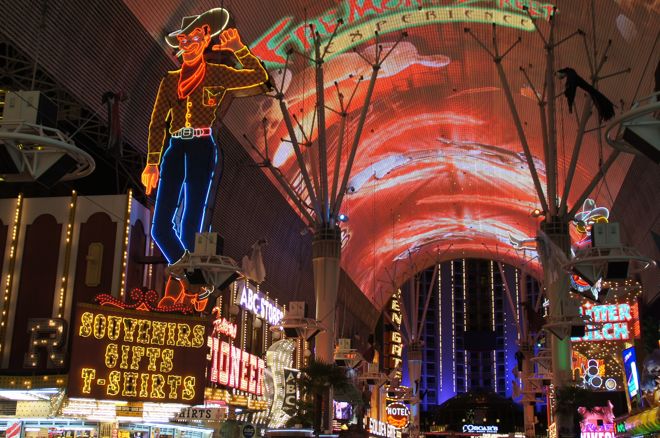 So you gave yourself a week or more in Las Vegas during the World Series of Poker. You had your eye on a couple of bracelet events, and you also planned to make some money in the many juicy side games.
But let's say fortune fails to shine on you, and the events and/or cash games don't go as planned. Or perhaps even if they do, your schedule includes an open day or two for non-poker activities, but you have no desire to spend on anything besides poker.
What can you do in Las Vegas without money? Quite a lot, it turns out.
Having been in that situation myself, I have prepared for you a list of things to do in Las Vegas that are absolutely, completely free. Admittedly, some are a bit unconventional. But hey, beggars can't be choosers, right?
Conventional Las Vegas Touristy Things
You're in Las Vegas. You might as well take advantage of all of the free conventional touristy things to do at the major casinos. At the very least you'll want to be able to report accurately on them to your family and friends back home.
You can go through this standard list of things tourists often make sure to see in Las Vegas — check them off as you complete them:
the Bellagio Fountain
the Mirage Volcano
the Luxor diagonal elevators
the reproduction of the Eiffel Tower at Paris
New York City at New York New York
the Golden Lion at the MGM
the laser light show of the Fremont Street Experience (pictured)
Check out as well the fish tanks, aquariums, art work and sculpture in the lobbies of the big fancy casino resorts. Walk up and down the Strip at night, checking out all of the beautiful facades and displays of the major casinos. All for free.
Such sightseeing might take you the better part of a day. But you still have time to fill. Here are some less conventional things to do to keep you busy.
Take a Hike
Get up early one morning and drive out to Red Rock Canyon or Mt. Charleston. There are plenty of hikes you can go on — either on or off the designated trails.
Make sure to bring water! And if the heat concerns you, keep in mind that Mt. Charleston is often 20-30 degrees cooler than the rest of Las Vegas.
Take a Class
As the entertainment capital of the United States, Las Vegas has perhaps the greatest density of artists, musicians and other creative people. Meanwhile as one of the favorite place for retirement, experts in dozens of disciplines are also looking for ways of adding to their social security. Many in the latter group supplement their income by offering classes in their area of expertise.
They often offer free lessons to entice people to sign up for a series of paying lessons. Want to take an introductory class in tango, meditation, Tai chi, sculpture, yoga, spinning or dramatic reading? Google the lesson of your choice and "Las Vegas" to get hundreds of listings.
Art Galleries
It should be no surprise that there are dozens of great art galleries in this city that attract visitors with disposable income. The galleries are interested in enticing people to view and then purchase great (and often very expensive) artwork. I treat them as beautiful free museums — and I've never been pressured to buy anything, but rather allowed to gaze to my heart's content.
Some of the better known museums include the CityCenter Fine Art Collection, the William Carr Gallery in the Grand Canal Shoppes (near The Palazzo), the Bellagio Gallery of Fine Art and three galleries located among the shops at Caesars — the SKYE Art Gallery, the Martin Lawrence Galleries and Kush Fine Art.
And hey, if you actually do win a major poker tournament some day, you'll be laying the groundwork for spending some of those winnings.
Watching a Wedding
This isn't wedding crashing. You're actually encouraged to attend weddings in many of the small Las Vegas chapels that border downtown Las Vegas. The stories behind the weddings — and the services themselves — are made for reality TV. Only you're getting a real-life front row seat.
Gambler's General Store
The best window shopping for the new and seasoned gambler and poker player is surely this great store, dubbed as the "world's largest gambling superstore." They have every gambling device you know of — and many you don't — not to mention dozens of varieties of poker chips, cards, chip sets, stand alone chip cases and more.
They are also now merged with the legendary Gambler's Book Club, meaning you'll additionally find thousands of poker books on display. You don't have to buy anything — just walk in and check out all the fascinating stuff!
Give Blood
The blood banks are always in need — in Las Vegas and everywhere else. Since you might be filled with self-loathing for losing your bankroll, or simply want to do something for others after having pursued your own self-interest at the tables, giving blood is always a noble activity.
They'll give you free cookies and soda and (in some cases) even some money for your donation. To find out where to go, either look online or walk into any hospital emergency room and ask where you can donate blood.
Bathrooms
It may seem like a sorry way to spend your time in Las Vegas, but interior architects have spent millions of dollars designing and building the most luxurious loos in the world. It's a shame, really. Most people go in and out without so much as a moment's pause for appreciation.
You can be the exception, and really check out these great, free, generally quiet spaces in Las Vegas. And, since you've had the misfortune of being crapped on by this great city of chance, why not return the favor in style?
Conclusion
Don't let a depleted wallet deflate your opportunity to enjoy one of our great American cities. Put your free time to good use and enjoy the many free things in Las Vegas.
Did we miss any? Share your favorite Vegas experiences below!
Photo courtesy of Rex Brown/Flickr
---
Stay connected. Follow us on Twitter and like us on Facebook!