Five Tips for Getting Started with PokerStars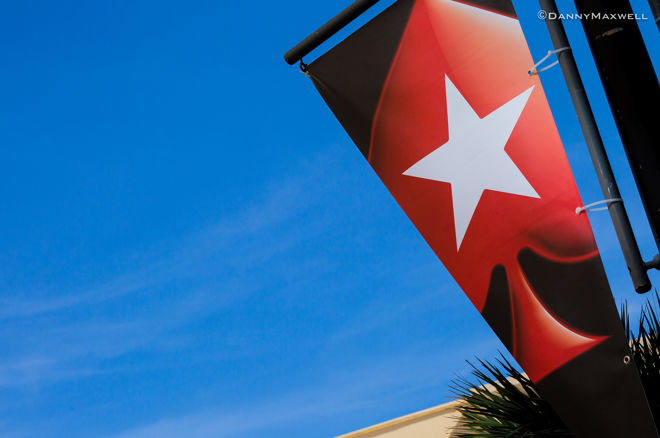 So you've checked out the PokerStars Q&A and are interested in playing on the site. Before you start bugging PokerStars Support, check out our helpful tips on getting started with PokerStars. Before we even begin that list, though, let's go back to the basics: here are five tips to get you started at PokerStars.
After you download PokerStars through PokerNews on your computer, you should find the most updated marketing code and bonus code. Or, if you are a mobile user, access PokerStars by downloading the PokerStars Android and iOS app to get real money on the go.
Once you've accepted terms and conditions and pressed the finish button on the install, you can create your account from the "Account" menu located at the top of the lobby. Choose a username and a password, and fill in the marketing code.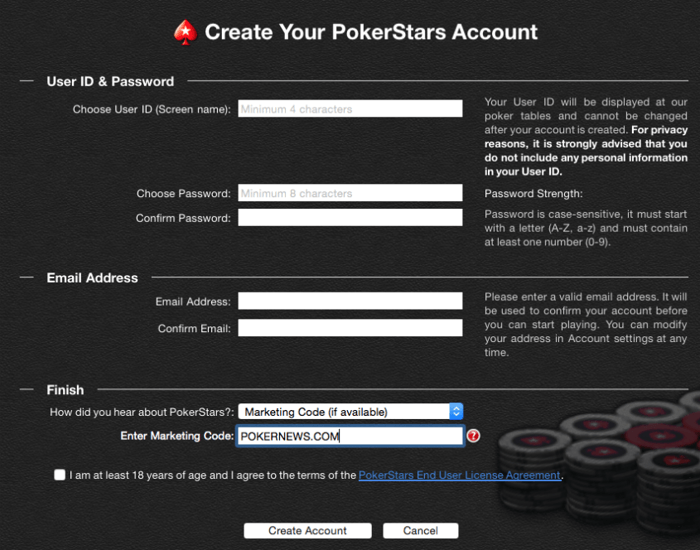 After that, you can make your first deposit by clicking on the PokerStars "Cashier" button.
Then, press the "buy chips" button to deposit your funds, select your payment type (whether Visa, Neteller, MasterCard, Skrill, or others), and review the details behind that type by clicking any of the logos. Once you've decided on the payment option, select deposit (but don't click submit just yet!).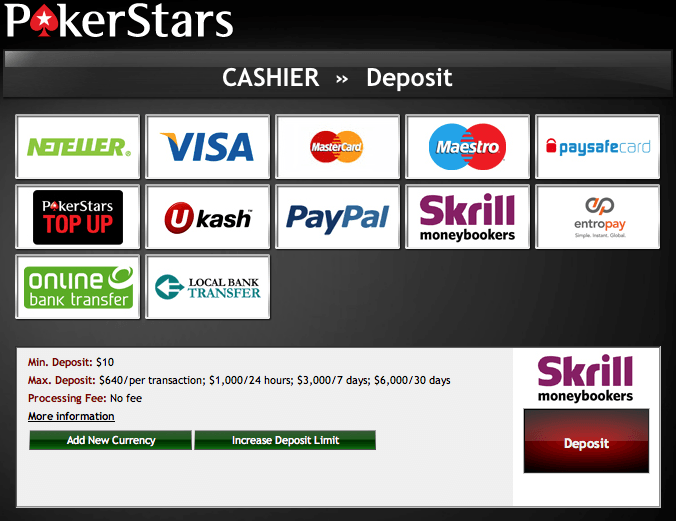 *Choose the amount THEN write in the bonus code field!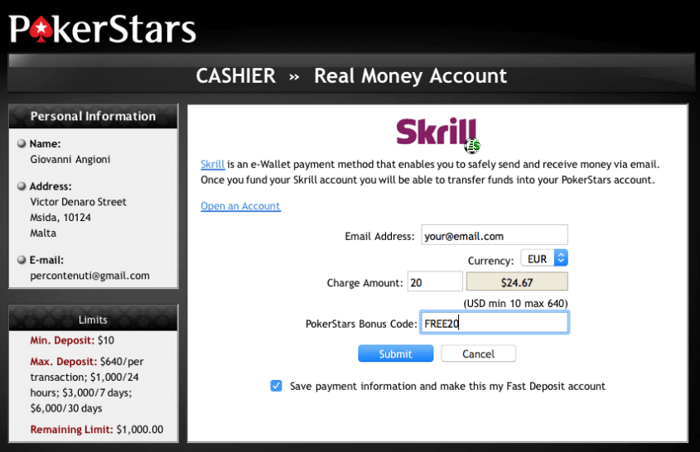 Now that that's settled, go to the PokerStars lobby and choose from their variety of games, like hold'em, stud, cash games, or tournaments.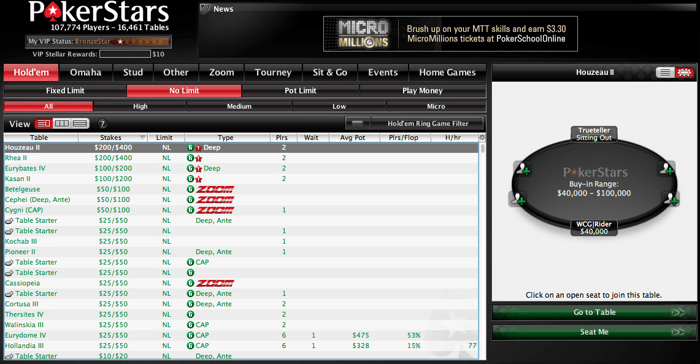 Search for your limit, double click on the game you want to join (that will take you to the table), and click any of the seats marked "Seat Open."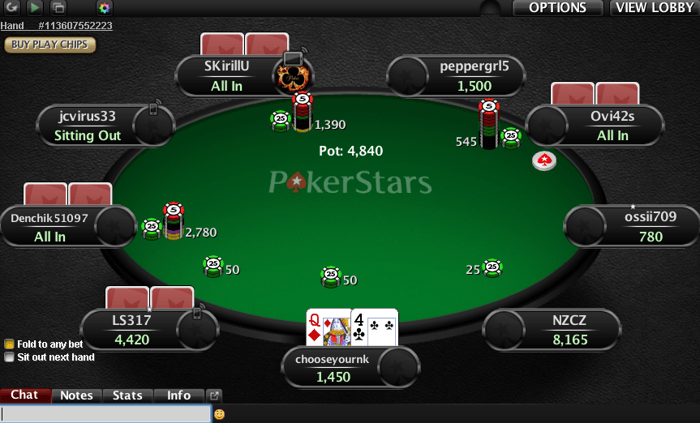 TIPS
1. Start off playing for free
It's understandable you may be tentative to play a new game or even play at all on PokerStars. New things can be scary.
In the client, just select "Play money" on the Home tab in the mobile app or in the upper right corner of the filter controls area (below the "Cashier" button) if on your desktop computer.
Once you enable play money on your desktop, you can make your way into a game use the Quick Seat lobby, which will present the available play money games and tournaments. From your mobile, the home tab will show the most popular games to scroll through or you can go to the lobby for the full listing.
And, in case you were wondering, at play money cash game tables, when your chip stack gets too low, you can top up your balances every couple of hours! Look for the "Refill Play Money Chips" option.
2. Find real money games
Select the game, event, or tournament you would like to play in, then choose the variation (e.g., fixed limit or no-limit) and category (such as all, freeroll, or satellite).
Scroll through the games. Pay attention to your defined search (click limit tabs to define it) and then choose the type of game (high, medium, low, or micro limit) and double click on it.
3. Know the software
Navigating the poker client is half the battle. You can come out on top thanks to PokerStars' tour of their lobby and a table.
From PokerStars:
Game Lobby
Lobby - Log in, visit our Cashier or Exit the PokerStars game software.
Account - Manage your PokerStars account. Features here include validating your email (a requirement), changing your Account details, and attaching your personalimage/avatar to your account.
Requests - Request stats on your play, make a money transfer to a PokerStars player and find your tournament tickets here.
Options - Customize your sounds, deck color and other game features.
View - Cascade or stack multiple tables or even change the theme of your tables.
Help - Get current PokerStars news, FAQs, check out the VIP Store or contact support.
Displays a live update of how many players are logged in to PokerStars.
Shows current news - Left click your mouse to see more news.
Main game navigation tabs.
Limits and Tournament sub-menus.
Information bar - Gives game details and allows you to sort games by stakes, limit, players etc by clicking on the columns.
Lobby scroll bar - Use this bar to quickly scroll through all our tables to find the game of your choice.
Game information box - This box displays current players and chip counts of any table you have highlighted.
Click here to hide full tables from your view.
Cashier - Allows you to easily fund or make withdrawals from your account, visit the VIP Store, check your VIP status, check your chip balances, and check your deposit bonus status.
Go To Table - Takes you to any highlighted table.
Current Time - All listed PokerStars games are on Eastern Time unless otherwise shown.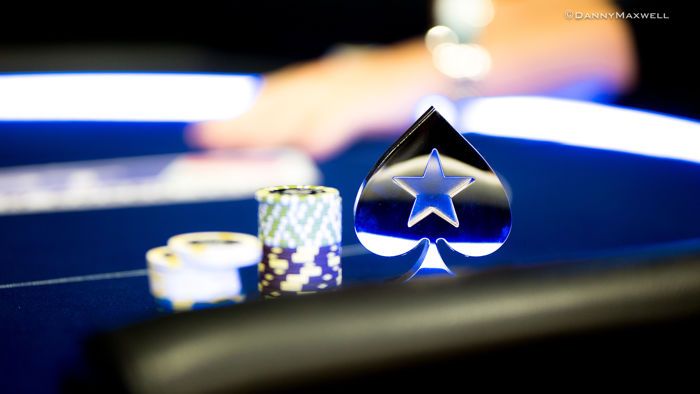 Table
Shows current and previous hand - Clicking hand number will open Instant Hand History.
Chip tray - Click to add more chips or change your game options.
Viewing Options - Allows you to stack multiple tables for a better view.
Leave Table - Will fold your hand and remove you from the game.
View Lobby - Click here to bring up the main lobby to search for new games.
Chat - Clicking here shows current game details and player chat.
Notes - Clicking here opens a tab where you may type notes about your opponents.
Stats - Clicking here shows your recent stats - since you have been playing at the table.
Join Waiting List - If the table you want to play it is full you may join the waiting list and be notified when a seat becomes available.
4. Fund your account
Make a mistake or find that something went wrong in the cashier deposit and withdrawal process? Know who to contact and know how to cash out!
Contact Support for details regarding deposits, but make sure you're ready to provide relevant account history and statements for your payment methods stating that it was processed successfully.
If you have an issue with your credit card or debit card deposit and your account was still charged, it is as though PokerStars is holding the amount until your bank or card issuer has approved the transaction.
You can confirm this with your bank by asking about their authorization hold policy and procedure for failed internet gaming transactions (many banks have policies against poker and label it a high-risk transaction). If, even after exhausting these options, you find that there is a different problem, like the transaction is still on your account after more than 10 business days after being declined, contact Support here.
Deposit limits can be set weekly for real money deposits, but they may be no higher than the ones already set for your account. Do this by going to "Tools" > "Responsible Gaming" and "Restrict Deposit Limit" (desktop) or "More" > "Settings & Tools" > "Responsible Gaming" for mobile. The other limits imposed on by your deposit method can be found by clicking the deposit option's logo.
Withdraw money by opening the cashier and selecting "Withdraw" from the correct currency bankroll. Enter the amount you'd like to withdraw. Otherwise, you can withdraw money through your PokerStars account by logging in and visiting the cashier from the account menu.
Some payment methods have a 48-hour delay placed on a player's last purchase to protect against fraud, which may prevent a request for withdrawal from going through.
If your withdrawal option is not visible on your screen, it could mean that 12 months have passed and you need to make a new purchase to withdraw.
Players can only have one pending withdrawal per payment method at any one time and withdrawal requests are limited within a 24-hour period, but these limits are displayed on the right-hand side of the screen when selecting withdrawal options.
Here are the withdrawal timelines for each deposit method:
| | | |
| --- | --- | --- |
| Deposited With | For | Time |
| NETELLER, Skrill, Yandex.Money, PayPal, Wallet One | Previous deposits | In account within minutes |
| NETELLER, Skrill, INSTADEBIT, Yandex.Money, PayPal, Wallet One | Above total amount deposited | Processed within 72 hours |
| CFT eligible VISA, EntroPay cards, Instant eChecks | Processing | Within 72 hours/appears on statement in 3-10 business days |
| WebMoney, Moneta, Ukash, QIWI Wallet | Processing | Within 72 hours |
| PokerStarsPay | Processing | Within 72 hours/appears on account within 3-5 business days |
| Direct Bank Transfer | Processing | Within 72 hours/appears on account in 3-5 business days |
| Wire Transfer | Processing | Within 72 hours/appears on account in 2-5 business days. |
You can cancel withdrawals by going to the "Pending Withdrawals" page in the cashier and selecting the "Cancel" button. If you can't do this function, your withdrawal may be under review as part of a routine PokerStars procedure (and should take no longer than a couple hours).
5. Gameplay
First things first: Keep track of time when you play. If you're in the middle of a hand and you're forced to fold, it may be because you ran out of it!
Players in cash games get 25 seconds to act on their hand in a fixed-limit poker game and 35 seconds in a pot-limit or no-limit poker game.
At 15 seconds, a warning will come up in the chat box.
If, for some reason, you lost your connection and come back before the timeout, you will get at least 10 seconds to act, but that may not be the case if your table is designated as "fast."
If the system crashes for some reason, the hands will be restored and will roll back play as if these hands had not happened with reset chip counts to the beginning of the hand.
Different buy-ins are offered for different no-limit and pot-limit poker games with standard tables having a maximum of 100 big blinds and a minimum of 20, 30, or 40 big blinds. Fixed-limit tables are 10 times the small bet for the minimum buy-in. Short or CAP tables have buy-ins between 20 and 50 big blinds.
The pot is always displayed numerically at the top of the tables.
All the rest of your questions can be answered with PokerStars' Frequently Asked Questions.
Don't uninstall just yet! This could your chance to have some great fun! Leave some notes in the comments if you have other tips or questions!