When Table Talk Goes Wrong: The Challenge of Interpreting an Opponent's Words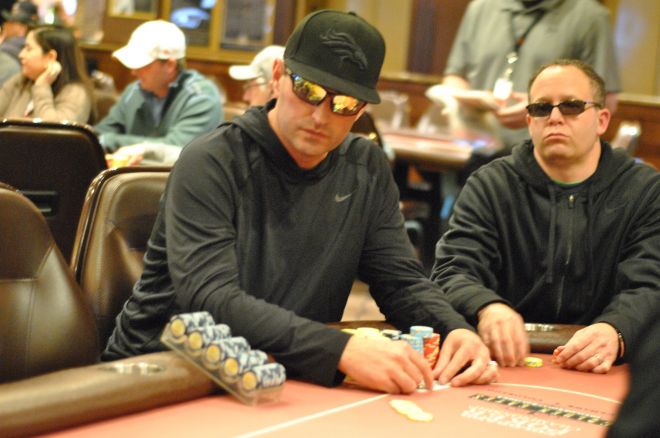 Covering live poker tournaments for a living affords me the opportunity to see countless thousands of hands played out, many of which offer interesting and potentially valuable insights into how players — both amateurs and professionals — play the game. In this ongoing series, I'll highlight hands I've seen at the tournaments I've covered and see if we can glean anything useful from them.
The Scene
We're once again at the 2015 Mid-States Poker Tour Golden Gates Main Event in Black Hawk, Colorado, a $1,100 buy-in no-limit hold'em tournament. This time we're looking at a hand that occurred back on Day 1a, the first of three Day 1 flights. It's near the end of Level 12 (800/1,600/200), one of the last levels of the day. Three more 40-minute levels will be played after this one before chips are bagged.
The Action
We pick up the action following a



flop, with Matt Bingel (pictured above) having bet 6,000. His lone opponent in the hand then makes it 18,000 to go. Bingel was one of the chip leaders at this point and had his opponent covered with effective stacks of 80,000.
Before responding to the raise, Bingel asked his opponent if he would show him his cards if Bingel folded. The player said he would show, prompting Bingel to put him all in a few moments later with


— a flush draw and two overs.
Unfortunately for Bingel, his opponent snap-called with


, having flopped the nut straight.
"I didn't think you had it because you said you'd show me," Bingel said.
Luckily for Bingel, the

fell on the turn to give him the flush and leave his opponent drawing dead. After collecting that massive pot, Bingel eventually bagged as the chip leader at the end of the night.
Concept and Analysis
Many players make extensive use of table talk to help deduce their opponents' hands or induce them to give away free information. Players like Daniel Negreanu and Jamie Gold have made this technique famous in televised hands seen over and over by many. Naturally, beginners who see these players pull off table talk magic try to incorporate it into their games.
However, Dan Harrington warned us in his classic Harrington on Hold'em series about the pitfalls we can fall into when table talk goes wrong. This hand is a good example.
Bingel interpreted his opponent's willingness to show his cards as weakness. In many cases, this interpretation of the situation holds true. I've seen countless players get asked if they'll show their cards after a big bet, agree to do so, and then turn over a bluff. Why wouldn't they agree if they know their opponent is going to fold? It assures their bluff will be successful, plus they get to advertise that they're willing to bluff, possibly inducing future payoffs. Having your cake and eating it too is always nice.
But there are many ways this can go wrong. First, what if we misinterpret our opponent's words? It's not always easy to talk to a total stranger and figure out what's going through his or her head when he or she says something to us. Second, what if the opponent is one step ahead and decides to send out a false signal?
Another possibility in this particular hand was mentioned by another player at the table after the pot was finished. Maybe Bingel's opponent genuinely didn't want action, thinking Bingel had exactly what he had. Some players are so risk-averse, they would rather just take down the pot with the nuts than risk their whole stacks against a draw, especially when they are so close to bagging up for the night.
Use table talk wisely, and be careful of putting too much weight on your opponent's words.
Get all the latest PokerNews Canada updates on your social media outlets. Follow us on Twitter and like us on Facebook!