Winning the WSOP Main Event... What Would You Do?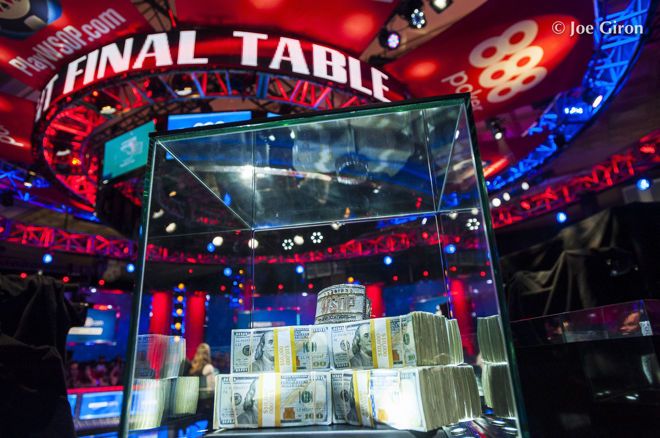 I'm going to take you on a flight of fancy. But I want you to finish the flight yourself.
You've won a seat to the Main Event of the World Series of Poker by playing in a satellite. You've booked a room at the Rio for the full 10 days — just in case. So there you are, checking into the Rio, to play in the biggest tournament of your life. Here's a look at how you do.
Day 1
You are starting on Day 1c, the last of the three starting flights. You make it to your seat in the Brasilia a few minutes before the official starting time of 11:00 a.m. After what seems like an interminable series of opening remarks and festivities, you hear the words: "Shuffle up and deal."
Everything goes very quickly at first. By the first break you have a little less than your starting stack of 50,000. By the second break, after getting involved in a few hands with positive results, you inch up to about 60,000, just about par for the course.
A couple of bumps occur during Level 4 and one more during Level 5 when you abandon your ace-high flush draw on the turn when the board pairs and you face a pot-sized bet.
Still, you win a few pots, and make it to the end of Day 1 with 130,000. You go to bed a little before 1:00 a.m. with dreams of cashing.
Day 2
After a day off you come back for Day 2, during which you get hit by the deck. You triple up by the end of the day, ending the night bagging nearly 400,000 in chips. Still, you are far from the top of the leaderboard. You realize you have a long way to go.
Day 3
All the flights are finally combined into a single field for the first time. The anticipated money bubble does not hit when they suspend play for the night. You make it through another day and bag your chips, and you go right to your room. You're wiped out mentally, but still in the top quadrant of players with a little over 600,000.
Day 4
You make it through the bursting of the bubble, then encounter a scare in a hand late in the day in which your top two on the flop gets outdrawn by a guy who hits his flush. This depletes your stack by a third.
Still, you've cashed, and you realize that you'll be always able to tell your friends that you made the money in the WSOP Main Event. You resist the urge to party and again head back to your room for a full night's rest.
Day 5
You manage to keep your focus, even though you've never before played longer than a two-day tournament. You get extremely lucky in a multi-way pot and vault to the top 10 percent of the stacks right before bagging at the end of the day.
Day 6
After playing so many hours for so many days, you find yourself entering some weird zone you didn't know existed, an uncanny combination of focus and weariness.
You win a couple of big coin flips, and survive again. At the end of the day you bag your chips and look on PokerNews to see you're in 16th place with only 27 players left. You're in for the biggest score of your life!
Day 7
You tell yourself that your goal is just to finish the day, making the final table — and in your mind, poker immortality. You tighten up and watch players knock each other out.
Finally, you can't lay down your


when the largest stack at the table four-bets you preflop. You still can't lay it down when he puts you all in on the flop of



. It turns out he's playing


. He doesn't improve and you double up.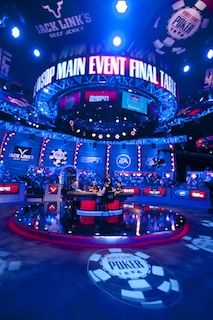 This and a couple of other nice-sized pots propel you all of the way to the end of the day. Just nine are left, and you've made the final table fourth in chips.
Day 8
Your friends kept busy the day before calling other friends and relatives of yours. So when you show up at the televised final table in the Amazon Room, you have a large cheering section filled with people all wearing t-shirts with your first name on them!
You're afraid of looking stupid, now that everyone will see your hole cards, and start the final table playing it safe and tight. Once again, you are fortunate, as other players knock each other out as you tread water. You find a bag at the end of the day still in fourth place out of six players.
Day 9
You honestly do not remember much from this day. It lasts six hours, all of which go by in a blur.
You hang on for the first couple of hours as two players get knocked out, leaving you fourth out of four with three going on to Day 10. You are at risk of getting blinded out but manage two double-ups after going all in twice with the worst of it and surviving.
Finally, the big stack knocks out the third player of the day and you make it to Day 10 in third place.
Day 10
You can't believe you've made it to this, the final day of the Main Event. You start in last place of three, but quickly double-up against the big stack, moving up into second. You then knock out the player in third, and find yourself suddenly heads-up with a slight chip lead.
The WSOP crew comes out with wheelbarrows of cash that they pile on the table in bricks of $100 bills. First place is $8.45 million, second $5 million. The cash takes up two-thirds of the table.
You hit a couple of hands early, increasing your lead. Then you are dealt


and watch your opponent raise. You three-bet, he four-bets, and you call.
The flop comes



, giving you middle pair, top kicker. You check, and he shoves. You think for a good three minutes or so and finally call. He reveals


, giving him a flush draw, an inside straight draw, and a live jack against your middle pair — in fact, he's a slight favorite.
But he doesn't improve. At 9:05 p.m., you win. You're the World Series of Poker Main Event champion!
Your supporters go crazy. You're in a bit of a daze. There are a lot of pictures taken with the money, with your opponents, with your family, and of just you holding your final two cards.
You have no backers. You've already had taxes deducted and have left your tips. You may owe some more for state taxes as well as for your final adjusted federal taxes, but your accountant assures you that you'll clear over $5.5 million no matter what.
What do you do with the money? I've polled some poker players to start off your thinking.
Nearly everyone puts money toward children, grandchildren, and other family members. Many talk about charity.
Some mention taking elaborate vacations, embarking on business ventures, opening a jazz and blues club, putting it in the bank, buying a house, or buying a car. Some also talk about playing bigger poker, and engaging in more sports betting.
One wag suggested he'd spend most of it on booze and women — and then blow the rest of it on something frivolous.
What would you do?
Ashley Adams has been playing poker for 50 years and writing about it since 2000. He is the author of hundreds of articles and two books, Winning 7-Card Stud (Kensington 2003) and Winning No-Limit Hold'em (Lighthouse 2012). He is also the host of poker radio show House of Cards. See www.houseofcardsradio.com for broadcast times, stations, and podcasts.