WSOP 2017: Eating Right in Vegas Without Breaking Your Bankroll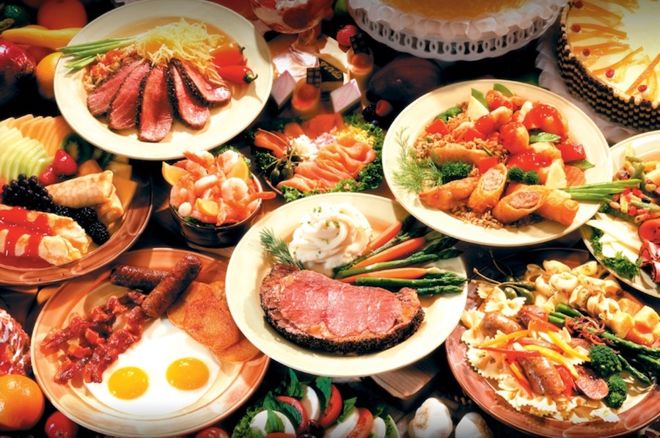 The days of free food in Las Vegas are largely behind us. Although you occasionally do see some promotions that include food giveaways, those looking for bargains when eating out generally have a bit more work cut out for them.
To that end, I've assembled a list of some of the less expensive food options in Las Vegas. This isn't free food, but it's pretty darn close!
Cheapest Buffet Meals
These buffets may not be on par with the fabulous ones you find at Caesars, the Bellagio or the Wynn. But these will fill you up for a whole lot less, leaving you more to spend at the poker tables.
I've separated the list into categories describing the least expensive buffets in town — for breakfasts under $7, lunches under $9 and dinners under $10. You will need a casino loyalty (VIP) card to qualify for these low prices. They are free and easily available in each casino.
Here's my list of the very cheapest buffets in Las Vegas.
Breakfast buffets under $7
$5.99
Boulder Station
Sam's Town
Sunset Station
$6.59
Arizona Charlie's Boulder
$6.99
Aliante
Cannery
Palace Station
Red Rock Resort
Santa Fe Station
Suncoast
Texas Station
Lunch Buffets under $8
$6.99
Fiesta Rancho
Railroad Pass
Suncoast
$7.49
Fiesta Henderson
$7.99
Boulder Station
Rampart
Sam's Town
Sunset Station
Texas Station
Dinner Buffets Under $10
$6.99
Railroad Pass
$9.49
Fiesta Rancho
$9.99
Fiesta Henderson
Sam's Town
Texas Station
Non-Buffet Options
There are many other ways of eating inexpensively in Las Vegas. Cheap Mexican and Asian restaurants abound. Here is a list of some of my favorites, with some notes about especially inexpensive menu items.
Mexican
Roberto's — 99-cent chicken tacos on Wednesday
Tacos El Gordo — entire menu is inexpensive, and the quality is consistently excellent
El Nopal Grill — $1 tacos on Taco Tuesday (officially for Stratosphere employees, but their Facebook page announces it for all)
Santa Rosa Taco Shop — mini-tacos for $1.39
Del Taco — $.69 for "Value Taco" and $1.39 for the "Del Taco"
Asian
Asian Food in Las Vegas is often a great bargain. Here are five of my favorite places for Asian food for under $10.00 a meal.
Big Wong
Wendy's Noodle Cafe
Bobo China
Asian BBQ and Noodles
Pho Saigon
There are several other low cost eating options as well. Here are several more inexpensive places I can recommend, with a note or two about each.
Costco — $1.62 hot dogs
Fernandez Hot Dogs — $1 Americano hot dog (hot dogs with different toppings are available for a little more)
South Point Casino — $1.50 hot dogs; $3.00 hot dog & beer specials
Skyline Casino — $1.49 shrimp cocktail; $1.49 breakfast special (with purchase of drink)
Poker Palace — $5.98 prime rib; $4 eight-piece boneless wings; $2 foot-long hot dog
Marilyn's Cafe at the Tuscany Casino — all you can eat pancakes for $3.99
There are those who might argue that when you're in Las Vegas, you shouldn't worry about finding the cheapest meals. There's something to be said for that. After all, the city boasts some of the world's finest chefs and highest quality dining options.
But for me, finding food bargains is part of the adventure of travel. Besides, the money you save at these super cheap eateries can be spent later on at some posh restaurant of your choice.
Ashley Adams has been playing poker for 50 years and writing about it since 2000. He is the author of hundreds of articles and two books, Winning 7-Card Stud (Kensington 2003) and Winning No-Limit Hold'em (Lighthouse 2012). He is also the host of poker radio show House of Cards. See www.houseofcardsradio.com for broadcast times, stations, and podcasts.
Photo: Fiesta Henderson.