$1,100 Manitoba Liquor & Lotteries Poker Championship
Event Info
| | |
| --- | --- |
| Prize Pool | 142,000 CAD |
| Players | 142 |
Level Info
| | |
| --- | --- |
| Level | 23 |
| Blinds | 20,000 / 40,000 |
| Ante | 3,000 |
$1,100 Manitoba Liquor & Lotteries Poker Championship
Day 2 completed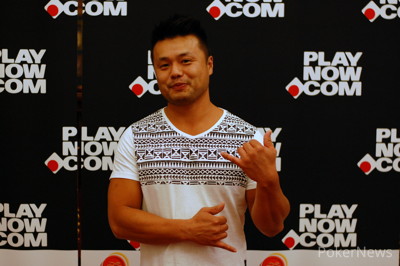 Kevin Lee has won the PlayNow Poker Championship Main Event after making an unplanned stop on his roadtrip through town.
Driving across Canada from Vancouver, B.C., Lee was making a stop in Winnipeg for the night when he learned of the poker series happening in town. He came down and won the Main Event.
Three-handed play came to a close with Lee, PlayNow qualifier Robert McLure, and local favourite Dylan Ellis making a deal for the last chunk of money in play and Lee came out on top with the win.
There were 25 players when action resumed today at noon, and it wasn't much longer until play went in the money with 15 remaining. They were all playing for a piece of the $142,000 prize pool.
By the time it all ended, Lee was walking away with the title — a feat worth $38,413.
That's it for us here in the PlayNow Poker Championship Main Event. Thanks for following along. Good night!
Look at these guys. It's a good day to be a poker player!
The final three players have made a deal for the remaining $12,000 in play and the tournament has come to a conclusion. We will have the details for you shortly, but Kevin Lee has claimed the win.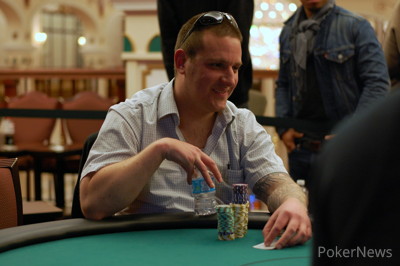 Matt Kazemi's run here is done. He just got it all in preflop with Kevin Lee, his nemesis this past level, and came out behind.
Kazemi was holding


and Lee was miles ahead with


, and the board of





was not helpful to Kazemi. He was eliminated in fourth place and headed to pick up $11,983.
Kevin Lee and Matt Kazemi just swapped a couple of pots with Kazemi coming out ahead by a bit.
Lee bet 90,000 and Kazemi shoved all in, which Lee felt he had to call, turning over


and hoping to catch cards against Kazemi's


.
"I like my hand better," Lee said.
By the time the board ran out





, he didn't like his hand better. Kazemi had secured a huge double-up.
Just a couple of hands later, Kazemi put his new chips to use by raising to 113,000 from the button, getting a call from Lee in the big blind.
The flop came down



and both players checked to the turn of

, the river of

, and to a showdown that saw Lee scoop the pot with


.
Level:

23
Blinds:

20,000/40,000
Ante:

3,000
Robert McLure is running away with this thing now. He just got involved in a huge pot with Kevin Lee where Lee raise-folded on the turn for heaps. McLure showed his flopped straight. He now is tipping very near the one million mark.
| | | | | | |
| --- | --- | --- | --- | --- | --- |
| Robert McLure | | | | 985,000 | 290,000 |
After winning a massive double-up off of Dylan Ellis, Robert McLure took over the chip lead, but now he's donated some of those chips to Matt Kazemi.
McLure min-raised to 60,000 preflop from the small blind and Kazemi pushed all in for 182,000. McLure couldn't give up his hand, calling with


and hoping to hit against Kazemi's


.
The cards never fell McLure's way, as the



but Kazemi hard, and the turn and river of

and

changed nothing. Kazemi earned the much-needed double-up.
| | | | | | |
| --- | --- | --- | --- | --- | --- |
| Robert McLure | | | | 695,000 | 489,000 |
| Matt Kazemi | | | | 360,000 | 15,000 |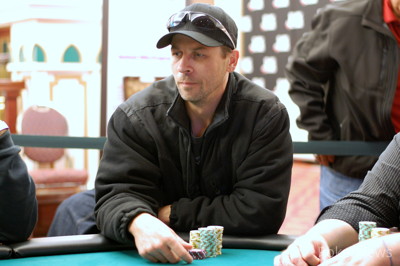 They're dropping fast now. Shawn Sperber was the latest casualty and was eliminated in fifth place. He'll collect $9,018.