Event Info
| | |
| --- | --- |
| Prize Pool | 94,000 CAD |
| Players | 94 |
Level Info
| | |
| --- | --- |
| Level | 21 |
| Blinds | 12,000 / 24,000 |
| Ante | 0 |
$1,100 Main Event
Day 1 completed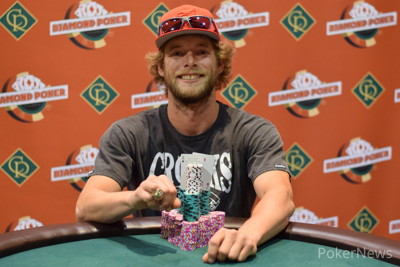 Chris Bowers is the Diamond Poker Classic Champion!
The series returned to Casino Regina in Saskatchewan's capital after an eight-year absence and the Main Event concluded the four-tournament series today.
The $1,100 Main Event kicked off at noon and registration closed with 94 entries, creating a prize pool of $94,000. Like every event this week, this final table of 10 players was set to get paid.
When the money bubble burst late in the evening, there were a few storylines to note. Chris Bowers entered the final table with the chip lead after already final-tabling both of the most recent Main Events at Casino Regina. Also, 2012 Station Poker Classic Champion Glen Adams was on the final table looking for a second ring, as well as his wife Danette Holzwarth seated right next to him. Event #3 bubble boy Jody Fayant was also in the lineup of the final 10.
Play initially started slow and conservative as a few levels passed without any eliminations. But then the pair of spouses were eliminated in 10th and ninth, followed by Gord Matt in eighth, Sam Dickson in seventh, and Jody Fayant in sixth.
The remaining five players went on a break with Bowers holding well over half of the chips in play and the other four had fairly even stacks. When they returned from break, they agreed to chop it up and end the tournament right then.
Chris Bowers took the win and the ring and will earn his name on the champion's banner. He earned $22,942 for the victory.
Some of the notable players to take a shot in the event but fail to cash included Russ Meilunas, Ryan Smith, Vanessa kade, Mike Smith, Jared Klimosko, Kyle Irvine, and Tyler Bonkowski.
That's it for this year's Diamond Poker Classic. Thanks for following along and we'll see you next time!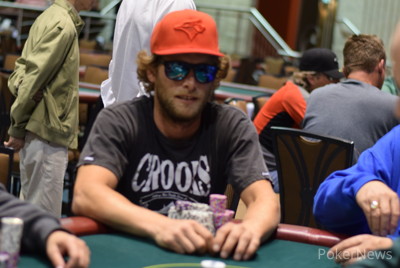 Right after coming back from break, talk of a chop came up and the negotiation was quick. Chris Bowers took the win and the ring. He locked up $22,942 while Steve Barclay earned $12,584. Murray Hicks and Matt Britton got $12,084 each and Mike Barnett pocketed $12,083.
Level:

21
Blinds:

12,000/24,000
Ante:

0
Here are how the final five are sitting as they take their break.
| | | | | | |
| --- | --- | --- | --- | --- | --- |
| Chris Bowers | | | | 1,040,000 | 190,000 |
| Steve Barclay | | | | 290,000 | -40,000 |
| Murray Hicks | | | | 215,000 | -8,000 |
| Matt Britton | | | | 185,000 | -165,000 |
| Mike Barnett | | | | 140,000 | 70,000 |
The five remaining players are headed on a quick 15-minute break.
Chris Bowers leads the field with half of the chips in play.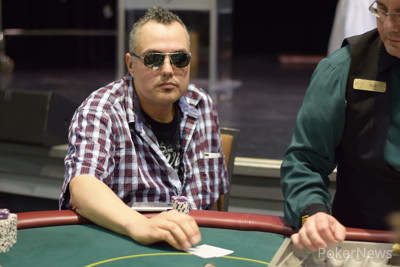 Action folded around to Jody Fayant in the small blind, who moved all in for 200,000.
Chris Bowers called from the big blind and the hands were tabled.
Bowers:



Fayant:


The flop came



, putting Bowers in the lead with a pair of deuces. Fayant needed to hit a four for a higher pair or a five to make a wheel.
The turn was

and the river

and Fayant was sent to the rail in sixth place.
Chris Bowers and Steve Barclay got it all in preflop with Barclay's


dominating Bowers'


. The board ran out





and Barclay celebrated the double-up.
| | | | | | |
| --- | --- | --- | --- | --- | --- |
| Chris Bowers | | | | 600,000 | -150,000 |
| Steve Barclay | | | | 330,000 | 120,000 |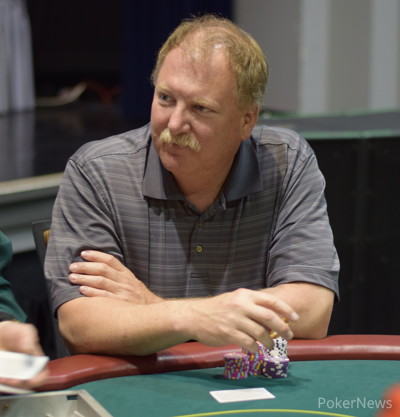 Chris Bowers raised to 40,000 from middle position and Sam Dickson moved all in for 200,000 from the small blind.
Bowers said, "Okay, I'll make a bad call," and pushed some chips in the middle.
Bowers:



Dickson:


The board ran out





and Dickson was our seventh-place finisher.
| | | | | | |
| --- | --- | --- | --- | --- | --- |
| Chris Bowers | | | | 750,000 | 201,000 |
| Sam Dickson | | | | Busted | |
Level:

20
Blinds:

10,000/20,000
Ante:

0